Funimation is an Animation streaming service that broadcasts Japanese animations with subtitles and dubbed versions in different languages.
Funimation is one of the most favourable platforms that entertains not only children but all age groups of people.
I am also a fan of Funimation, and I love to watch dragon warriors and Avatar.
Recently, Funimation throws errors on playing the Video and cannot watch the favourite series.
When you play any anime, you cannot watch the show; instead, you get an error message saying: "Unable to Play Video At This Time".
In this article, you will understand Why the error occurs and how to Fix the error Unable To Play Video At This Time in Funimation.
What Causes "Unable To Play Video At This Time" In Funimation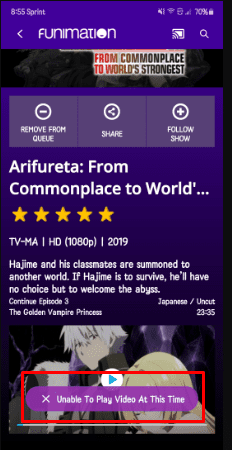 The error Unable To Play Video At This Time in Funimation means you cannot play the video due to Network issue or Issue with Application or there might be an error in the Funimation itself.
The error also occurs if you are using an out dated version or due to curropted files.
The browser cannot handle the load and throwing the error Unable To Play Video At This Time in Funimation.
How To Fix "Unable To Play Video At This Time" In Funimation
1. Check The Internet Connection
Funimation requires a fast internet connection because it is a video streaming application.
Check your internet connection and the Internet speed, whether it is working fine.
The Internet download speed should be greater than 2MB for streaming video without interruption.
If your internet connection is less than 2MB, resetting your modem or switching to another network, such as mobile data, will resolve the problem.
Remove any other internet-connected gadgets and try again to boost Internet Bandwidth.
2. Restart Your Device
It might be a simple yet powerful solution.
Power off your Device properly and unplug it from the Power outlet.
Please wait for 2 to 3 minutes and power on it.
Try loading your series and see if the error is gone.
3. Disable Proxies Or VPN Connections
If the Issue still occurs, then check your VPN and Proxy connections.
Enabling VPN or Proxy server will mismatch the IP address and location. As a result, Funimation cannot find the right server.
So disable the Proxy or VPN server and try launching the program again.
Now you can watch your episodes without getting stuck on the loading screen on the Funimation app.
4. Modify Marathon Mode
It seems funny, but modifying the marathon mode fixes the error for many users.
Try to enable the marathon mode setting in your Funimation account.
If enabled already, disable it and check if the Funimation streaming is fine.
5. Use Ps4 Instead Of Samsung Tv
Another smart way is to log in with Funimation using PS4.
Try accessing the Funimation account in PS4 will fix the Issue.
If you don't have PS4, Then try reinstalling the Paramount app.
Reinstalling the app will remove any corrupted files, and you can log in without error.
6. Delete Funimation Cache Memory And Data
Disney Plus refuses to stream of it has a heavy load on the streaming site.
If it is a browser, Press ctr+H to open the History page
Click on Clear Browsing Data from the left-hand bar
Click on All Time from a Time Range
Mark the check box near the browsing history and Cached Image and files
Close and relaunch the Browser
For Android Mobile Applications
Go to Settings >> Click on Apps >> Click on All Apps>> Find and Locate Funimation and Click On It >> Select Storage >> Click on Clear cache.
If it doesn't fix the issues, Follow the same step and Click on Clear data.
For iPhone
Go to Settings >> Click on Generals >> Click on iPhone Storage >> Find and Locate Funimation >> Click on Offload app.
For Samsung TV
Go to Settings >> Click on Support >> Click on Device Care >> Click on Manage Storage >> Select Funimation >> Click On View Details >> Click on Clear cache Data
For Apple TV
Go to Settings >> Click on General >> Click on Manage Storage >> Click on Bin >>Click on Funimation
This will delete the file and uninstall the application.
Now Go to App Store and install the Funimation App on your device.
If clearing the cache doesn't work, reinstall the application on all devices and check if the error is gone.
7. Disable Ad Blocker
If you have enabled any Ad blocker extension in your Browser, disable it and try again.
The ad blocker will block some of the features by default.
If then error persists then move to the next step.
8. Try With An Alternative Device
If the error persists, then try with an alternative device. If you are using TV, try login with Browser or with mobile.
You can also try login with your Laptop or PC.
If the error persists, then follow the next method.
If none of the above methods works, contact customer support for further assistance.
Similar Posts: