Snapchat Quick Add is one of the snap chat features that help you to build your friend list and followers.
Snapchat Quick Add suggests friends based on your friend list, contacts, and other factors such as mutual interests.
Despite Snapchat holding many great features, you sometimes cannot access the Quick Add feature or see the friend lists.
In this article, you will understand why Snapchat Quick Add is Not Working and How to fix it.
Why Is Snapchat Quick Add Not Working?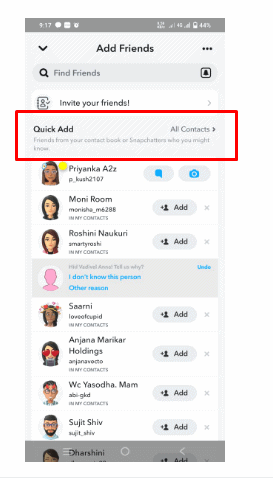 Snapchat Quick Add Not Working means you don't have enough friend list, the quick add feature is disabled, or there might be an issue with the Application.
The high possible reasons are
If you are a new user, your snap chat needs time to find friends.
You have an unstable network, and snap chat cannot load the Quick Add list.
Not all users are eligible for Quick Add; the Snapchat algorithm works that way.
The quick Add feature might be disabled in your account
There is an issue with the Snapchat application file.
How To Fix Snapchat Quick Add Not Working?
Before getting into the fix, ensure you have an active Mobile Data plan.
It would be best to have at least 300 KB speed to load a friend list.
If you have an active data plan, then On and OFF your Airplane mode, try accessing your Snapchat account.
If you use mobile data and a WiFi connection, try resting your network setting, and Restarting the router will resolve the issue.
To reset the Network Setting
For Ios
Tap Settings >> Click on General >> Click on Transfer or Reset [Device] >>Click on Reset >> Click on Reset Network Settings.
For Android
Open Settings App >> Click on System >> Select Reset Option >> Click On Reset WiFi
Resetting the network will remove WiFi and network data, and you need to reconfigure your WiFi Connection.
1. New Account And Have Not Enough Followers
If your Snapchat account is brand new, you cannot find friends in the Quick Add list.
It would be best to give Snapchat time to analyze your data and give suggestions based on your interest and friend list.
2. You Have Reached The Limit
You might have added all the suggested people in the Quick Add.
You must wait and give time to Snapchat to find new friend suggestions for your list.
Check the Quick Add list the next day to see the suggested friend list.
3. Only Eligible Users Will Appear In Quick Add
Snapchat never shows all the mutual friends or mutually interested people in the Quick Add list.
Snapchat has its filtration model, and it shows only the eligible people in the Quick Add section.
Meanwhile, searching and adding new friends and publishing content improves getting more suggestions on Quick Add.
4. Quick Add Feature Is Disabled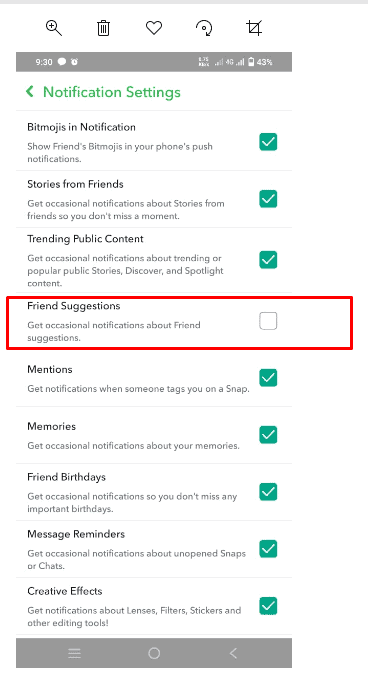 You can control Quick Add Feature in your account by enabling and disabling it.
Accidentally you might have disabled the feature,
Go to your Profile>> Click on Gear Icon at the top right corner of the Phone>> Scroll down and Click on Notifications >> Make sure Friend suggestion is enabled.
If it is disabled, Toggle on it to Enable it; now you can see the friend suggestions in the Quick Add section.
5. Clear Cache Memory Of Snap Chat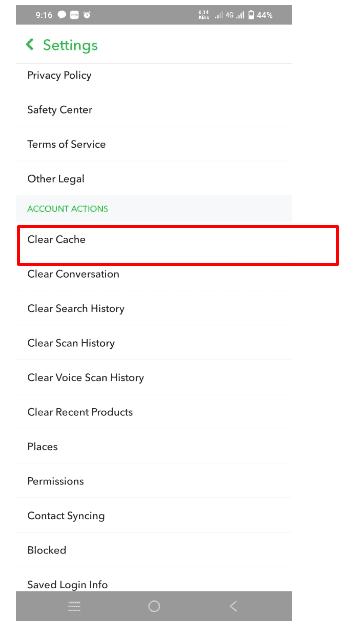 Clearing cache data in snap chat will help refresh your quick add section.
Go to your Profile >> Click on Settings at the top right corner of the Phone>> Go to Account actions section >> Click on Clear Data >> Click on Clear cache at the bottom of the page.
Once the cache memory is cleared, Relaunch your App and check your Quick Add section.
You can see the friend list there.
6. Update The Snap Chat Application
If you still cannot find friends in the Quick Add section, try to update your Snapchat.
You might be using the outdated version, and the Application finds difficulties in getting the Quick Add feature working properly.
Update your Snap Chat Application.
For Ios
Go to App Store >> Tap your profile icon at the top of the screen >> Scroll to see pending updates and release notes >> Find and Locate Snapchat>> Click on Update Button next to Snapchat.
For Android OS
Go to Play Store>> Find and Locate Snapchat >> Click the Update button next to the App.
Once the update is completed, close and relaunch your Snapchat application, and you will find the Quick Add section working fine.
If none of the above methods works, try logging out and logging in to the snap chat account and check if the error is gone.
If not, you must Uninstall the Application from the play store or Open Store, depending on your Mobile OS.
Reset your Phone and freshly install the Snapchat Application from the store.
All set.
Now you have fixed Snapchat Quick Add Not Working issue.
Similar Posts: