Are you also facing problems in opening the links on Tumblr?
If your answer is yes then you are not alone.
Don't Worry!
Many users are frustrated with this problem.
When they link on links it opens the image instead of the site or it doesn't open anything at all.
What if you want to link something important related to the topic like you want to link any youtube video or something else?
Users are not able to get complete information if it won't open.
Are you also experiencing the same issue?
If your answer is Yes then you are at the right place.
In this guide, we'll discuss why Tumblr links are not working and how to fix it.
Keep reading the article to get rid of this problem.

Why Are Tumblr Links Not Working?
There may be several reasons behind this problem like you are exceeding the limit of providing links, technical issues etc.
Some of them are explained below:
The maximum limit of providing inline links is 100 and the link blocks allowed in a single post is 10. If you are exceeding this limit then Tumblr links may not work.
If an incorrect or broken link is provided then it will not work.
Like any other online platform Tumblr can also experience technical difficulties or server outages that might prevent links from working temporarily.
If the linked content violates the Tumblr guidelines or content policies then the link will not work.
Maybe the tab or page is not refreshed due to which links are not working.
Accumulated browser data or cache and cookies sometimes interfere with website functionality and you may face this bug.
If you have installed too many extensions in your browser then sometimes they might interfere with Tumblr working.
How To Fix Tumblr Links Not Working
1. Open Link In New Tab
Sometimes opening the link in a new tab resolves the issue.
Try opening the link in a new tab and check if the link opens or not.
Here how's you can open the link in new tab:
Instead of clicking on the link, hover the mouse to the link and left click on it.
From there, from the list of options click on "Open link in a new tab".
Now, check if the link opens or not in a new tab.
Hope, this fix helps for anyone wondering.
If it doesn't work then try another fix which I'm mentioning below.
2. Ensure You Have Not Reached The Maximum Limit
Tumblr allows its users to add 100 maximum inline links and the maximum number of link blocks allowed in a single post is 10.
Ensure that you are not adding links more than the maximum limit.
Click here for more detailed information.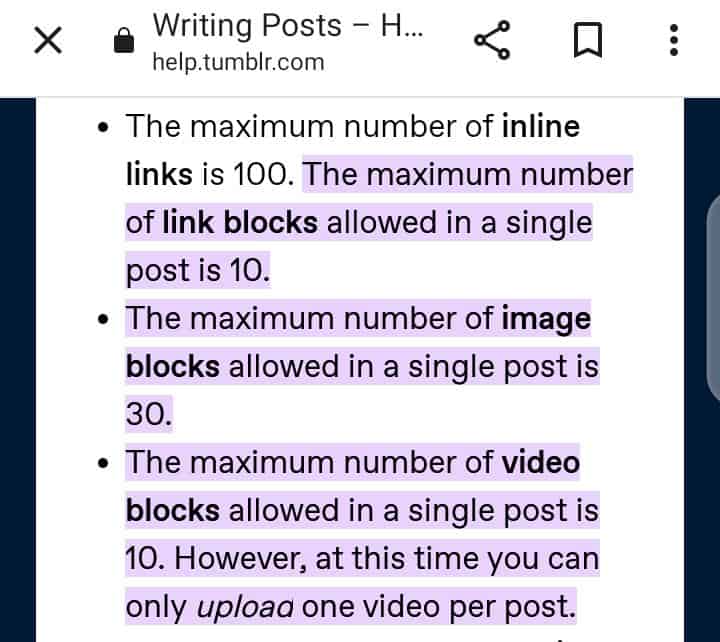 3. Try With A Different Browser
Try switching between browsers because sometimes a website is bugged on that particular browser only but it seems to be working efficiently on another browser.
Some browsers work efficiently and in a better way with Tumblr than others.
You can try using an updated version of the Chrome or Safari browser.
Now, check whether the issue persists or is resolved.
4. Clear Cache And Cookies Of Browser
Clear cache and cookies of your browser because sometimes it causes issues with website functionality.
After clearing cache and cookies try accessing the Tumblr link again.
Clearing browser's cache and temporary internet files help your website to run smoothly and optimally.
Steps to Clear browser's cache on Android:
Launch your browser.
Tap on Menu > Settings and then on Privacy.
Click on Clear Browsing data at the bottom of the screen and then tap on Clear.
Steps to clear browser's cache in iOS:
Go to the settings from your home screen.
Click on Safari.
At the bottom of the Safari's settings screen, tap on clear history and website data and then tap on clear history and data to confirm.
5. Make Sure Link Is Not Broken
Ensure that the link which you are trying to access is correct and complete.
Broken or incorrect links with missing characters can cause links to not work as intended.
Also make sure that the linked content should not violate the Tumblr content guidelines and policies.
6. Check For Website Updates Or Maintenance
If the server is down for maintenance or update of the website then you might face issues with the working of the website.
Check the server status of Tumblr by clicking here.

All you can do if the server is offline for maintenance or update is wait for sometime and try again later.
You can also collect more information from official forums or social media handles like the Twitter account of Tumblr.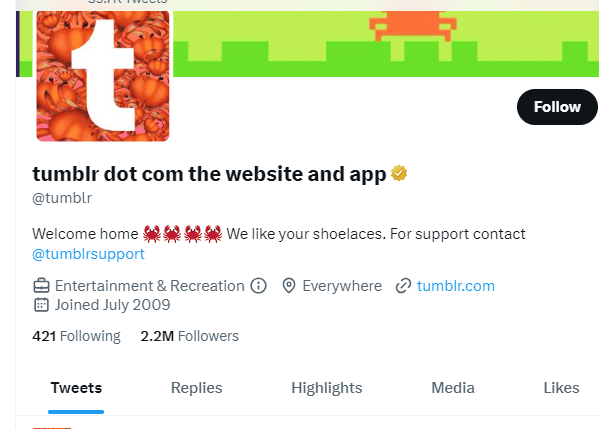 7. Contact Customer Support
If you have tried all of the above mentioned fixes and are still facing the issue with Tumblr links working then you can contact customer care through the website by clicking here.

They should be able to help you troubleshoot your issue and provide guidance on resolving it.
Try to provide them with details of your problem with screenshots or screen recording if possible.
Similar Posts: