Tinfoil, a handy app for Nintendo Switch, helps you handle and add games and apps to your console.
Like any software, it may encounter errors that can hinder the gaming experience.
The error 'USBFS not working' is a common problem faced by Tinfoil users.
In this article, we will explore the potential causes of this error and explore effective solutions to fix it.
Why Is Tinfoil USBFS Not Working?
Tinfoil USBFS not working is a common problem, and it's unclear why it happens for some users. There could be various reasons behind it.
Some users found a solution by switching from a USB-C to USB-C cable to a USB-A to USB-C cable.
Others fixed it by opening Nut first, then Tinfoil, and plugging in the USB cable.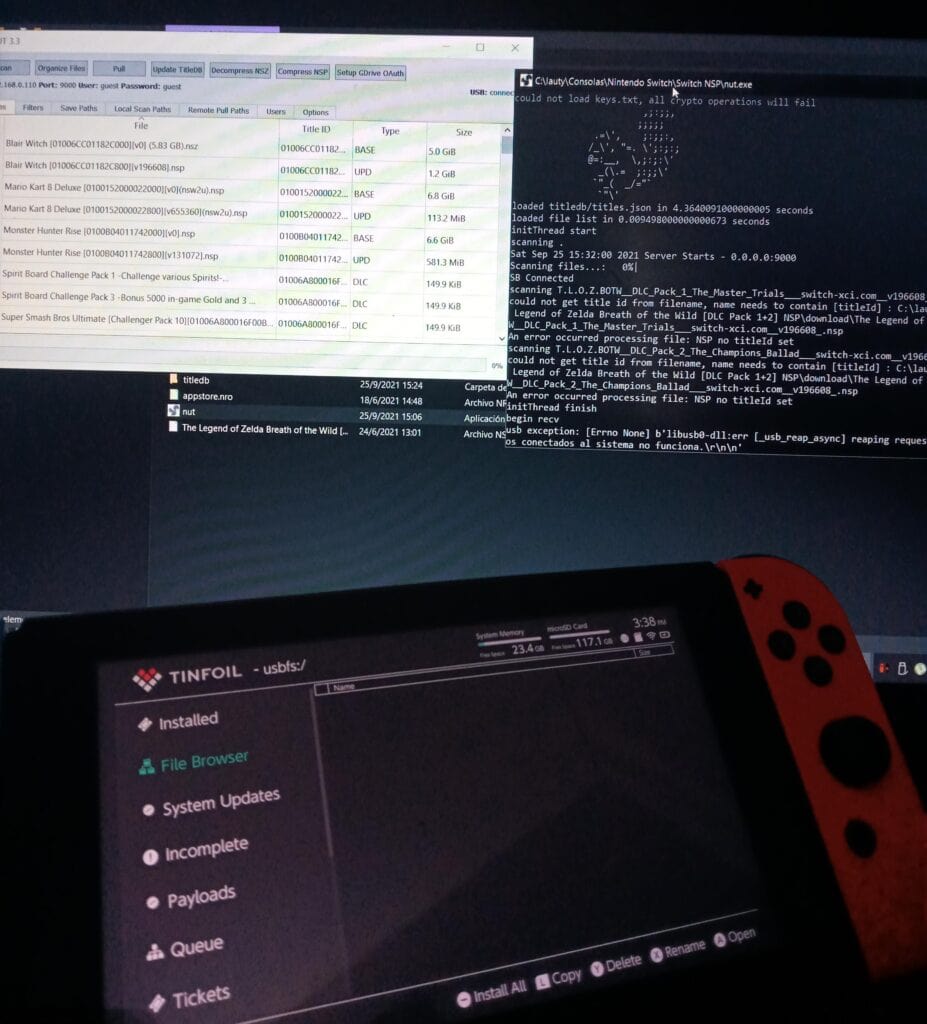 Disabling MTP might also cause USBFS to stop working for some users.
It's worth checking for missing drivers or using a faulty cable as potential causes of the problem.
How To Fix Tinfoil USBFS Not Working?
To resolve the issue of Tinfoil USBFS not working, you should ensure that MTP is enabled, try using a USB-A to USB-C cable, make sure that Nut.exe is not blocked by the firewall, and keep Tinfoil up to date to avoid such errors.
We have discussed the fixes in greater detail below.
1. Check MTP Settings
According to one user, disabling MTP caused USBFS to stop working properly.
This workaround solution may be successful in addressing the troubles caused by MTP disabling.
Enabling MTP on Tinfoil can be done by following these steps:
Launch Nut on your PC.
Open Tinfoil on your Switch.
Plug in the USB cable.
Run Zadig to reinstall the libusbk driver.
Once the driver is installed, Tinfoil should automatically switch to MTP mode.
2. Use A USB-A To USB-C Cable
A USB-A to USB-C cable, compared to a USB-C to USB-C cable, is what some users claim fixed the Tinfoil USBFS problem.
Since some USB-C cables are only intended to be used for charging and are not intended for data transfer, this solution might work.
3. Allow Public Access Nut.exe
The USBFS feature may not work properly due to the Windows Firewall blocking Nut.exe from accessing the internet.
Allowing public access to Nut.exe may resolve the problem.
To allow public access to Nut.exe, you can follow these steps:
Open Windows Firewall by searching for it in the Start menu.
Click on "Allow an app or feature through Windows Firewall" on the left side of the window.
Click on "Change settings" and then scroll down to find Nut.exe in the list of apps.
Check the boxes next to "Public" and "Private" to allow Nut.exe to access the internet on both types of networks.
Click "OK" to save the changes.
4. Open Nut First
To fix the Tinfoil USBFS not working, some users have reported success by opening the Nut first, connecting the switch, and then starting Tinfoil once connected.
This solution may work because it ensures that the switch is properly connected to Nut before Tinfoil is started, which can help prevent any connection issues that may be causing the USBFS feature to not work.
5. Update Tinfoil
To avoid problems, keep Tinfoil up to date; some users found that updating Tinfoil fixed the issue.
After updating Tinfoil to the latest version, check whether the issue has been resolved or not.
To update Tinfoil, you can follow these steps:
Download the latest version of Tinfoil from the official website.
Connect your Switch to your computer via USB and access the SD card.
Locate the Tinfoil folder in the switch folder and delete it.
Extract the downloaded Tinfoil files and copy them to the root of your SD card.
Launch Tinfoil on your Switch, and it should be updated to the latest version.
6. Contact Tinfoil Support

If the previous solutions didn't work, it's best to reach out to Tinfoil support for assistance.
They can give you personalized guidance and solutions that are more suitable for you.
Similar Posts: