You may have experienced the frustrating "User is authenticated but not connected" error when trying to access your email through Thunderbird.
Thunderbird is an email client that helps you manage emails from multiple servers in one place.
Thunderbird is a widely used application among business people and synchronizes their Domain mail ID with the Client application.
You can store synchronized mails in your system and easily maintain and you can use for later.
You can open and view the retrieved emails on your desktop at any time.
However, when you try to open your Thunderbird application ,trying to connect with your Microsoft email or any other mail configured mail serve, you will get the following error message.
"The current operation on 'Inbox' did not succeed.
The mail server for an account [User Mail ID] responded: User Is Authenticated But Not Connected."
The Error occurs mainly due to the recent modern security system (Two factor authentication System), which triggers the Error on Thunderbird.
In this article, you will see how to fix the Error Thunderbird User Is Authenticated But Not Connected.
What Causes Thunderbird User Is Authenticated But Not Connected Error To Occur?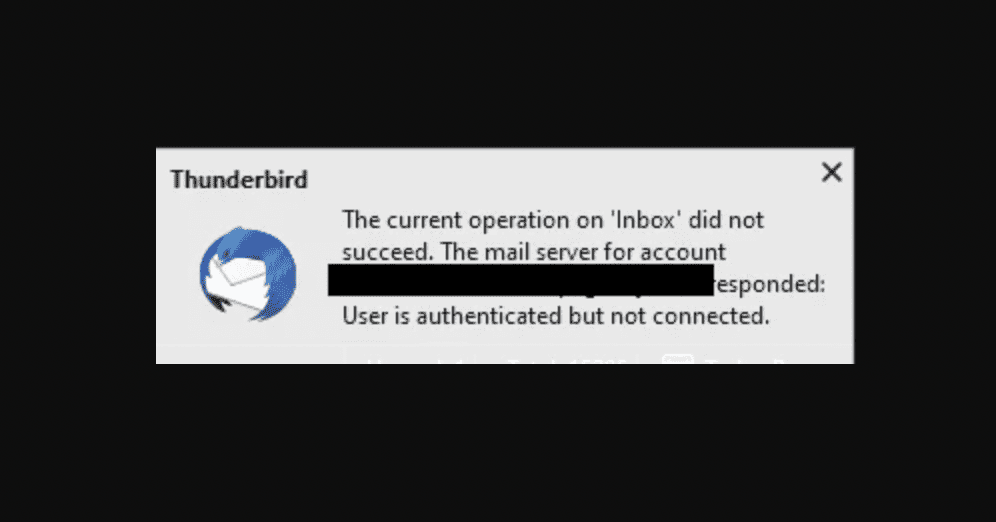 Thunderbird User Is Authenticated But Not connected Error occurred due to new changes implemented in Microsoft or other mail server application, as the retire "App Passwords" in favour of "modern authentication" that supports Multi-Factor Authentication.
Also, This error can occur after changing your password, and it prevents you from seeing your list of folders and accessing your email.
This means that if you've recently changed your password and entered the new password into Thunderbird, but you're still seeing the error, it's likely that Thunderbird is still using your old password to connect to the Exchange server.
The following are the possible reasons.
Not updating the Thunderbird application on your desktop
You have enabled the IPV6 configuration in the Thunderbird setting
There might be an issue with your IMAP Incoming and outgoing serve setting.
Let's see how to fix Thunderbird User Is Authenticated But Not connected Error!
How To Fix "User Is Authenticated But Not Connected" On Thunderbird
1. Change The Password Stored By Thunderbird
To fix the "User is authenticated but not connected" error in Thunderbird, you'll need to change the password stored by Thunderbird.
However, since there's no way to change the password directly, you'll need to follow these steps:
Step 1: Remove Your Old Password From Thunderbird
The first step is to make Thunderbird forget your saved password.
To do this, open Thunderbird and go to "Preferences" → "Preferences" from the menu bar.
Then, click on the "Security" tab and select "Passwords." Click the "Saved Passwords…" button to view the list of saved passwords.
Find the entry or entries that have your old password and remove them.
This will ensure that Thunderbird doesn't continue to use your old password to connect to the Exchange server.
Step 2: Restart Thunderbird
Once you've removed your old password from Thunderbird, you'll need to restart the application to force it to re-attempt to connect to the Exchange server with your new password.
Simply close Thunderbird and then reopen it.
Step 3: Re-Enter Your Password
When Thunderbird prompts you for your password, enter your new password.
This will update Thunderbird's stored password and allow you to access your email.
Note: If you've already entered your new password in Thunderbird but are still seeing the error, it's possible that existing connections to the Exchange server are still using your old password.
In this case, you may need to wait for those connections to close before Thunderbird can connect with your new password.
2. Check Thunderbird Account Setting
The issue is with Thunderbird and any application that uses OAuth 2.0 to authenticate.
Setting the Authentication method to a Normal password will resolve the issue.
Access the Account Settings and make the following modifications.
Right-click on the mail account name and Go to 'Settings.'
Select 'Server Settings
Check the next option below under the incoming and outgoing servers.

Connection Security: SSL/TLS

Authentication method: Normal Password
If any of the settings need to change, changes as mentioned above.
Also, check your username is correct and that there is no type error.
Then select 'Server Settings' for the other mail account.
Repeat the above to modify settings.
3. Try Disabling IPV6 In The Account Setting
Many users reported that the message disappeared after disabling IPV6.
Disable your IPV6 configuration if it is enabled.
Go to Menu >> Settings >> Click on "Config Editor">> Search for IPV6 >>Toggle network.
DNS.disableIPv6 to true.
Restart your Thunderbird, and You can see the Thunderbird work like a charm.
4. Remove Your Account From Thunderbird And Re-add It
If you are still facing the issue, remove your Account from Thunderbird and re-add it.
To remove an account from Thunderbird:
To the right of the search box, click the "Thunderbird Menu," then choose "Account Settings. "
Select your "email account" from the left sidebar.
From the "Account Actions" menu, click "Remove" Account.
Check the box to "Remove message data" and click "Remove."
Then add your Account again.
5. Update Thunderbird
You might be using the older version of Thunderbird.
To update your Thunderbird
Go to the "Help icon" and Tap "about Thunderbird."
The About Thunderbird window will open, and Thunderbird will check the update and download automatically.
When the updates are downloaded, click on "Restart Thunderbird" to install the update.
If the Error persists, then login directly to your respective mail server.
If you can log in, you need to remove the Thunderbird client from your system and re-install it.
If you cannot log in, you must reset your password.
If it is a business account, seek your system administrator for further help.
Similar Posts: