In this guide, we will explore effective solutions to address the frustrating issue encountered on X (formerly Twitter) where the search query returns the message "The term you entered did not bring up any results, Please Try Again Later."
We will delve into practical steps and troubleshooting methods to rectify this issue and ensure a seamless search experience on the X platform.
Whether you are using the X website or mobile application, these strategies will assist you in resolving the search-related challenge, allowing you to efficiently retrieve the desired results without encountering this error message.
Let's navigate through the steps to overcome this obstacle and optimize your search functionality on X.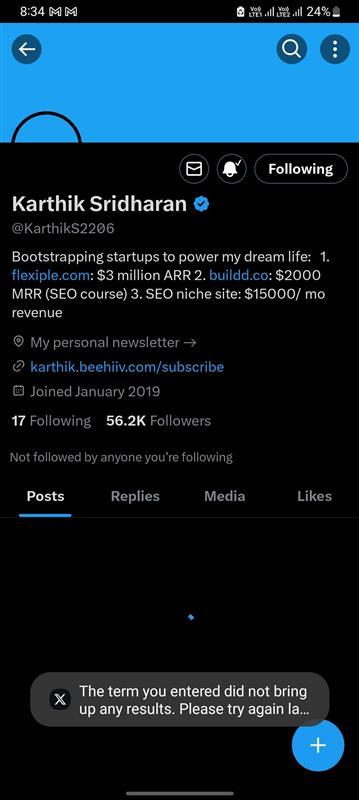 How To Fix "The Term You Entered Did Not Bring Up Any Results, Please Try Again Later" On X (formerly Twitter)
1. Check Your Internet Connection
Sometimes, a poor or unstable internet connection can lead to search issues on X.
Ensure that you have a stable internet connection before attempting to search again.
2. Clear Cache And Cookies
Clearing the cache and cookies on your browser or X app can resolve search-related issues.
This can help eliminate any temporary data that may be causing the problem.
For Android
Open the "Settings" app on your Android device.
Scroll down and tap on "Apps" or "Applications" to view the list of installed apps.
Find and tap on the "X" app from the list of installed apps.
Once in the X app settings, tap on "Storage."
You will see the option to "Clear Cache." Tap on this option to clear the cache of the X app on your Android device.
For iPhone
Go to iPhone settings
Go to General
Find the X app and click on that
Tap on iPhone Storage
Tap on the "Offload App" button
Again "Reinstall" the X app.
3. Update The X App
If you're using the X mobile app, make sure it is updated to the latest version.
Updates often include bug fixes and improvements that can address search-related issues.
For Android
Open the Google Play Store on your Android device.
Tap on the three horizontal lines in the upper-left corner to open the menu.
Select "My apps & games."
Find "X" in the list of apps and tap "Update" if an update is available.
For iPhone
Open the App Store on your iOS device.
Tap on your profile icon in the top right corner.
Scroll down to see pending updates or search for "X" and tap "Update" if available.
4. Use Different Search Terms
Try using alternative or broader search terms to see if the issue persists.
Sometimes, specific terms may not yield results due to limited content or restrictions.
5. Contact X Support
If the problem persists, reaching out to X support for further assistance can be beneficial.
Similar Posts: