Did you experience the error message, "The server had an error while processing your request, You can retry your request or contact us through our help center at help.openai.com if the error persists"?
If that's the case, you're not alone as many users have encountered this problem while attempting to use ChatGPT.
ChatGPT is an AI developed by OpenAI that allows users to generate information and content.
Despite being a fantastic AI that can assist many people, it is not immune to problems and errors.
In this article, we'll examine a few remedies that will assist you in resolving ChatGPT's server error problem.
What Causes "The Server Had An Error Processing Your Request" On ChatGPT

There can be a few reasons why the ChatGPT server had an error processing your request on your device.
Below, we have listed the main reasons that might be the cause of this issue when you are trying to access ChatGPT.
ChatGPT is down at the moment due to a server outage or scheduled maintenance.
Too much traffic on the ChatGPT Platform.
ChatGPT is not available in your region.
Faulty or poor internet connection.
How To Fix "The Server Had An Error Processing Your Request" On ChatGPT
In this section, we will be looking at the fixes that will help us to fix the issue of "The server had an error while processing your request" in ChatGPT easily.
1. Check ChatGPT Server Status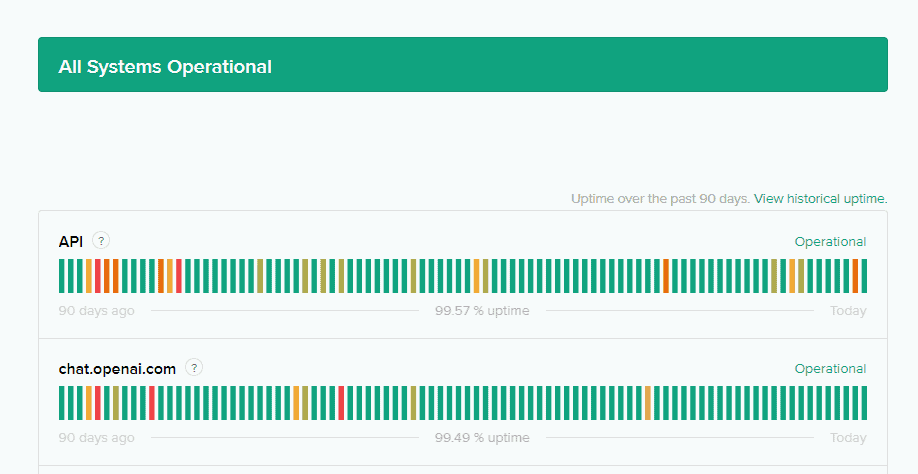 The first thing you should look at is the status of the ChatGPT server.
If the server is down due to a malfunction or scheduled maintenance, you won't be able to use ChatGPT.
As an AI service, ChatGPT needs to connect to its server in order to perform its functions. It will stop functioning and display the error message.
If so, give it a little longer time before trying to log in again.
You can check the ChatGPT server status from here.
2. Refresh The Page
Another quick fix is to refresh the page. ChatGPT may occasionally fail to load due to a system error.
Your device might not be able to start ChatGPT due to bugs or glitches.
If this happens, you can try refreshing the page to see if that fixes the problem and launches ChatGPT.
3. Check The Internet Connection
Another option is to check the internet connection on your device.
In order to function and connect with the server, ChatGPT needs an uninterrupted connection.
Your poor internet connection is probably the reason ChatGPT reported an issue.
You can check whether the wifi is working properly by switching to ethernet or data connection.
Resetting your router is another option if the problem persists.
Switch off the router and unplug all the connections.
Wait for 3 minutes and then plug all the wires again.
Switch on the router and wait till you can connect to Wifi.
Now check and see whether you are still getting the Server error in ChatGPT.
4. Login From Another Account
You can also try to log in from another account in ChatGPT.
Many users claim that having two accounts on ChatGPT greatly aided them in logging in when the other kept displaying an error message, and vice versa.
When one account is experiencing problems logging onto ChatGPT, you can alternatively join ChatGPT by using two emails and try this fix.
5. Use A VPN On Your Device
Before opening ChatGPT, you can also try utilising a VPN on the device as a workaround.
Many users have reported that they were able to access ChatGPT after installing a VPN on their system.
ChatGPT is not available in all regions.
It would be better for you to utilise a VPN in such a case and see if ChatGPT is available.
It is simple to set up a VPN on your device as you can download it or ask a VPN provider for one.
6. Contact ChatGPT Support Team
You should be able to resolve the issue of server error in ChatGPT after trying each solution.
However, please contact ChatGPT's support team so they can help you if you continue to see the error when attempting to open it.
The team of professionals from ChatGPT will be able to help you out when you communicate the problem to them.
Similar Posts: