Sonos products are well-known for their high-quality sound and user-friendly interface, but occasionally you may encounter an error message when attempting to update your system.
One such error message is "Error 1101," which can be frustrating for users trying to update Sonos.
The error message says "Update Information. The following error occurred during the update. Error 1101
In this article, we will discuss what is error code 1101 on Sonos & how to fix it.
What Is Sonos Error 1101?
Error code 1101 on Sonos is an error message that can appear when attempting to update your Sonos.
Sonos Error 1101 means that your Sonos products can't reach the Sonos servers to check for updates.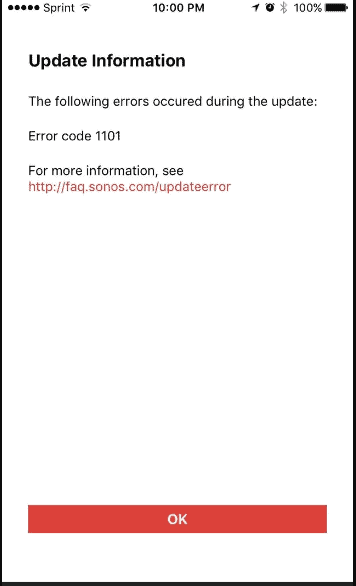 This can be caused by a variety of issues, including network connectivity problems, outdated firmware, unsupported network equipment, issues with the Sonos app, problems with the router settings, or faulty Ethernet cables or ports.
How To Fix Sonos Error Code 1101
To fix Error 1101 on Sonos, you can try the following steps:
Reboot your home networking equipment, including your modem, router, mesh WiFi nodes and access points, and any network switches that your Sonos system may be wired to.
Reboot all of your Sonos products, including any speakers, soundbars, and other devices that are part of your Sonos system.
Power off and remove any unsupported network equipment from your network. Sonos provides a list of unsupported equipment in their system requirements and incompatible hardware articles.
Close and reopen the Sonos app you're using.
Toggle WiFi off and then back on if you're using the Sonos app on an iOS or Android device.
Check the Ethernet cable connection if you have a Sonos product wired to your router.
Check your router settings and disable any parental control, access control, or firewall settings that could be blocking the update to your Sonos system.
If you continue getting Error 1101 after following these steps, you may need to Sonos Support Team for further assistance.
Similar Posts: