Are you getting "Lost Connection Due to an Error Code 272" while trying to start/ lunch Roblox?
Roblox is an awesome gaming platform where you can play tons of exciting games made by people just like you.
But sometimes, you might run into a pesky problem like error code 272, which causes you to lose connection while playing.
The error message reads "Disconnected, Lost Connection Due to an Error Error Code 272".
Don't worry, though!
In this easy-to-follow blog post, we'll show you how to fix the "Lost Connection Due to an Error Code 272" issue in Roblox, so you can get back to having fun with your friends in no time.
How To Fix Roblox Lost Connection Due To An Error Code 272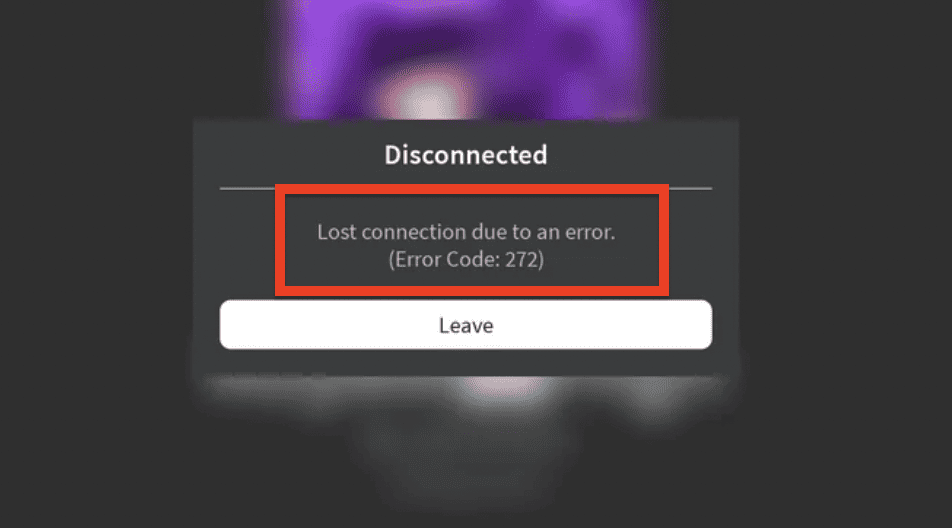 1. Uninstall And Reinstall Roblox
The first step in resolving Lost Connection Due to an error code 272 is to uninstall and reinstall Roblox on your device.
This process ensures that you have the latest version of the game and can help clear out any corrupted files.
To uninstall Roblox, navigate to your device's control panel or settings menu.
Locate and select the "Apps" or "Programs and Features" section.
Find "Roblox" in the list, select it, and click "Uninstall."
Follow the on-screen prompts to complete the uninstallation process.
After uninstalling Roblox, you can proceed to reinstall the game.
Visit the official Roblox website, Log into your Roblox account and click on any game.
Click on Download and Install, then follow the prompts to complete the installation process.
2. Download Roblox From The Microsoft Store
The Microsoft Store version of Roblox tends to be more stable, making it a reliable alternative for resolving error code 272.
To download Roblox from the Microsoft Store, follow these steps:
Open the Microsoft Store app on your Windows device.
Search for "Roblox" in the store's search bar.
Click on the "Roblox" app in the search results.
Click the "Get" button to download and install Roblox from the Microsoft Store.
After installation, check if the error has been resolved.
3. Update Your Network Drivers
Outdated network drivers may cause connectivity issues with Roblox, leading to error code 272.
Update your network drivers to ensure smooth gameplay:
Press Windows + X and select Device Manager from the menu.
Expand the Network adapters category.
Right-click your network adapter and select Update driver.
Choose Search automatically for updated driver software and follow the on-screen instructions.
Once the update is complete, restart your computer and check if the error persists.
3. Temporarily Disable Your Antivirus Or Firewall
Your antivirus or firewall may sometimes interfere with Roblox, causing error code 272.
Temporarily disabling your antivirus or firewall can help resolve the issue:
Step 1: Disable Your Antivirus
Right-click the antivirus icon in your system tray.
Select the option to disable or pause the antivirus protection (the exact wording may vary between antivirus programs).
Choose the duration for which the antivirus will be disabled.
Note: Remember to re-enable your antivirus protection once you've finished playing Roblox to ensure your computer remains protected.
Step 2: Disable Your Firewall
Press Windows + S and type Control Panel, then open it.
Click on System and Security, followed by Windows Defender Firewall.
Click on Turn Windows Defender Firewall on or off from the left-hand menu.
Select Turn off Windows Defender Firewall for both Private and Public network settings.
Click OK to apply the changes.
Warning: Disabling your firewall can expose your computer to potential security risks.
Be sure to re-enable the firewall after finishing your Roblox session.
After disabling your antivirus and firewall, launch Roblox to check if the Lost Connection Due to an error code 272 has been resolved.
Similar Posts: