Roblox is a popular online gaming platform where you can enjoy various games created by other users.
But sometimes, you might face an error called "Error Code 262" with a message saying "There Was A Problem Sending Data, Please Reconnect."
This error can be frustrating, but the good news is that it's fixable.
Here's a simple guide to help you fix Roblox Error Code 262 and get back to playing your favorite games.
What Is Roblox Error Code 262
Roblox Error Code 262 means that there's a problem with the connection between your device and the Roblox servers.
It could be because the servers are down or you have an old version of Roblox. Here's what might cause it: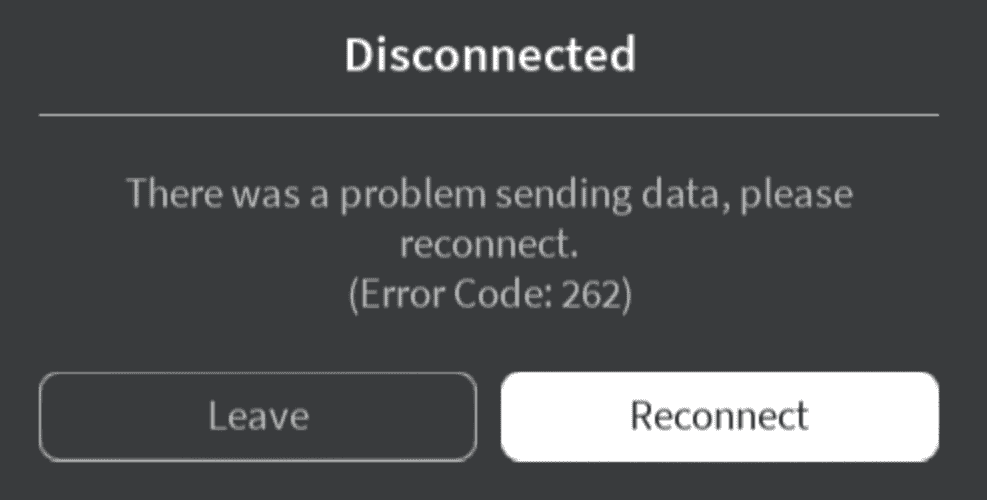 Roblox Servers Are Down: If this is the case, you might have to wait a bit and try again later.
Old Version of Roblox: Make sure you have the latest version of Roblox to avoid this error.
How To Fix Roblox Error Code 262 There Was A Problem Sending Data Please Reconnect
Step 1: Clear Roblox's Saved Files
Open your Chrome browser.
Click on three dots, then go to Settings, Privacy and security, and Cookies.
Find "Roblox" and click the trash icon to clear it.
Search for "%localappdata%" on your computer.
Open the "Temp" folder and delete the "Roblox" folder.
Right-click on Roblox Player, go to Properties, Compatibility, and choose to Run as an administrator.
Step 2: Uninstall And Reinstall Roblox
Open "Control Panel" on your computer.
Click "Uninstall a program."
Find "Roblox" and click "Uninstall."
Log in to Roblox and play any game to put Roblox back on your computer.
Step 3: Get Roblox From The Microsoft Store
Open "Control panel" on your computer.
Click on Programs, then "Uninstall a program," and right-click Roblox.
Click "Uninstall" to remove Roblox.
Open the Microsoft Store and search for "Roblox."
Click "Get" to download Roblox.
Open Roblox from the Microsoft Store and play a game.
Similar Posts: