Are you getting "Playback failed" error popup on Spotify?
Spotify has revolutionized the way we consume music, making it easier than ever to access millions of songs, playlists, and podcasts at our fingertips.
However, even with the best technology, sometimes things can go wrong, and you might find yourself faced with the error popup "Playback Failed, We are not able to play the video" when trying to stream your favorite videos.
As a Spotify user, this is a scenario that you may have experienced, and it can be a real buzzkill when you're trying to get in the groove.
In this blog post, we'll explore some of the possible reasons why you might be seeing this message on Spotify, and provide some practical tips on how to troubleshoot the issue.
Why Playback Failed On Spotify?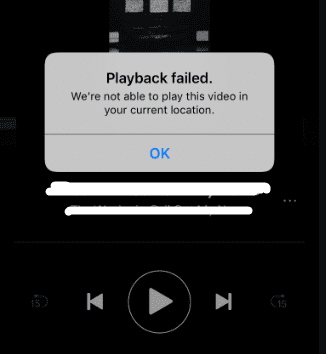 There are multiple reasons why your Spotify is showing you that the playback failed.
It can range from a server outage to a buggy app.
VPNs and ad blockers also make it hard for Spotify to function properly.
These could be the reasons why your Spotify is showing you the error message, "Playback Failed.
We are not able to play the video".
We have listed some of those reasons below for your convenience.
Spotify is facing a server outage.
You have enabled VPN on your device.
There is a bug in Spotify.
Spotify has collected too many Ccahe files.
There's a glitch in your Spotify account.
How To Fix "Playback Failed" On Spotify?
Now that we have identified the reasons you might be thinking about how you can fix the issue.
Worry not because we will also be looking at all the solutions that will help you in solving the playback error in Spotify.
1. Uninstall And Reinstall Spotify

The first solution that you can try is to uninstall and then reinstall Spotify on your device.
If there has been a bug then doing this will help that situation by deleting that bug when you reinstall Spotify after uninstalling it.
2. Disable VPN
VPNs are bad news for your apps that are online platforms or work with help of the internet.
VPNs almost always disrupt the service requests that the apps send to their servers.
This makes the apps unable to connect to their servers properly which makes it impossible for them to function.
However, you can easily solve this by disabling your VPN on the device.
If you find that you can not disable the VPN then you can delete it or uninstall it.
That should be able to solve the issue of playback failure.
3. Log Out And Log In To Spotify
The next solution that you can try is to log out and log in to your Spotify account.
You can do this to remove any glitch or bug that is present in the app and which might be the cause of the issue.
You can also do a quick restart of your device before you log in just for some extra measure.
4. Remove The Cache Of Spotify
The next solution to try is to clear the cache data of your Spotify.
Cache files store the temporary orioles of our apps.
However, art times Ccahe files can also store junk or corrupted files.
This will cause your Spotify to malfunction so, to clear the cache files please follow the steps given below.
For Android
Go to Settings on your device.
Open Apps.
Select Manage Apps.
Navigate to Spotify and tap on it.
Tap on Clear data or Clear Cache.
For iPhone
Go to iPhone settings.
Go to General.
Find Spotify App and click on that.
Tap on iPhone Storage.
Tap on the Offload App button.
Again Reinstall the Spotify app.
With this, you will be able to clear the cache files of your Spotify.
Now, close Spotify and open it again and check whether you are facing the playback failure error.
5. Check Spotify Server

The next solution that you can try is to check the Spotify server.
Similar to other online platforms, Spotify also needs its server to be fully functional for it to work correctly.
If the server is down for maintenance or is facing some kind of issue then Spotify will not be able to work properly.
In the image above the places that are blank show the days, the server went through an outage.
We have highlighted it with red circles.
In that case, you can only wait until the technical team fixes it.
You can check the Spotify server status from here.
6. Contact Spotify Support Team
After you have tried all these solutions you still get the Spotify Playback Failed error in your Spotify then you should contact the Spotify Support Team.
They will be able to help you out.
You can contact them here.
Similar Posts: