Is Pixel watch update not downloading for you?
Is Pixel watch update stuck on downloading?
Pixel watches are popular smartwatches designed and manufactured by Google.
Known for their sleek design and powerful features, these watches are popular choice among peoples.
However, like any electronic device, Pixel watches can sometimes experience technical issues.
One common problem that some users have reported is that their Pixel watch becomes stuck on "preparing to update" when they try to install a new software update.
This can be frustrating and can prevent the watch from functioning properly.
In this article, we will discuss why Pixel watch stuck on "preparing to update" and how to fix it.
Why Is Pixel Watch Stuck On "Preparing To Update"?
If your Pixel watch is stuck on "preparing to update," it is because of watch update itself.
In some cases, Pixel watch may be unable to download or install the update due to a lack of storage space or network issue.
It's also possible that the update may be corrupted or incomplete, which can cause the watch to become stuck during the update process.
Also, if you don't have stable internet connection then pixel watch update will not be download or will take much time to download.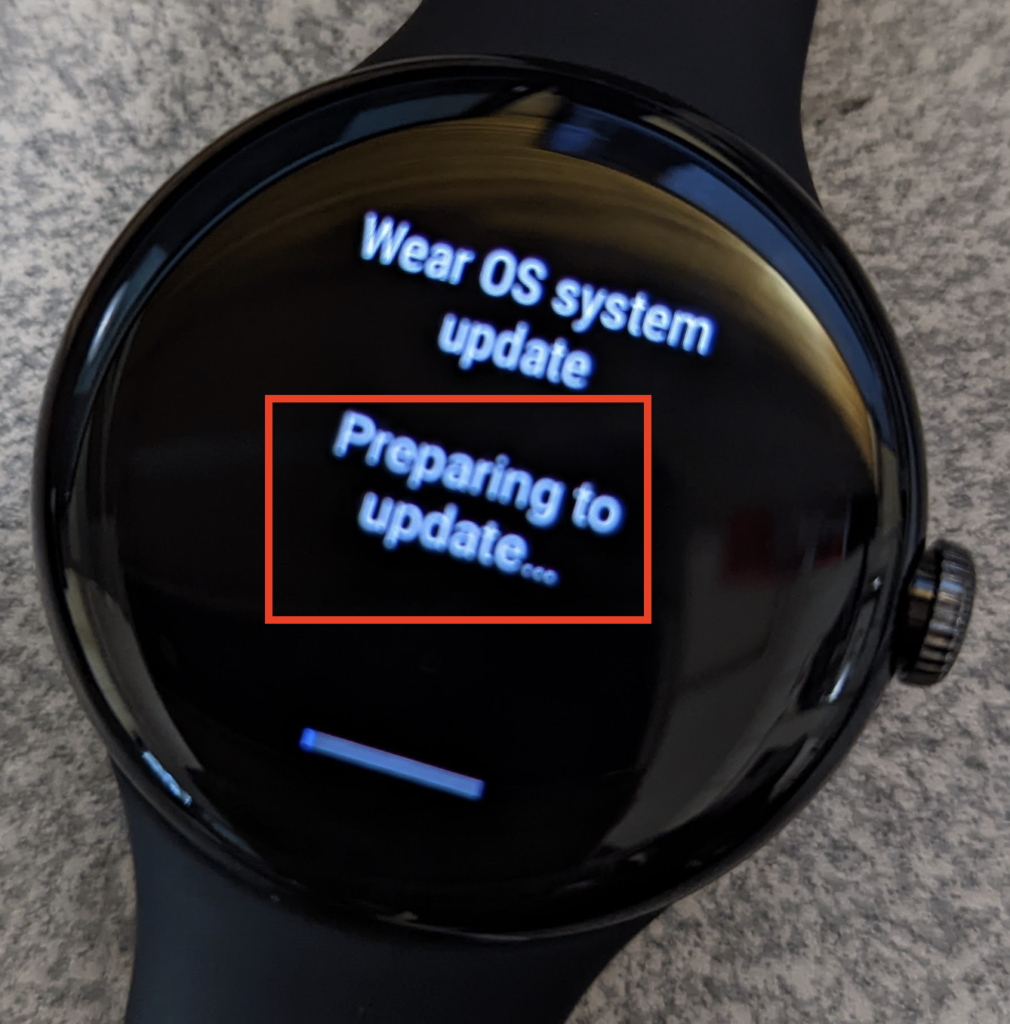 One user reported that "My watch is frozen and the face says "wear os system update" and "Preparing to update" the watch cant be shut off or reset.
All frozen"
How To Fix Pixel Watch Stuck On "Preparing To Update"?
If your Pixel watch is stuck on "preparing to update," there are few steps you can try to fix the issue.
1. Full Charge Your Google Pixel Watch
Your Google Pixel watch will only update if
It is on charger
Battery level is at least 50 %
Connected to Wifi
If you battery level is less than 50% and not connected to charger then it can stuck on "preparing to update".
2. Restart Your Google Pixel Watch
To restart your Google Pixel Watch, press and hold the crown for 3 seconds. Tap Restart.
This may help to resolve any temporary software/ update issues that may be causing the problem.
3. Check Your Internet Connection
In order to download and install a software update, Your Pixel Watch must be connected to the internet.
Make sure that your watch is connected to a stable and reliable Wi-Fi network, and try updating the watch again.
4. Contact Google Support Team
If the above steps do not fix the problem, you may need to contact Google support team.
They will help you to troubleshoot the issue.
You can contact Google by visiting the support page on their website.
Note: Steps may vary depending on the specific model of your Pixel watch and the version of the software it is running.
Similar Posts: