WhatsApp is one of the most popular instant messaging applications worldwide.
It allows users to send text messages, voice notes, photos, videos, and documents.
However, many users face the "No Valid QR Code Detected" error while trying to scan the QR code to log in to WhatsApp Web.
This error can be frustrating and prevent users from accessing WhatsApp on their PC.
In this article, I will provides reasons behind "No Valid QR Code Detected" error and step-by-step guide on how to fix it.
What Causes "No Valid QR Code Detected" Error In WhatsApp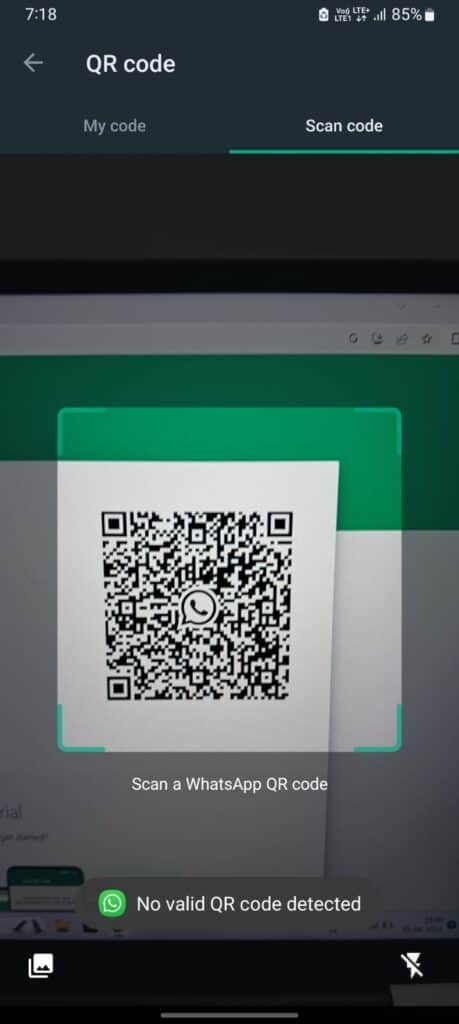 Possible reasons for the "No Valid QR Code Detected" error on WhatsApp such as:
Poor internet connection
Outdated WhatsApp version
Camera issues on your smartphone
Browser compatibility issues
QR code scanning issues
How To Fix "No Valid QR Code Detected" In WhatsApp
To fix the "No Valid QR Code Detected" issue on WhatsApp, follow these step-by-step solutions:
1. Check Your Internet Connection
Ensure you have a stable internet connection on both your smartphone and PC.
A weak connection can cause issues with scanning the QR code.
2. Update Your WhatsApp Application
Make sure you are using the latest version of WhatsApp.
Outdated versions can cause compatibility issues with QR code scanning.
You can update your WhatsApp through your device's app store.
3. Scan QR Code Through Link A Device
Now, Settings options are changed. So Tap on menu (3 dot) or settings >> Tap on "Linked Devices" >> Tap on "Link a Device" >> Now Capture the QR code >> It will work fine.
4. Clear Browser Cache And Cookies
Clearing your browser cache and cookies can help resolve any issues related to browser compatibility. Follow these steps for various browsers:
Google Chrome: Go to Settings > Privacy and Security > Clear browsing data > Select "Cookies and other site data" and "Cached images and files" > Click "Clear data"
Mozilla Firefox: Go to Settings > Privacy & Security > Cookies and Site Data > Click "Clear Data"
Safari: Go to Preferences > Privacy > Manage Website Data > Click "Remove All"
5. Try Another Browser
If you continue to face issues, consider switching to a different browser. Google Chrome, Mozilla Firefox, Microsoft Edge, and Safari are all popular options.
6. Adjust Camera Focus
Ensure your smartphone camera is functioning properly and is clean. If you have a protective case or screen, remove it before scanning the QR code.
Position your phone so that the QR code is within the camera's viewfinder, allowing the app to scan it properly.
7. Wait For Few Hours
After above all fixes if you are still getting "No Valid QR Code Detected" while scanning QR code then wait for few hours till bug is fixed by WhatsApp team.
Similar Posts: