Are you not able to edit messages on WhatsApp?
WhatsApp has introduced a new feature that allows you to edit your sent messages.
This feature is useful when you make a mistake or simply change your mind about what you've sent.
You can correct a simple misspelling or add extra context to a message, providing more control over your chats.
To use this feature, you need to long-press on a sent message and choose 'Edit' from the menu within fifteen minutes after sending the message.
Edited messages will display 'edited' next to them, ensuring that those you're messaging are aware of the correction.
Importantly, the edit history will not be shown.
But many users reported that they are not able to edit WhatsApp message they have sent or WhatsApp edit message not working.
In this guide, we will discuss why you can't edit WhatsApp message & How to fix it.
Why You Can't Edit Message On WhatsApp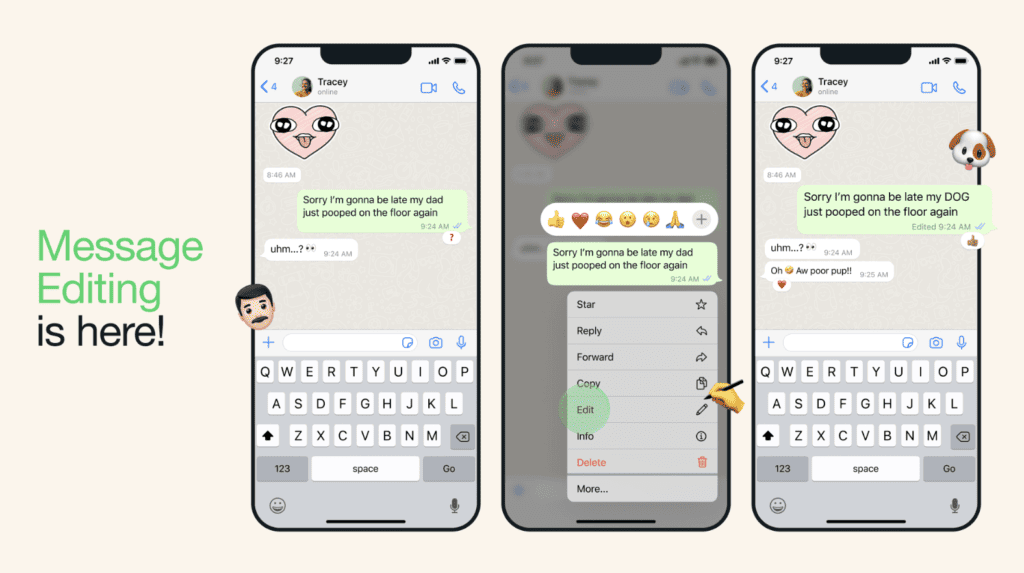 1. Feature Availability
If you're unable to edit your messages, it's possible that you haven't updated your app to the latest version that includes this feature.
2. 15-Minute Time Limit
The feature to edit messages on WhatsApp comes with a time limit.
You can only edit a sent message within 15 minutes of sending it.
After this period, the 'Edit' option will no longer be available​.
3. You've Deleted The Message
If you've deleted a message, you won't be able to edit it.
You can only delete or edit a message, not both.
4. Technical Issues
If you're sure you're within the 15-minute window and the message hasn't been deleted, but you're still unable to edit it, there might be a technical issue.
This could be a bug in the app or a problem with your device.
How To Fix WhatsApp Edit Message Not Showing Or Working
If the 'Edit' option is not showing up for your WhatsApp messages, here are a few steps you can take to troubleshoot and fix the issue:
1. Check For Updates
Make sure you're running the latest version of WhatsApp.
The editing feature was introduced in May 2023, so if your app hasn't been updated since before that time, you won't have access to the feature.
You can check for updates in your device's app store (Google Play Store for Android or Apple App Store for iOS).
2. Check The Time
Remember that you can only edit messages within 15 minutes of sending them.
If the 'Edit' option isn't appearing, it may be because the 15-minute window has passed.
3. Restart The WhatsApp
Sometimes, a simple app restart can solve minor glitches.
Close the app completely and then reopen it to see if the issue has been resolved.
4. Restart Your Device
If restarting the app doesn't work, try restarting your device.
This can often resolve issues with apps not functioning properly.
5. Reinstall WhatsApp
If none of the above steps work, you might need to reinstall WhatsApp.
Please note that you should back up your chats before doing this to prevent any data loss.
After backing up your chats, uninstall WhatsApp from your device, then reinstall it from your device's app store.
Once reinstalled, you can restore your chat history from the backup.
Then see you will be see edit option on WhatsApp message.
6. Contact WhatsApp Support
If you've tried all the above steps and you still can't edit messages, it might be time to reach out to WhatsApp Support.
You can contact them through the app by going to 'Settings' > 'Help' > 'Contact Us'.
Similar Posts: