Are you having a problem trying to run FivceM in your system?
Maybe you are repeatedly seeing the CURL error code 22 when you are trying to open FiveM.
If that is the case then no need to get stressed because we are here to help.
We understand that it can be very hard for you when you are trying to play FiveM and suddenly you see that it is not working in your system anymore.
But you can easily solve this issue by following our guide.
FiveM is a modified version of GTA V where you can play the game online with your friends.
It is a very popular mod for GTA V as it offers multiplayer features to GTA V, unlike the original game.
What Causes FiveM Error CURL Code 22?

There can be various reasons why you are seeing the CURL Error Code 22 in your system when you are trying to open FiveM.
There has been bop official response from FiveM as to why this happens, however, the players have speculated some reasons why FiveM could be having the error.
Below, some of these reasons are given for your convenience.
FiveM having a server outage or going through Server Maintenance.
Technical issues such as bugs or glitches in the FiveM system.
Poor internet connection.
Loose connections in Router.
How To Fix FiveM Error CURL Code 22?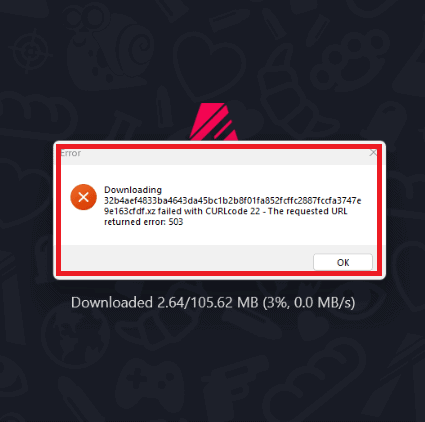 Currently, there are limited fixes that you can try from your end for this error as there is not much information available for it.
Many players suggest that this error happens from the end of FiveM.
As the error is not widespread or faced by a substantial number of players, many players have been able to solve the issue by waiting for some time and then relaunching FiveM.
However, there are some fixes that you can try if your FiveM still shows CURL Error 22 after relaunching it.
1. Check The Server Status Of FiveM
The first thing that you need to make sure of is that the server is online for FiveM.
The server could be facing an outage or going through scheduled maintenance.
If you find that the server is not online, please wait till the technical team fixes the issue and then try to open FiveM again and you can connect to the server.
2. Disable Firewall
A programme may occasionally have its requests blocked by firewalls if the Firewall believe it to be malicious software.
If you are seeing the CURL error 22 in your FiveM, that might be the situation.
In that scenario, you can turn off your system's firewall, which ought to be able to resolve the problem.
Go to Control Panel from the Windows search bar.
Open Systems and Security.
Select Windows Defender Firewall.
Turn on the Windows Defender Firewall option.
Click on the Turn off Windows Defender Firewall (not recommended) button under the Private network settings and Public network settings.
Click on OK and close the window.
3. Disable Antivirus
Moreover, you should turn off your antivirus programme because it can be the reason why FiveM is having problems connecting to the servers.
Antivirus software occasionally interprets service requests as spam, which could explain why your system's FiveM is reporting CURL error 22.
You can open FiveM after turning off your antivirus.
Also, you can uninstall your antivirus software and then launch FiveM on your computer.
4. Check The Internet Connection
You should also check the internet connection because your internet connection could be having issues due to which FiveM is unable to connect to its servers.
FiveM needs a stable and fast internet connection to work properly in your system.
You can check whether the internet is working properly by interchanging the settings between wifi and cellular data.
You can also do a speed test through Google to check whether the internet speed is the issue. If you find any issue then please contact the local service provider to get it fixed.
5. Reset The Router
As an alternative solution, you can try to reset the router and then check whether that solved the FiveM CURL Error 22 problem in your system.
To do that you will have to first switch off the router and then unplug all the connections.
Now, wait for some time and then plug in all the connections and then switch on the router.
You should make sure all the lights have turned off before switching on the router again.
6. Contact FiveM Support Team
After you have tried all these solutions you should be able to fix the FiveM Error CURL Code 22.
However, if you still aren't able to fix the issue then wait for some time and check whether the issue is getting resolved.
If it isn't then please contact the Support Team of FiveM and communicate the issue to them and they would be able to help you out.
Similar Posts: