DoorDash is an online food delivery service that brings your meals to your door.
All you need to do is decide what you want to eat right now, and DoorDash will do the rest.
The card can only be used for eligible orders and is only available at participating restaurants.
Though DoorDash gift cards are a popular service, individuals frequently have difficulties like DoorDash gift cards not working or being unable to redeem their gift cards.
This article will assist you in resolving your DoorDash Gift Card Not Working issue.
What Is DoorDash Gift Card?
DoorDash gift card is a prepaid card provided by DoorDash, used to pay for meals in over 300,000 restaurants in the United States, Canada, Australia, and New Zealand.
The gift card may be a terrific gift for any food enthusiast, and let's be honest: everyone likes food!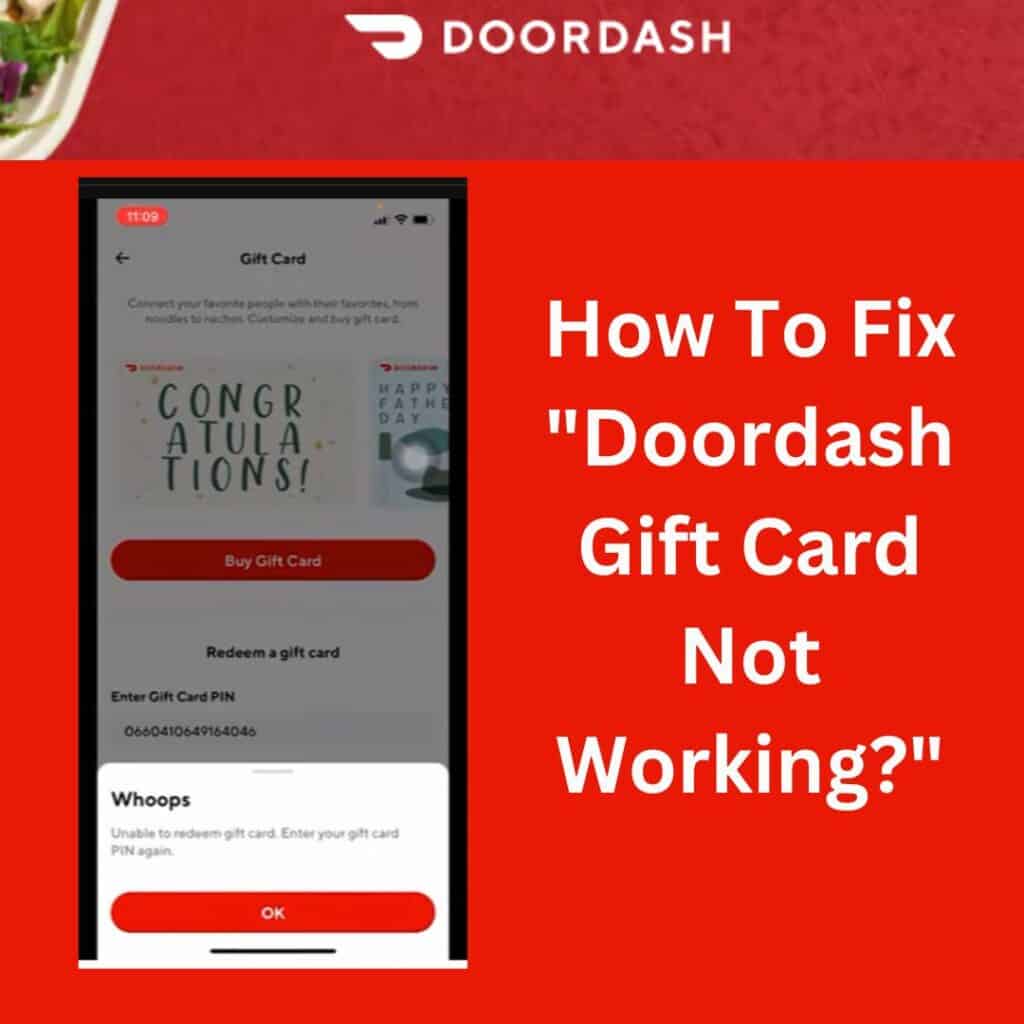 Many people use and send DoorDash gift cards to family and friends, and DoorDash sees this as a way to gain popularity.
DoorDash gift cards are available online via DoorDash, Amazon, Best Buy, Walmart, and Z2U.com.
Let's say you are purchasing a $50 DoorDash Gift Card, which will equal to DoorDash credit value of USD 50.
After redeeming your DoorDash gift card on the DoorDash website, you can use the credit point to purchase meals from any of DoorDash's restaurant partners.
Let's see How to Fix the DoorDash Gift card not working?
How To Fix DoorDash Gift Card Not Working
There are various possible causes for the DoorDash gift card not working.
Try out these step-by-step troubleshooting instructions to resolve the DoorDash gift card issue.
1. Check Your Internet Connection
You may encounter an error during redemption if there is any issue with the internet.
To see internet speed, go to any video app, and see how it loads.
If you find any disruptions, you need to troubleshoot your internet.
2. Verify DoorDash Gift Card Information
If the DoorDash gift card is not working, please double-check that you entered all the information correctly.
I recommend you type the DoorDash gift card PIN manually.
Because, copy-pasting will not help you identify if there is a typo or a blank space.
3. Clear Your Browser Cache Memory
If you input the PIN incorrectly the first time, the browser may not recognize it even if you try again with the PIN.
Clear the browser cache and try again.
Also, entering the PIN incorrectly several times may result in a communication failure with the server.
Then try again in an hour or two.
4. No Sufficient Balance On DoorDash Gift Card
Make sure your DoorDash gift card has sufficient funds to cover the purchase you want to make.
You can check your DoorDash gift card balance by visiting the payment page on the DoorDash website.
5. Check The Limitations Of DoorDash Gift Card
Some DoorDash gift cards may only be valid for specific restaurants and dishes.
Make sure the DoorDash order meets all the requirements.
6.Try Reinstalling The App
Your DoorDash card gets declined due to technical glitches on the app.
Remove the DoorDash app, power off, and switch on your phone.
Wait for three minutes, install the app, and try entering the PIN again.
Does Door Dash Gift Card Expire?
DoorDash gift cards have no expiration as long as you activate the card on the same day.
What Cards Are Accepted By DoorDash?
You can use only the DoorDash gift card or prepaid gift cards from companies like Visa and American Express on the DoorDash website.
Other types of gift cards, such as those from restaurants or retail stores, cannot be used on the DoorDash platform.
How To Redeem Purchased Gift Cards?
Go to the DoorDash website and click on "Home Button". (For DoorDash website users)
Tap on the "Menu icon" on the top left corner of the DoorDash app (For DoorDash Mobile users, the remaining steps are the same)
Click on the "Gift card Option" from the menu bar.
Enter your "Gift card PIN" in the text box below the Buy Gift card button.
Click "Redeem Gift card" button from the DoorDash portal.
You will get the following confirmation message : "The Gift card Number will appear, and the DoorDash credit will automatically apply to your next order."
Now you can use credit points on your account and enjoy your favourite food.
I hope this information helped resolve the DoorDash gift card not working difficulty.
If you are still unable to fix it, seek professional assistance.
Contact DoorDash customer care since there may be an issue with your account or DoorDash gift card.
They might be able to help you resolve a problem.
Similar Posts: