Discord has an lots of features available for its users.
Since Discord is a super cool platform gamer, you can also integrate several other services with Discord, like Steam, Twitch, Spotify, Xbox, Github, Facebook, Youtube, and more.
As a Game lover, I love to play games in Discord with the game station.
However, after linking the Play Station, many users need help finding the Play Station status inside the Discord account.
In this article, you will find several possible fixes that help you to work on your Playstation efficiently.
Why Is Discord Not Showing Play Station Status?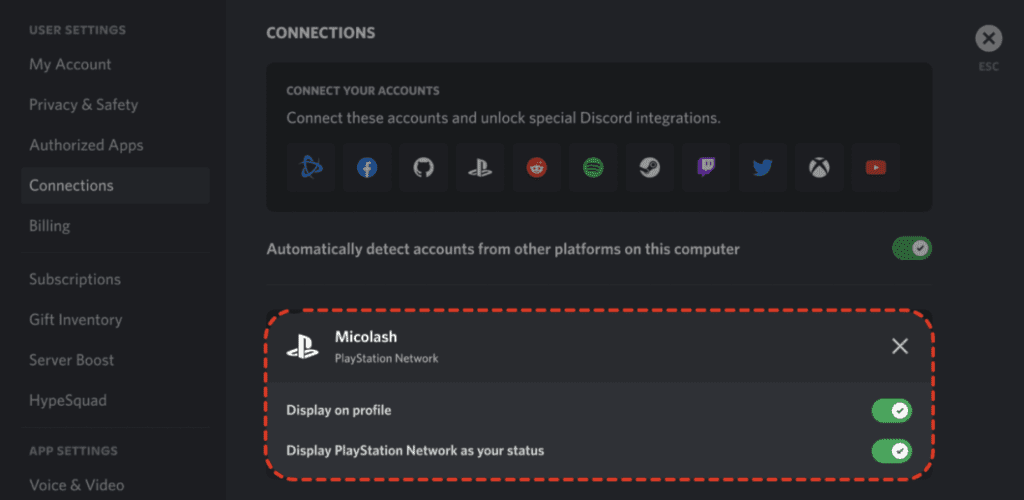 Discord Not Showing Play Station Status means your visibility setting and the online status are not public, and the game file might be in the Hidden game list.
The other possible reasons are
The game might conflict with the other linked service in Discord
Your Play station visibility is not public
Your Play station is not in Online status
There is an issue with the game file setting
There might be an issue with the Play Station Version
How To Fix Discord Not Showing Play Station Status?
Before getting into the troubleshooting process, if play station is not showing up in Discord, try different games.
Also, check with Internet connections, and make sure it is stable and working fine.
1. Game Is In A Hidden Game File List In Play Station
Play Station is inactive; you must check the hidden file list in your Play Station and Unhide the game file.
For PS 5:
Open the console setting in your Play station
From your Game Library, open the Your Collection tab.
Click the Sort icon at the left top corner and enable the Hidden list
You will be filtered and listed in the Hidden game lists.
If the game is on the Hidden list, right-click on it and Unhide it.
For PS4:
Go to your Library > Purchased and highlight a game.
Press the OPTIONS button and unselect Do Not Show Content Item in [Purchased]
Now restart your Play Station; you can view the play station status on Discord.
2. Check The Visibility Setting In Play Station
If the visibility setting of your Play Station is not in Public, you cannot see the play station status in Discord.
Go to Gaming and Media, set the visibility for Activities to Everyone.
Also, Go to "Game History" and put it to "Everyone."
3. Check Online Status In Play Station
You must set the online status to Anyone to see the play station in your Discord Account.
For PS4:
Go to your PlayStation account Home screen and navigate to Profile.
Press Profile > Change Privacy Settings page.
Open up Privacy Settings and locate Personal Info | Messaging
Expand Online Status and Now Playing and make sure Anyone is enabled.
Return to your Discord client and refresh to see if the issue persists.
For PS5:
Go to Settings
In Settings, go to Users and Account
Go to Privacy in the left-hand column, then choose View and Customize Your Privacy Settings.
Under the "Who can see your online status and what you're currently playing" option, select Anyone.
The settings might vary from one version to another.
Now Go back to your Discord client and see if the issue is gone.
4. Turn Off All Other Connections In Plays Station
If the error persists, there might be a conflict with the other services connected.
If any additional services like Spotify or Youtube are integrated with your play station, remove them.
Now restart your PS4 and Discord for these changes to take effect.
Failing this, try unlinking and relinking Discord and PSN
5. Reconfigure The Play Station With Your Discord
The final step is to remove and reconfigure the Play station with your Discord.
l In Discord, head into User Settings > Connections on desktop or web.
Press on the (X) symbol by the PlayStation connection option!
You'll then see a new menu pop up where you must confirm that you want to proceed by pressing the Disconnect button.
Relaunch your Discord
Again, Go to the Connections tab in Discord, and click on the PlayStation Network icon
A new browser window will appear
Authorize the connection to your account on Play Station Network in Discord.
You access the play station in your Discord account.
Now you can be able to see the PlayStation in Discord online status.
I hope you are clear about Discord Not Showing Play Station Status. Now you can understand and fix the issue.
Similar Posts: