How to Fix ChatGPT Keeps Checking If The Site Connection Is Secure
Are you having issues trying to open ChatGPT in your browser?
ChatGPT is a AI chatbot developed by OpenAI and released to the public in 2022.
It can follow the prompts given by the users to develop content that sounds natural and human-like.
Due to this ChatGPT has become one of the famous AI Chatbots that is helping millions all over the world.
Maybe every time you try to open ChatGPT you see the page, "Chat.Openai.com Checking whether the site connection is secure".
Basically this a security feature implemented by Cloudflare and OpenAI users Cloudflare.
After you see this page ChatGPT should open in your browser within a short time however if you keep seeing this page and ChatGPT does not load then you should check this guide out.
Here we have discussed all the fixes that you can try when you are having an issue with ChatGPT.
Why Is ChatGPT Keeps Checking If The Site Connection Is Secure?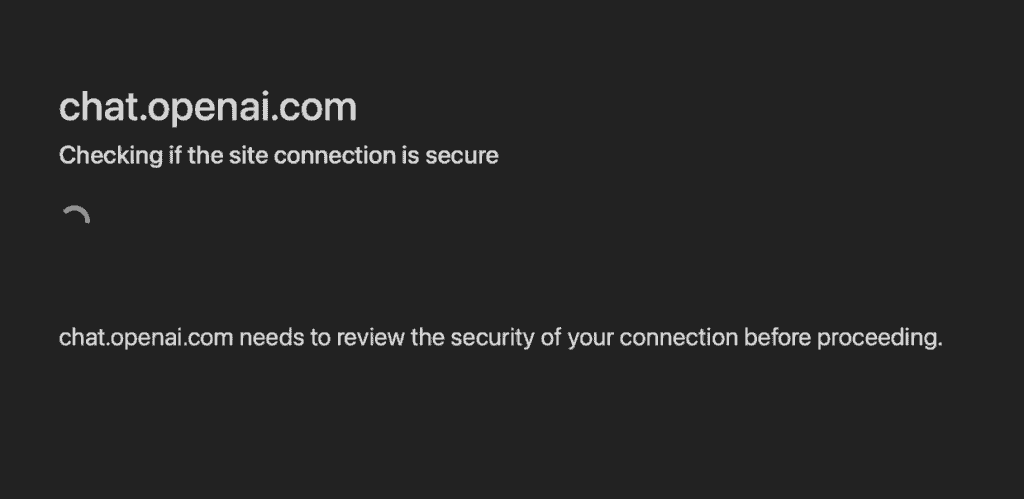 When you are seeing that ChatGPT keeps checking whether the site connection is ensured it means that ChatGPT is having a problem trying to connect securely to your device.
Many users have suggested that this issue could happen due to a bug in the system of ChatGPT.
If you are not using browsers compatible with ChatGPT then also this issue can arise when you are trying to connect to ChatGPT.
Whatever it is we have got you covered. So, read on to check out the fixes!
How To Fix ChatGPT Keeps Checking If The Site Connection Is Secure?
In this section, we will be going over the fixes that will help you to load ChatGPT on your device without getting the issue of ChatGPT checking whether the connection is secure.
1. Change Your Browser
The first thing that you can try is to change the browser that you have been using to open ChjatGPT and then see whether you can open ChatGPT on your device without having any issues.
You can use browsers like Chrome, Microsoft Edge, Brave, Firefox and Safari to open ChatGPT.
2. Refresh The ChatGPT Page
Another fix that you can try is to refresh the page when you are seeing the issue of checking for site connection while trying to open ChastGPT.
Refreshing the page might help if the issue happens due to some glitch or bug that stops ChatGPT from opening on your device.
3. Access ChatGPT From Your Smartphone
If you see that ChatGPT is having issues when trying to open from your computer then you can easily open it from your phone for the time being.
Many users have suggested opening and using ChatGPT from their phones because they weren't able to open ChatGPT from their computers.
This could be due to some problems with ChatGPT as it is still in the process of development.
4. Wait For Sometime
As ChatGPT is continuously being developed and maintained by OpenAI, occasional technical issues may arise.
If you've tried the previous solutions without success, consider waiting for some time before trying again.
The OpenAI team may already be working to resolve the issue, and it could be fixed shortly.
5. Contact OpenAI Support Team
Finally, if none of the above solutions work, consider reaching out to the OpenAI support team.
They can provide further guidance and help you troubleshoot any connection issues you might be experiencing.
Similar Posts: