Are you getting "Access Denied" error when try to login ChatGPT website?
As I was trying to login into ChatGPT (chat.OpenAI.com) but got an error "Oops AccessDenied".
OpenAI offeres many services like Dall-E, ChatGPT etc.
ChatGPT got more than 1 million users within week after its launch.
If you are also getting same error and looking for troubleshooting steps then you are at right article.
In this guide, we will discuss why access denied error occurred and how to fix it.
Why Access Denied Error Occurred On ChatGPT?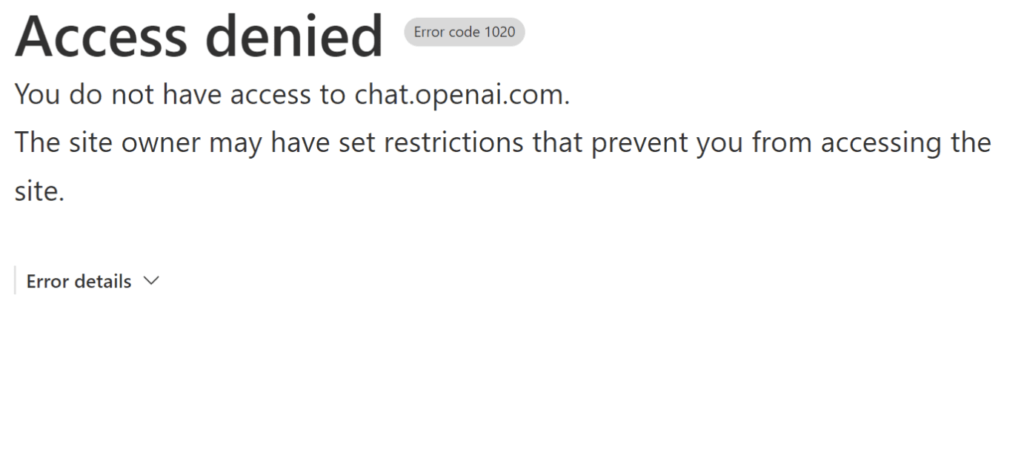 There are a few possible reasons you might be experiencing access denied error on ChatGPT:
ChatGPT is restricted or unavailable in your country.
Your network administrator has set restrictions or firewalls blocking access to the service.
Your VPN connection is causing issues.
How To Fix "Access Denied" On ChatGPT?
to fix "Access Denied" error on ChatGPT website, check below mentioned solutions:
1. Connect Or Disconnect From A VPN
If you're not using a VPN:
Download a reliable VPN software or app. Some popular options include ExpressVPN, NordVPN, and ProtonVPN.
For mobile devices:

Open the App Store (iOS) or Google Play Store (Android).
Search for a VPN app like ExpressVPN or NordVPN.
Download and install the app on your device.
Launch the VPN app and connect to a server in a country where ChatGPT is not restricted (e.g., United States or Canada).

For PCs:

Visit the website of a VPN provider like ExpressVPN or NordVPN.
Download and install the VPN software for your operating system (Windows, macOS, or Linux) or you can use any VPN extension in your browser.
Launch the VPN software and connect to a server in a country where ChatGPT is not restricted (e.g., United States or Canada).
If you're already using a VPN:
Try disconnecting from the VPN before accessing chat.openai.com, as some VPN connections might cause issues.
2. Clear Your Browser Cache
Google Chrome: Settings > Privacy and Security > Clear Browsing Data > Cached Images and Files, Cookies and Other Site Data
Mozilla Firefox: Options > Privacy & Security > Cookies and Site Data > Clear Data
Microsoft Edge: Settings > Privacy, Search, and Services > Clear Browsing Data > Choose What to Clear
Safari: Preferences > Privacy > Manage Website Data > Remove All
3. Disable Firewall Or Whitelist ChatGPT
If the access restrictions are due to your organization's network policies or your device's firewall, try the following:
Request access to ChatGPT from your IT department if it's restricted by your organization.
Whitelist ChatGPT in your firewall or network restrictions if you have administrative control.
Temporarily disable your firewall:

Open the Control Panel.
Click on "System and Security."
Select "Windows Defender Firewall."
In the left-hand menu, click "Turn Windows Defender Firewall on or off."
Choose "Turn off Windows Defender Firewall (not recommended)" for both private and public network settings.
Click "OK" to apply the changes.
4. Contact OpenAI Support Team
If You've tried all the solutions listed above without success, it's time to get in touch with the OpenAI support team. Here's how to contact them:
Visit the OpenAI Help Center at help.openai.com.
Submit a request or query using the provided form.
Include the Ray ID from the error message for faster resolution.
The OpenAI support team will investigate your issue and provide assistance accordingly.
Similar Posts: