If you get tired of using Meesho and searching for ways to close the account without any hassles, it's the right place to explore.
However, there can be many reasons that force an individual to deactivate or delete the account. So, for whatever reasons you are going to delete the account, this guide will help you out in closing the Meesho account. 
Before getting to the points, let's also get some information about the respective platform. 
Let's start! 
What is Meesho App?
Meesho is an Indian social e-commerce company with its headquarters in Bangalore, Karnataka, India, launched in 2005 by IIT Delhi graduates, Vidit Aatrey, CEO of the company; Sanjeev Barnwal, CTO of the company, who played the main role in establishing the Meesho Company.
They were helped by Bhaumik Gondaliya as well; three of them were the founders of the company that later and till today's date is running successfully and smoothly. 
However, Meesho is an online business platform and owns an app with the same name, called Meesho, which as of today's date, is probably one of the most downloaded apps on every android phone.
Meesho is the most common online app that enables and encourages small businesses to run well so that profit can be found at the doors of both customers and dealers. 
On the Meesho app, one can easily find multiple goods and products as required on certain occasions or situations. Meesho plays an important role in making a start-up business run well by reaching out to a wider range of audiences.  
How to Delete Meesho Account?
The Meesho app is an excellent online app for everyone who loves online shopping and other things, yet if you are tired of using the app and have this wish to delete or deactivate your account permanently. You can learn the steps mentioned hereof deleting your Meesho account in an easy and better way.
Straightforward steps to delete your Meesho account
There are two ways for you to delete the Meesho account; let us see it as follows –
Delete Meesho Account via Email
You can easily delete your Meesho account by composing an email to the Meesho company, asking them to delete your account from their database.
Step 1: Login with the email account with which you registered yourself to the app or website.
Step 2: Then, just compose an email and include your points and reason, and enter the email address help@meesho.com.
Step 3: In the email, there is the "Subject" box where you have to type "Request to Delete my Account" 
Step 4: Now compose an email to the Meesho app, requesting them to delete and remove your account and other details from their database.
Below here, you are provided with an email demonstration for you to get a better idea. The picture provided should be used as a reference only, nothing else.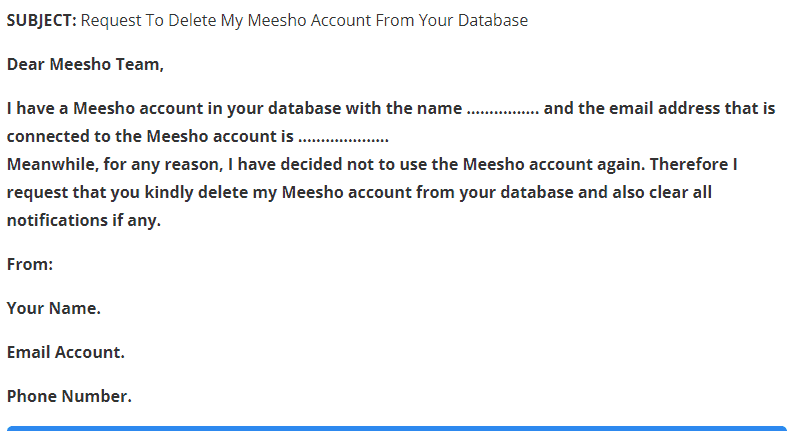 Delete Meesho Account by Calling Customer Care
You may also delete your Meesho account via calls. Follow these steps to know more.
Step 1: You can directly connect with the Meesho customer care number. Meesho's customer care number is +91-80617-99600 and their calling hours are 10:00 to 19:00 IST.
Step 2: As you make the phone call, request for the deletion of your Meesho account. They will delete your account after your confirmation.
Things to keep in Mind Before Deleting Meesho Account
There's nothing special that you especially need to keep in mind. However, it is recommended to follow the steps correctly so that you can delete the account without any effort. It's also advised to compose the genuine reasons for deactivating the Meesho account. 
Recommended:
Wholesale Business: How to Start Wholesale Business?
Frequently Asked Questions 
What are the possible ways to delete the Meesho account? 
There are three possible ways to delete the Meesho account that are through an email, by calling, and from the Facebook and Twitter pages.
For how many hours is one supposed to work at Meesho?
About the time duration, it requires to work for around 8-10 hours on the Meesho app. 
What could be the reason behind leaving your work at Meesho?
For that reason, there could be multiple valid reasons like that of family, displacement, workload, pressure, money issues, etc.
How much time will it take to close the Meesho account? 
By following the correct procedure to close the Meesho account, it will take 3-5 working days to close the account, and you will get a confirmation. 
Are there any documents required to close the Meesho account? 
No, there are no documents required; you can easily close the account by following the above-mentioned steps.