The Full Form of CRISIL is the Credit Rating Information Service of India Limited.
Grades of students, ratings of equipment, and reviews of the company are the measurement protocol through which we can judge and analyze the quality of the products.
CRISIL is among those who give a financial rating, research, and risk and policy advisory services about the mutual fund, stocks, sector, G.D.P, bond, and so on. Whether the market is bearish or bullish, it doesn't affect CRISIL because it must provide a rating in any condition. It is a subsidiary company of S&P Global located in Mumbai, Maharashtra.
Objective of CRISIL
The main objective of CRISIL is to do rating and research based on business strength, company's performance, turnover profit, operating profit margin, EPS, percentage of sale growth, and so on and prepared a report based on that.
Its vision is to become a globally leading company in the field of credit rating.
Its mission is to outperform the markets by providing independent feedback, actionable insights, and better solutions.
Services of CRISIL
To rate debt duty of Indian Companies (rating provides a guide to the investor).
Define Creditworthiness for companies based on the company's business, reputation, board, history, market. 
To assist both individual and institutional investors in making an investment decision.
Securities covered
Fixed deposit programs- Rating the FD using 14-rating scale.
Commercial Papers – rating the Commercial papers and short term debts.
Equity and Preference Shares – Does equity rating, IPO grading, SME (Small and Medium enterprises) Grading, Equity Valuation.
Real Estate Projects with 8-scales rating, 7 is being highest and 0 is lowest for the city.
Mutual Fund – CRISIL Mutual Fund Ranking (CMFR) – uses a combination of NAV and portfolio-based attributes for evaluation purposes. It scores from 1-5, 5 is "very good in performance".
Benefits of CRISIL
Present a formal research analysis report of an organization which makes it easy for the investor.
Provide quality content rating as it is a subsidiary of S&P Company, so it is trustable.
Deals with three rating scales are Global, National, and Regional.
Different sectors covered by CRISIL are Automobile, Industrial, Energy, Financial, Infrastructure, IT, Media & Telecommunication, Travel, Health, Retail, etc.
Rating methodology based on the company's past performance; assess the prospects based on their performance parameter, the company's position within the Industry, functions of their department, competitive advantage, and so on.
Advantages of CRISIL
Integrity – It has its way of working, doesn't follow other companies, organization's rules.
Excellence – It provides a quality content ranking and always brings innovative ideas to serve business better.
Accountability –They are committed to what CRISIL does, CRISIL stands by its opinion and analysis, and CRISIL assumes full responsibility and ownership of its decisions and actions.
Teamwork – CRISIL collaborates and engages a team with each member's expertise and insight to enhance the value of CRISIL deliverables for its clients, investors, and other market participants
Respect – Treats everyone with equal respect and trust, be it colleagues, customers, or anyone else CRISIL embraces and cherishes the inclusivity and diversity of its company.
Challenges of CRISIL
Rating is based on the company's present and past historical data, so it cannot be accurate.
Chances of bias rating and misrepresentation.
The establishment and successful implementation of the UMR(Uncleared Margin Rules) program involved several key stakeholders in the legal, front office, operations, counterparty credit risk, model risk, data, technology, internal audit, and senior management.
CRISIL'S rating scales are long term, short term, dual ratings, structured obligation rating, credit enhancement rating, Corporate Credit Rating, Fixed Deposit Ratings, Financial Strength Ratings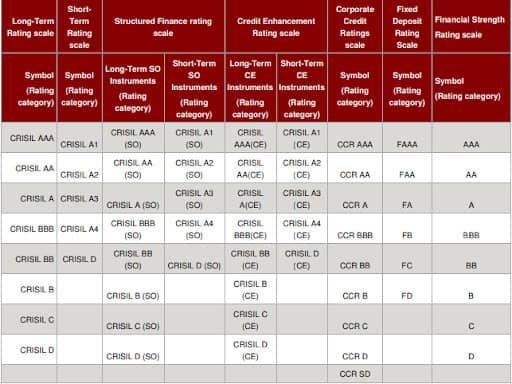 Image Source: crisil.com
Conclusion
Though CRISIL is among the reputed companies, we cannot completely depend on it, we need to look at others' reviews too, and of course, our own opinion matters a lot during investing.