Tiktok is all set to release A new feature of uninterrupted and undistracted scrolling on their application with they are exciting new features named clear mode.
The clear mode feature helps you to get an undistracted scrolling experience as it removes all kinds of other components from the screen, such as buttons, video captions, and many more.
This will allow you to watch only the valuable content or the video you are watching without being distracted by any of the other components.
In this article, we will explain what is clear mode on TikTok and how house it.
What Is Clear Mode On TikTok?
Clear mode on TikTok is the feature that enables the user to experience distraction-free scrolling. This mode hides the different components, Such as buttons and texting, i.e., captions, from the screen while watching the TikToks of your choice. 
This feature is not yet available for all the users as it is only available for testing within a fixed range of users. But, all the users who have initiated using this feature have praised its performance. 
To check whether you are eligible to get clear mode on your application, you need to tap and hold on to the device screen for a few seconds. Upon leaving the hold, you will encounter a dialogue box that will indicate that the clear mode option can be Initiated on your application.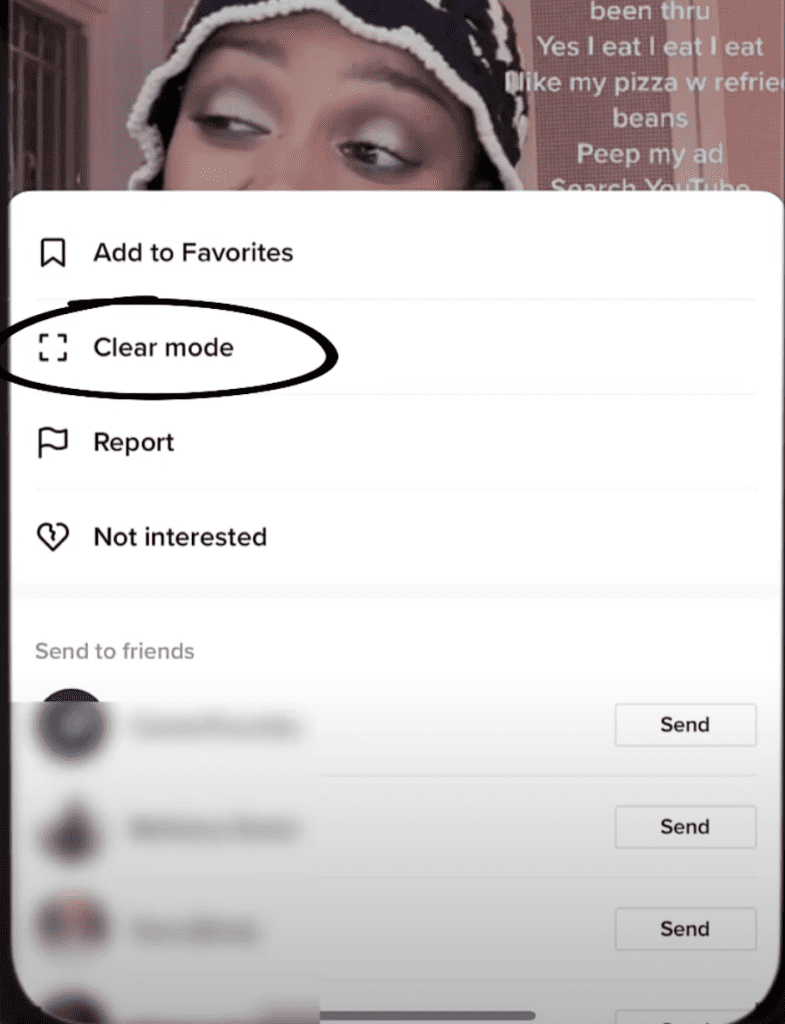 In case you are not able to find this option on your application, do not worry, as it is only available for a few users for testing purposes. Soon, every user on the application can benefit from this feature.
What Does Clear Mode Do On TikTok?
Clear mode hides Various details, including the username of the creator, following button, details of the audio track used in the video, for you button, number of likes the video has, and other options of liking, sharing, and commenting from the screen to make the display more organized and less crowded.
once you enable clear mode on your TikTok app, You can have an undistracted View of the trending videos.
Clear mode removes all the insignificant information from your screen and lets you focus on the basic content of the video.
You can easily turn on clear mode as it will be available on your screen between add to favorites and report buttons.
Also Read: Fix: TikTok Watch History Not Showing
How To Use Clear Mode On TikTok?
To use clear mode on TikTok, You need to hold your screen for a few seconds, and from the dialogue box tap on the clear mode option. You can easily spot this option just below the add to favorites option on your screen.
Once you turn it on, all the insignificant details such as audio details, the video caption, the number of likes, and such will be hidden from your Screen, and you can have an unrestricted experience of scrolling the trending content on TikTok. 
Note that once you turn on the clear mode for a certain video and jump to the next one, clear mood will disable, and all the other components of the video, such as caption, username, etc, will be displayed on your screen. You will have to turn this mode on every time you wish to see a video in full-screen mode.
TikTok Clear Mode Option Not Showing
TikTok Clear mode option is not showing because this feature is only available for limited users or your TikTok app is not updated with latest version.
If you are not able to locate the clear mode option between add to favorites and report option on your screen, this can be due to the fact that this mode is not available to you or update your TikTok app to use clear mode features.
If Clear Mode is not available to you or in you're country then wait till the complete roll out of clear mode feature in your region.
Also Read: How To See Profile Views On TikTok?
Conclusion
TikTok team is working hard to make the user experience better on this application and has decided to launch a special feature to hide all the unnecessary data from your screen and allow you to concentrate on your content in a convenient manner. 
With a clear mood, you can watch your videos without getting distracted by the video caption, the video maker's username, the details of audio used by the user, and all the kinds of buttons that distract you from the actual content of the video.
Thus, you will have to wait to enjoy an undistracted view of this application until your chance comes. Till then, you will have to watch videos with the number of shares, likes, and comments distracting you from the video.
Similar Posts: