Although the users utilize different platforms, the content to be posted on these sites is somewhat relatable and similar.
Mostly, while raising an issue on Twitter, the users make a thoughtful and creative tweet.
Transferring Or directly posting tweets on your Instagram story is not possible. The Twitter interface does not allow the users to directly share any tweet as their Instagram story yet.
However, with the development of the app, Twitter may allow this feature and make it simpler for the users to use both platforms simultaneously.
Right now, you can not use your Twitter app Or Twitter account on a web browser to post an Instagram story with your tweets.
Why Can't I Share Tweet On Instagram Story?
Twitter is widely used by users to raise an issue or talk about something trending around the globe.
Used by over 300 million users around the world, Twitter is also a well-established platform for journalists used for posting articles and blogs in the form of Tweets.
Instagram Stories are one of the biggest and most popular ways to get the spotlight from thousands of viewers.
However, Twitter does not support Sharing Tweet On Instagram Story. The Twitter account users can not post their tweets directly as their Instagram stories.
But, to save time and ensure that your creativity is kept intact, you can take a screenshot of your tweet and after some editing tools, your tweet becomes Instagram-able.
This way you can turn your Tweet into your Instagram story for your account. However, Twitter may develop their interface in the coming time that allows you to directly perform this task.
Till now, you will have to do it through this long path if you wish to turn your amazing tweet into an impressive Instagram story.
How To Share Tweets On Instagram Story?
Twitter does not come up with a feature to convert your tweets to any other app directly. You can follow the old school method listed below if you wish to put your tweet as your Instagram story too.
When it comes to sharing your Tweets on Instagram stories, this can not be done on Android and desktop applications as this feature is yet not implemented on any of these portals. But, if you are using Android, here are the steps that you need to follow.
For Android Users:
Step 1: Download Twitter And A Third-Party Application
To begin with, you will have to download and install Twitter Application on the system.
You will then have to open the PlayStore on the device.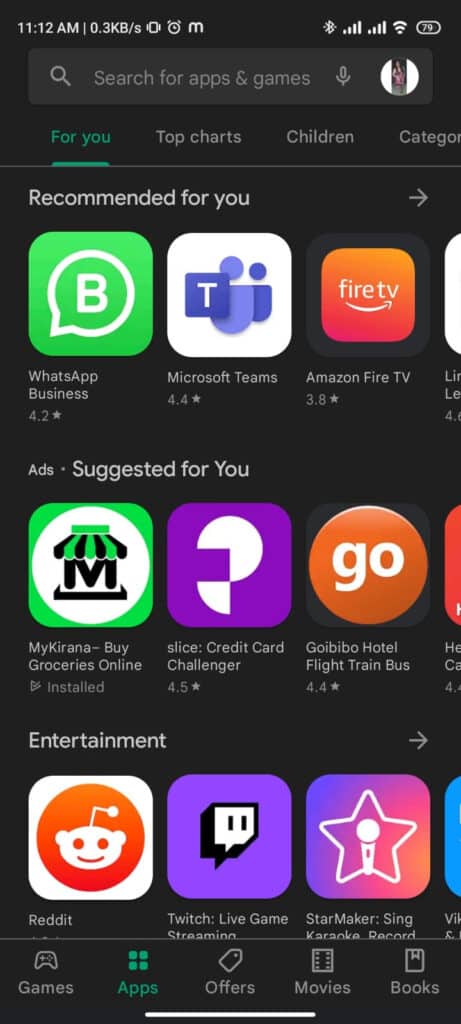 Now, you will have to hover to the search tab and then download Twigger.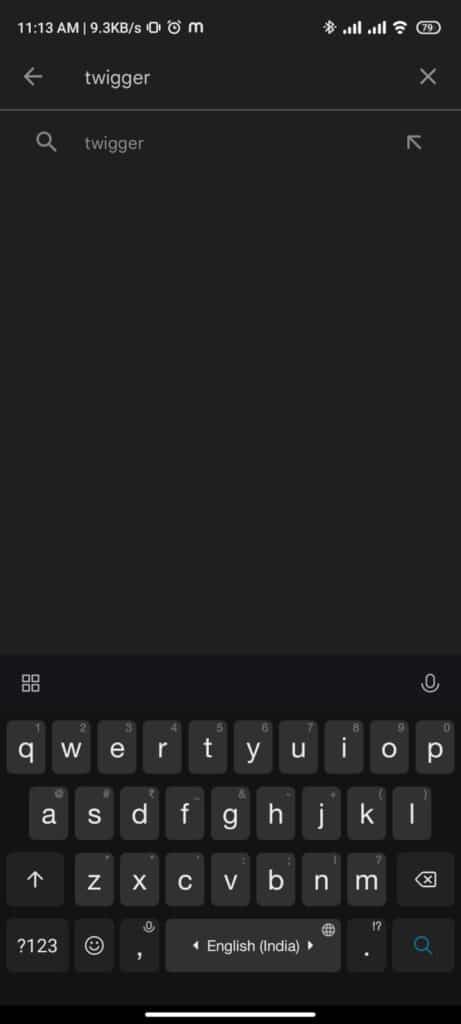 When found, install the application.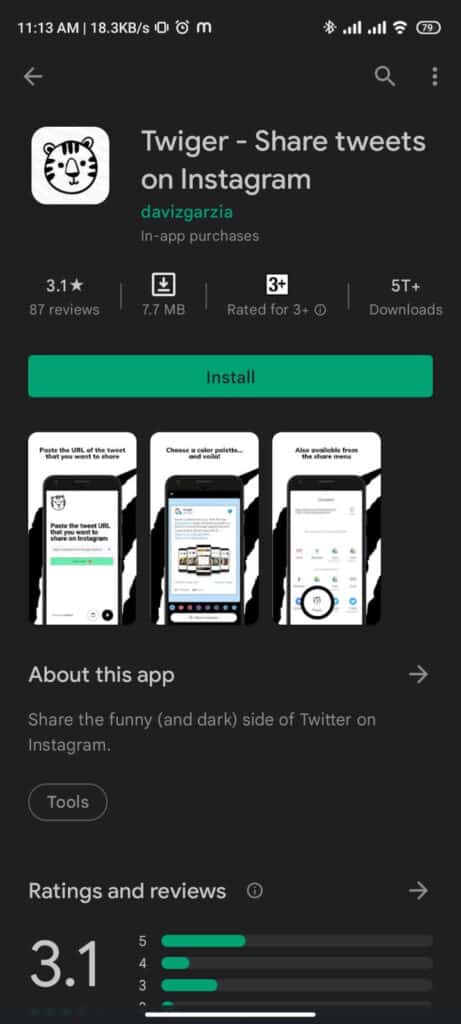 Step 2: Log In To Twitter
When you have installed the Twigger application on the system, you will have to look at the Twitter application and then log in to the application.
Step 3: Share Your Post
On your profile, open the post which you wish to share. Make sure that your post is public.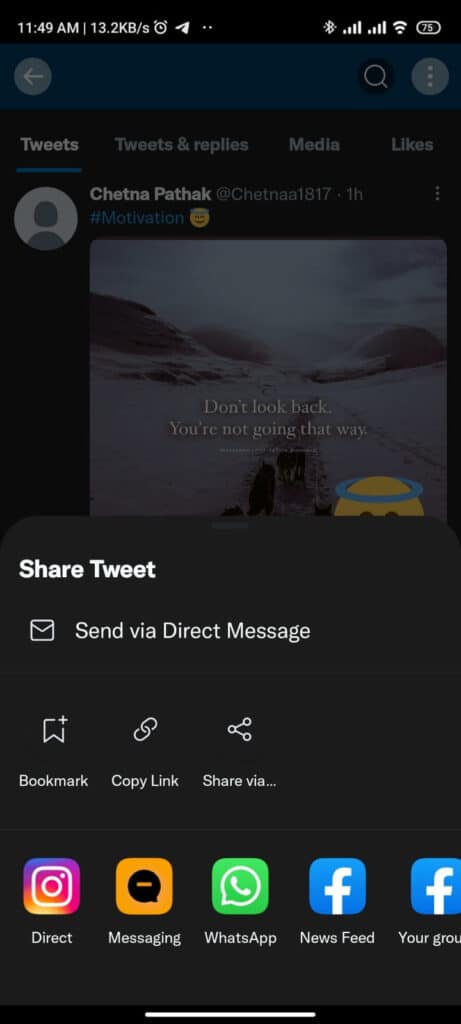 You will then have to tap on the share icon.
From the options, choose the option to share via. Now, choose the Twigger option.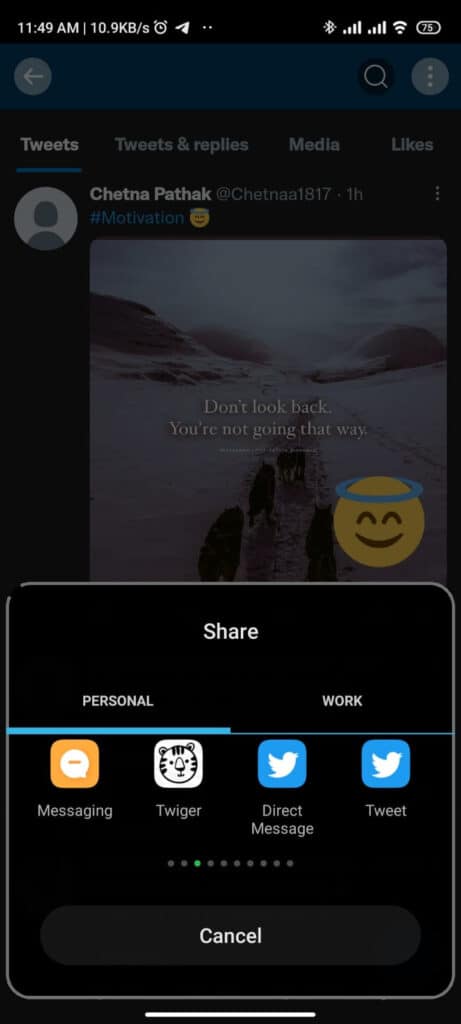 Now, it will paste the tweet.
Step 4: Choose To Share On Instagram
Now, you will get a preview of how the tweet will look on the story.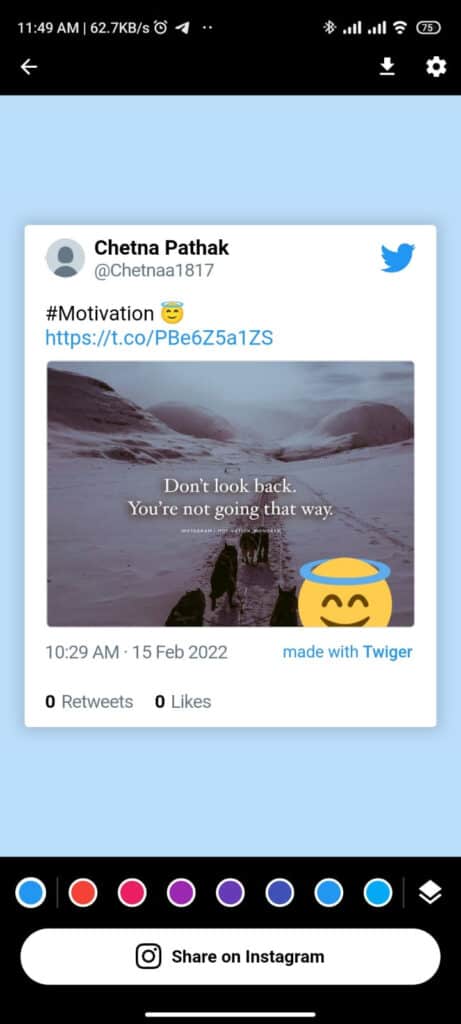 You will now have to choose the option to share the file on Instagram.
Step 5: Make Required Changes
You will then have to adjust all the changes that you wish to make to the story.
You can change the background, add filters, and more.
Step 6: Submit Changes
Now, the last step in the process is to tap on the send option.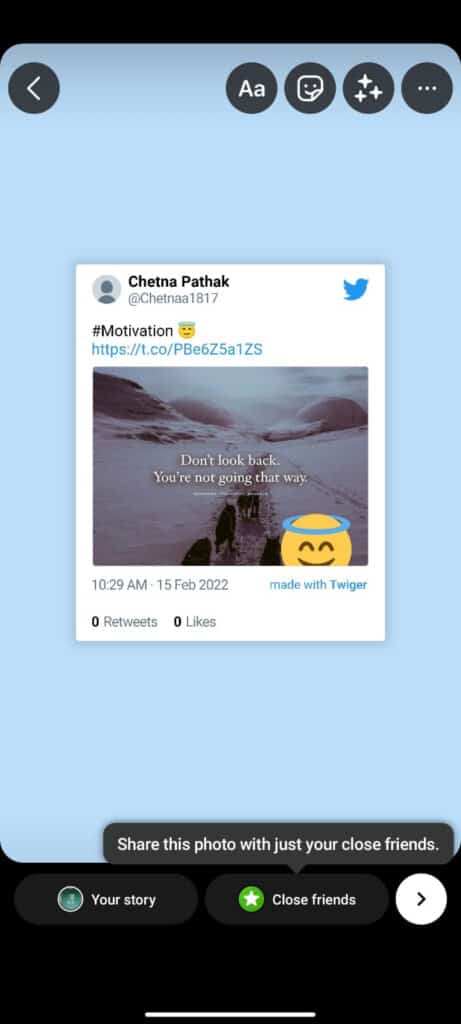 From the options, choose the story option.
This way, you can convert your old tweet into a new Instagram story and get a better reach for the issue. Soon, Twitter may allow you to do all this with a single click only.
Till then, these steps will allow you to do the same procedure in a somewhat lengthy process.
You can also share your Tweets as stickers on your Instagram Stories if you do not wish to post a whole screenshot. These stickers can be resized according to your requirements.
How To Post Videos From Twitter As Instagram Stories?
Twitter allows you to share sticker forms of the tweets however, making stickers of videos is not possible. But what if you like a video or simply want other people to see it too, what will you do then?
You will have to make it your Instagram story. Hence, you will have to choose a whole different path for getting your video on your Instagram stories via Twitter.
The process to share a video from Twitter to your Instagram story is given in the following steps
On Android:
Step 1: Download Twigger
First, make sure that you have downloaded and updated the Twitter application on your Android device.
You will then have to open the play store and then click on the search bar.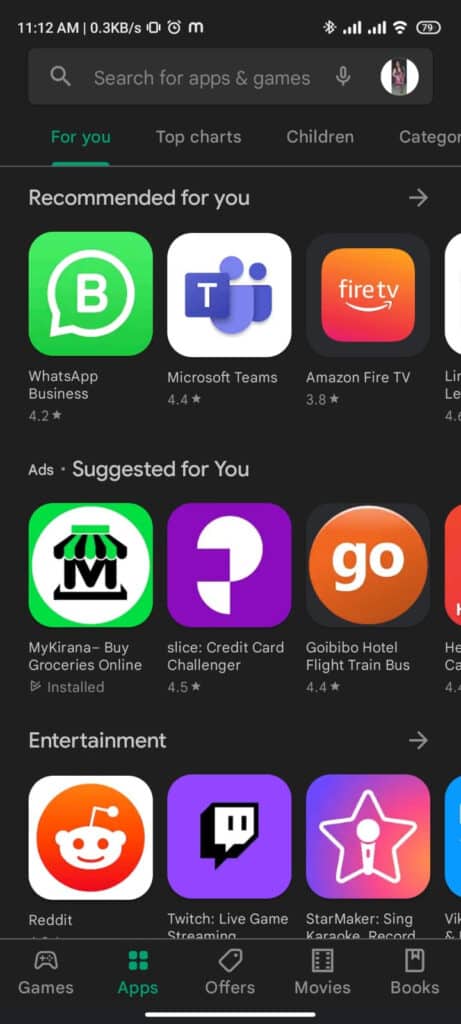 Look for the Twigger application and then install it on the system.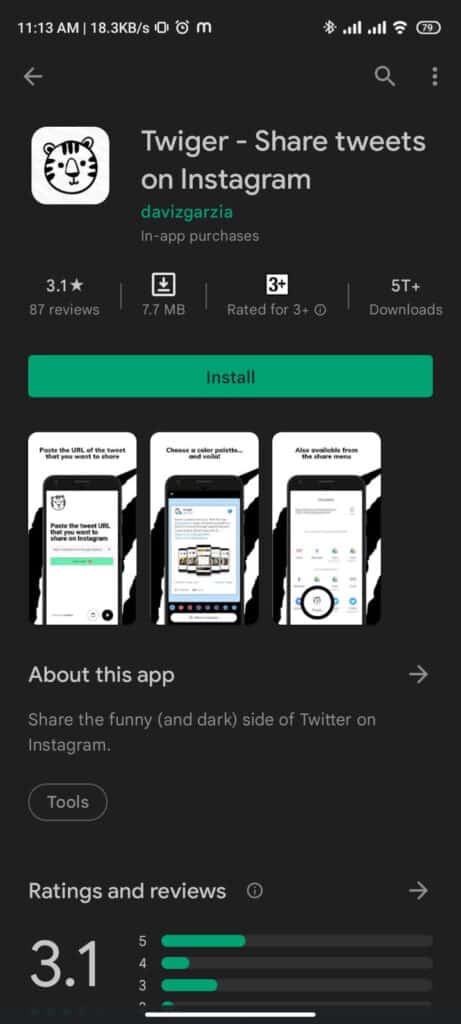 Wait till it is installed on the system.
Step 2: Choose The Video
Now, you will have to find the video that you wish to share.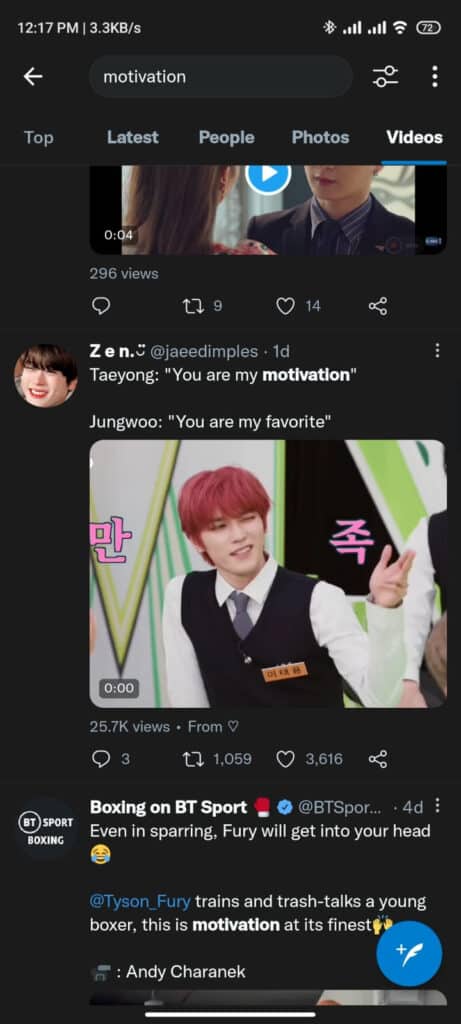 When found, tap on the share option.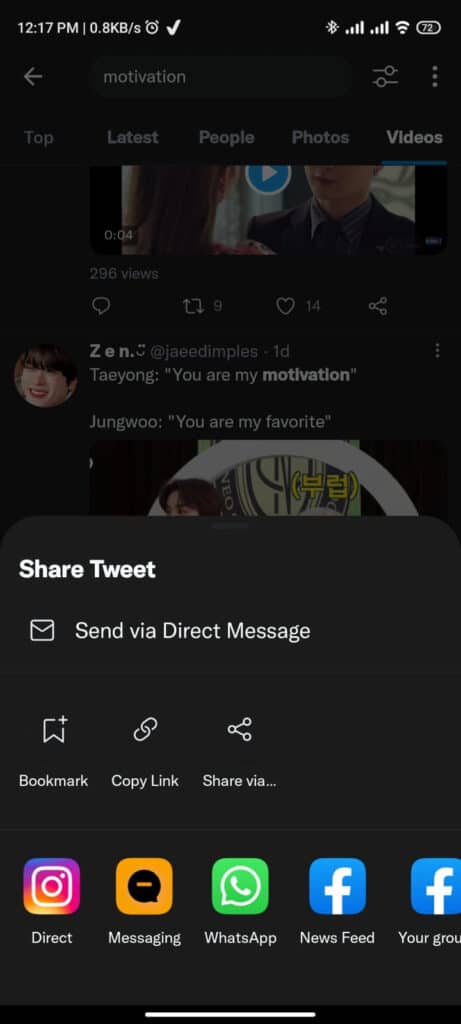 Now, choose share via option and choose Twigger application.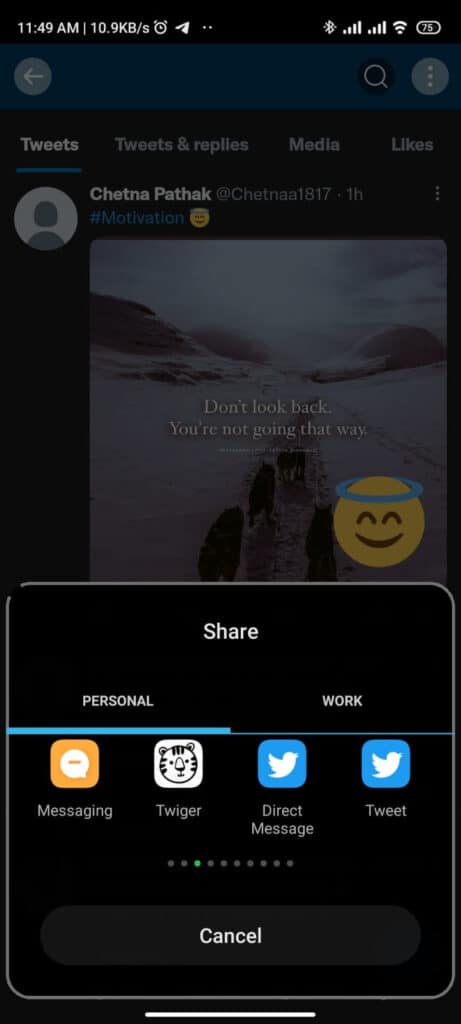 Step 3: Check The Preview
It will now display a preview of how the post will look.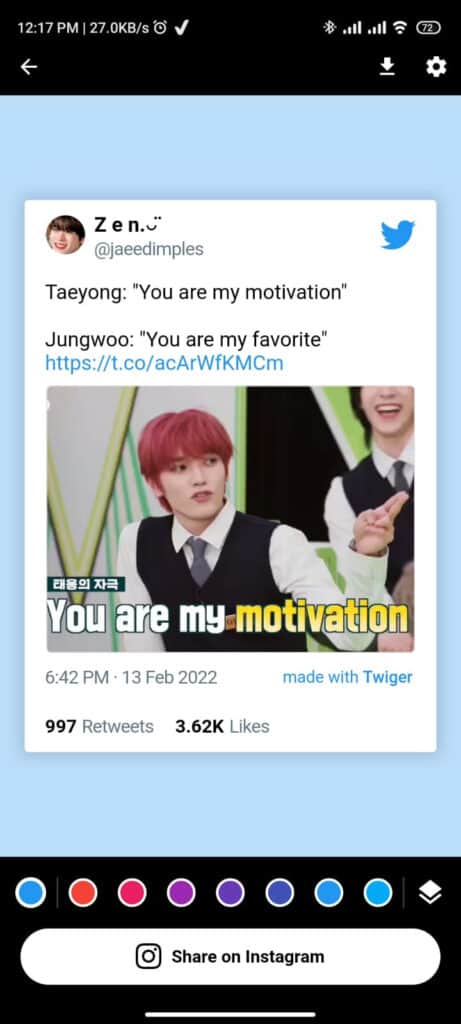 Choose the option to share on Instagram.
Step 4: Make The Desired Changes
In the preview, you can choose to change the background.
You can also add stickers if you want.
Step 5: Submit The Story
When you have made all the changes, you need to choose to share them in the story.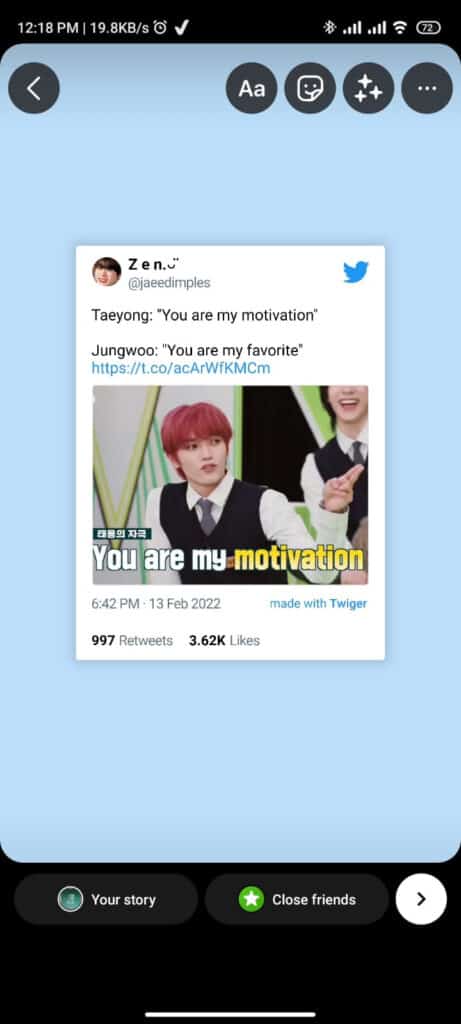 Share it with your friends.
For Desktop:
Step 1: Visit Any Twitter Video Downloader
On your website, look for a video downloader website.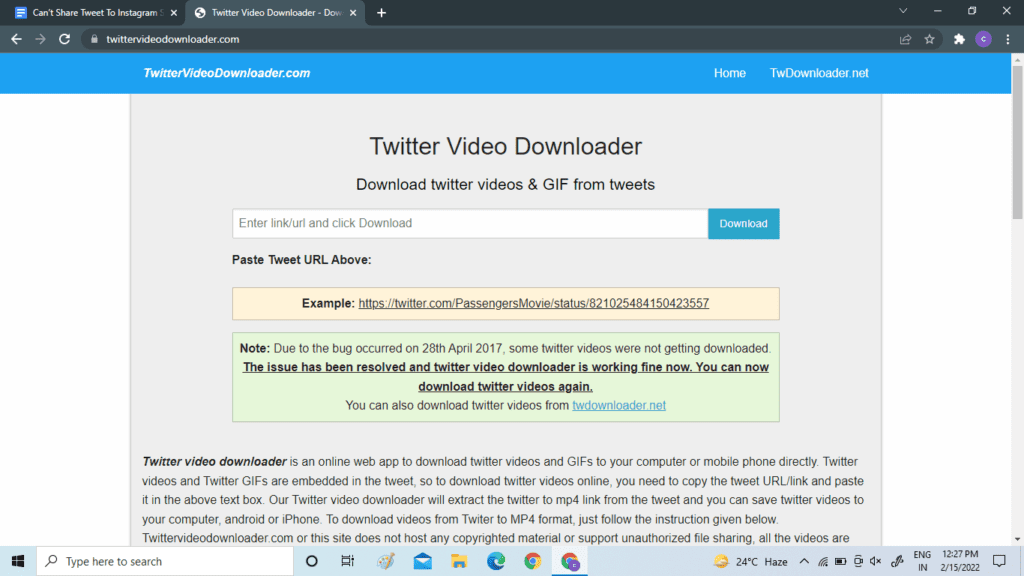 You can use any of the websites which seem reliable to you.
Step 2: Paste The URL Of The Video
Now, you will have to open Twitter.com
Choose the video which you wish to download.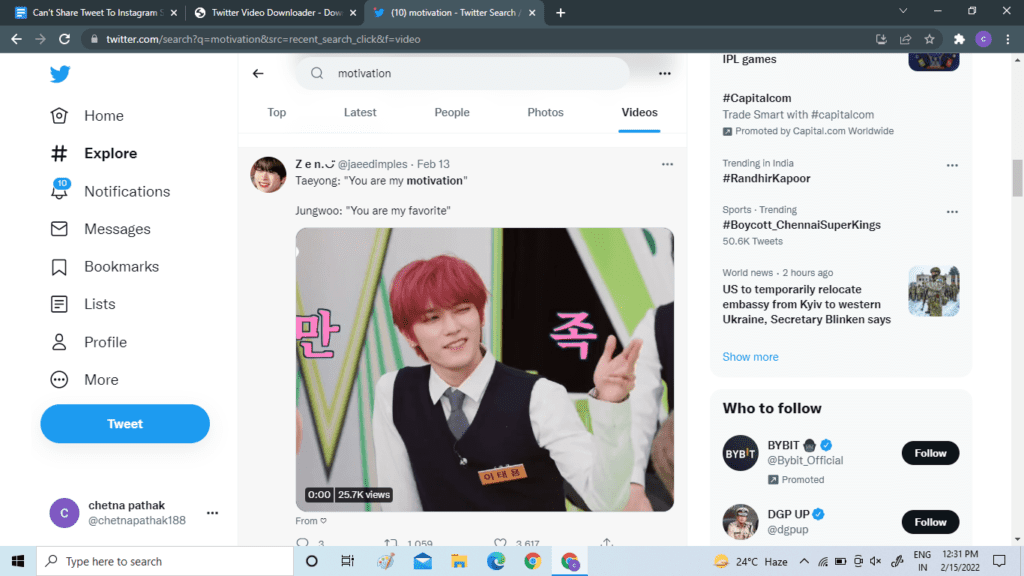 Copy the URL of that video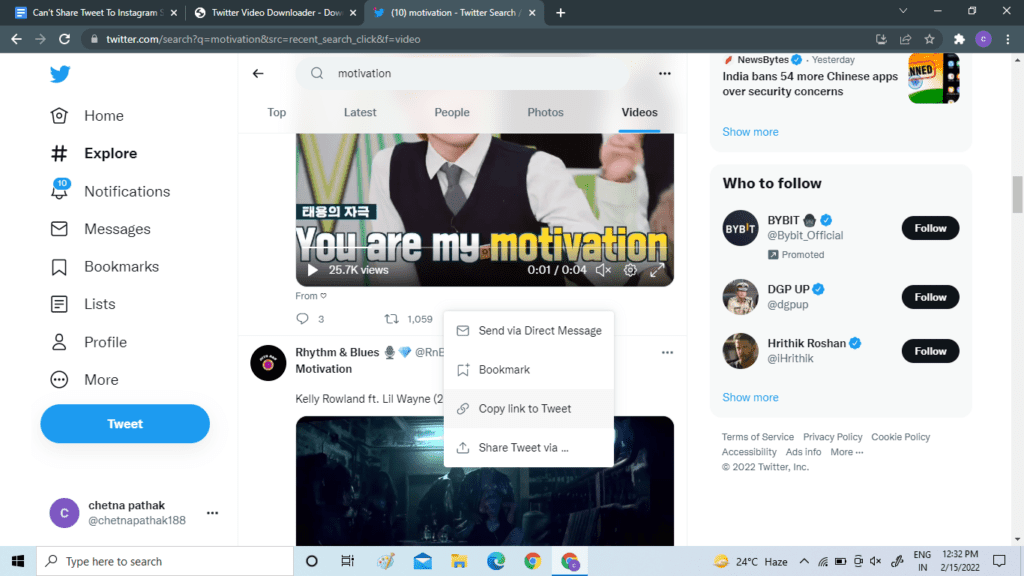 Paste it in the video downloader.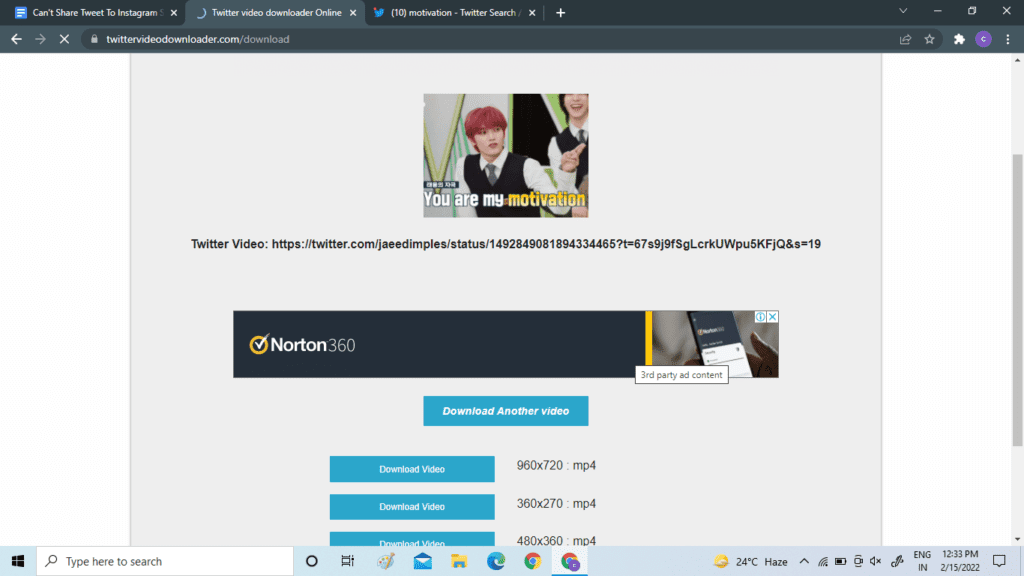 Step 3: Download Video
You will now have to download the video on the system in the required quality.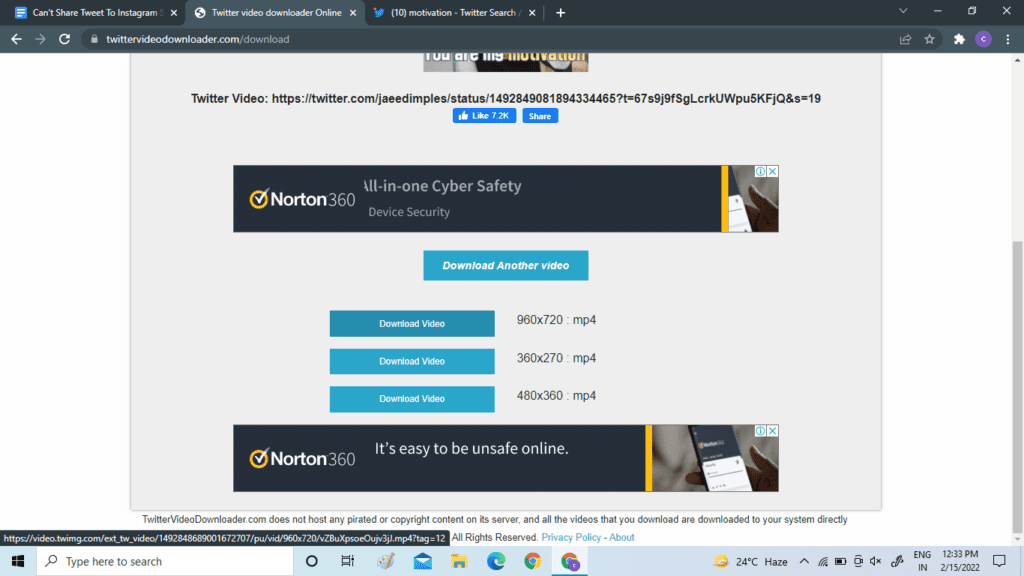 From the options, choose MP4.
Step 4: Share On Instagram
Visit instagram.com
Log in to the application.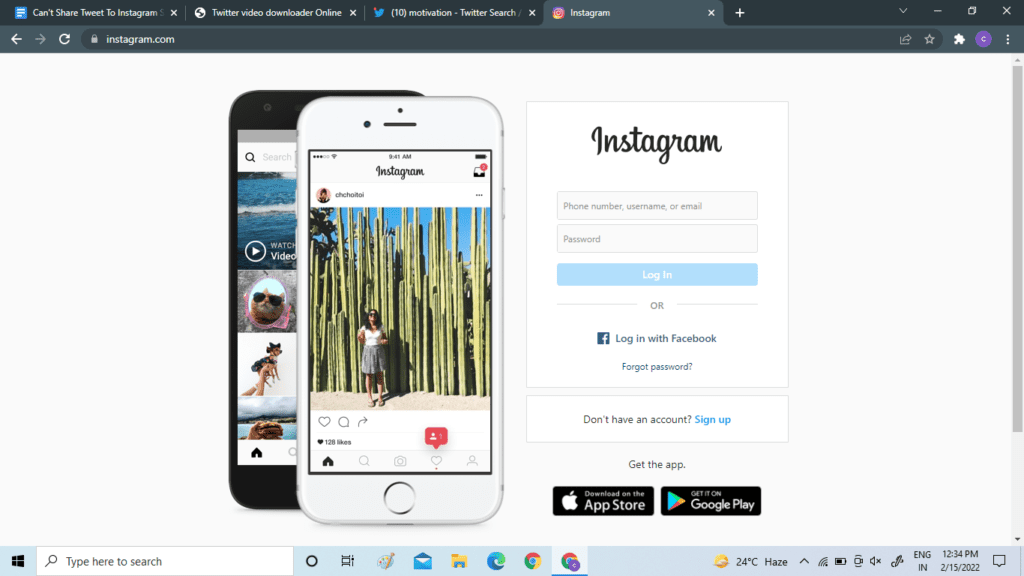 Choose to add a story.
Choose the video and share it.
Another way to post a Twitter video in your Instagram story is that you can simply copy the URL and paste it as text on your Instagram story.
However, the chances of redirecting the audience to the source of video are diminishing in this case. However, choosing a process is dependent on you and the content of the video you have chosen.
Also Read: What Does "Twitter Rate Limit Exceeded" Mean?
Best Apps To Share Tweets On Instagram
The best way to convert your tweets as your Instagram story is by making it a sticker. You can use your Twitter app simply to do this.
However, if you are still not able to access this feature of Twitter, you can always seek help from other apps.
Although there are not many apps for converting your tweets to Instagram stories, the best apps to share tweets on Instagram include:
1. Twinsta.io
Twinsta.io is more of a website that enables the user to print your required tweet as a picture. You can then share the tweet on your Instagram story like a picture.
All you have to do is to visit the website and then log in to your Twitter account. Now, simply visit the post that you wish to share, and then it will take a screenshot.
2. Twigger
Twigger is another application available for Android. It enables you to directly share your Twitter post on the Instagram story. You can also copy and paste the URLs as required to complete the process.
3. Twimmage
Twimmage application is available for Android, iPhone, and desktop. It will convert your tweets into images that you can share on Instagram Story. Moreover, you can also add a custom background, change colour, and more.
And many such apps. However, the major task performed by all these apps is similar to one other. These apps convert your selected tweets in an adjustable story draft which you can share with others via your Instagram stories.
They are resizable and can be well adjusted as your story requires them to look.
Conclusion
Twitter allows you to make Instagram story drafts with a single click. It is similar to what a screenshot can do.
You can simply convert your Tweets into a sticker which can be further posted on your Instagram story.
However, the same tweet can not be transferred directly to an Instagram story via the Twitter app yet.
This process is still in testing by the Twitter developers and hopefully will be available soon.
Similar Posts: