ChatGPT Plus is a new subscription plan for ChatGPT users who want to access the platform during peak times, receive faster response times, and have priority access to new features.
While the free version of ChatGPT will still be available, ChatGPT Plus offers a premium experience for those who want it.
If you are a subscriber to the new ChatGPT Plus plan, and you wish to cancel your subscription, this blog post is for you.
For any reasons if you can want to cancel your ChatGPT Plus subscription you can easily do.
In this blog we will discuss how to cancel your ChatGPT Plus subscription.
How To Cancel Your ChatGPT Plus Subscription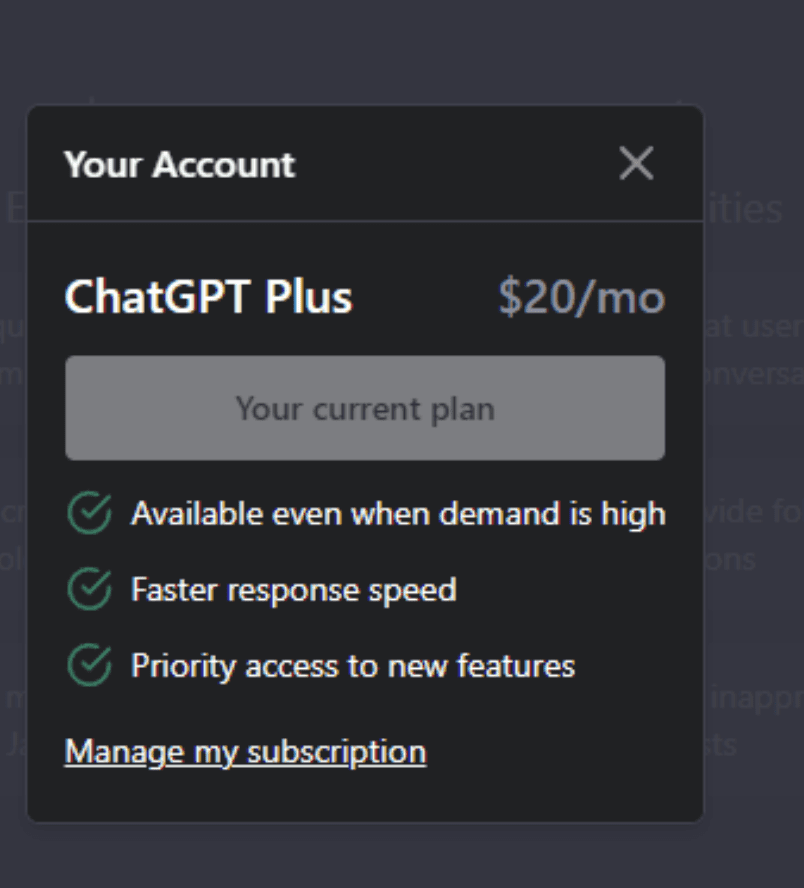 If you no longer wish to use ChatGPT Plus, you can cancel your subscription at any time.
Steps to Cancel ChatGPT Plus Subscription:
Login into ChatGPT via chat.openai.com
Tap on "My Account" in the sidebar
Tap on "Manage My Subscription" in the popup window
After that you will be redirected to Stripe checkout page
Now, Tap on "Cancel Plan"
Your cancellation will take effect the day after the next billing date.
It is important to note that ChatGPT Plus subscription fees are non-refundable.
This means that if you choose to cancel your subscription, you will not receive a refund for any remaining credit or prepaid service.
Additionally, if your account is terminated for violating the Terms of Use, you will still owe any unpaid fees and will not be eligible for a refund.
Similar Posts: