Would you like to know the status of your bank account without having to go into the bank? What if you could easily find out about your recent financial transactions without having to do any work? We've got the answers to the above questions here for you. In response to these questions, a bank mini statement is necessary. So, we have reviewed some methods for getting the Canara Bank Mini Statement within this article.
What is the Canara Bank Mini Statement?
A mini statement service provides account holders with the ability to view the last 5 transactions instantly, including deposits and withdrawals, through the phone. It is not necessary for the account holder to visit the branch or ATM to receive the mini account statement. Alternatively, Canara Bank mobile banking app "CANMOBILE" can be used to access your Mini Statement.
How to get a Canara Bank Mini Statement?
There are several ways to obtain a Mini Statement from Canara Bank. Today it is easy to get a mini bank statement on your smartphone by using a few clicks. No need to worry if you don't know how to retrieve your mini bank statement using your smartphone. You can get your mini statement physically in several different ways.
By using Internet banking, Mobile banking, and SMS banking, you can access your Canara bank mini statement on your smartphone. Those who don't know much about smartphones can obtain Canara Bank's mini statements by using Missed Call, visiting an ATM, or walking into a bank branch. 
1. Get Canara Bank Mini Statement through Missed Call
Customers without smartphones or Internet access can take advantage of this option. To do so, simply give a missed call on 09015734734 via the registered mobile number and can access the last few transaction details by SMS. Further, if you want to receive the statement in Hindi, give a missed call on 09015613613.
Steps to get Mini Statement by Missed Call: 
Pick up the smartphone that has your active registered mobile number.
To obtain the mini statement in English, please leave a missed call at 09015734734.
Alternatively, you can call 09015613613 if you'd like the Hindi translation.
Within a few minutes, you will receive your mini statement in the form of SMS.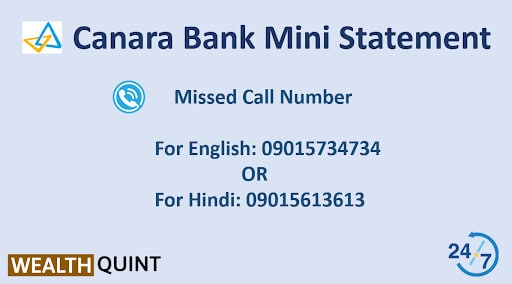 2. Get Canara Bank Mini Statement by using SMS
Mini statements can also be obtained by SMS from Canara Bank. SMS banking service provided by Canara Bank does not charge for delivery of Canara Bank Mini Statement, but SMS service may charge your mobile network.
Steps to get Mini Statement by using SMS:
Your phone number must be registered with the lender before you can use SMS Banking.
SMS "CANTXN USRid MPIN" to 5607060.
Sending this SMS will now send users recent transaction information as SMS.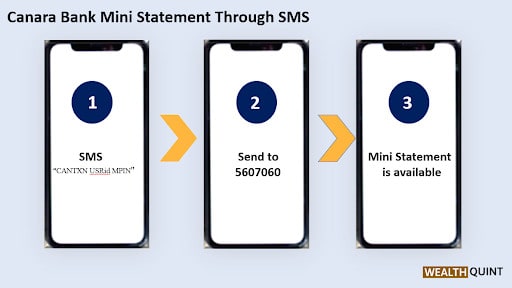 3. Get Canara Bank Mini Statement by using Mobile Banking
Accounts are protected by OTP. Using a single click, users will be able to see their previous five transactions.
Steps to get Mini Statement by using Mobile Banking:
Install "CANMOBILE" on your phone. Visit the App Store to download the app. It can be found in Google Play Store for Android users.
Log in to "CANMOBILE" using your login credentials.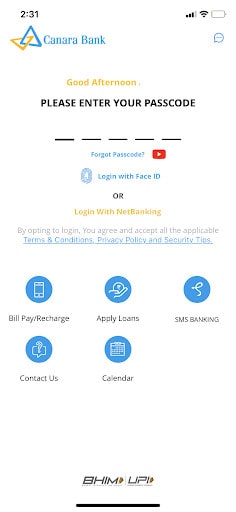 On the home screen of the mobile banking app, there is an "A/C number" option. Select "View account statement":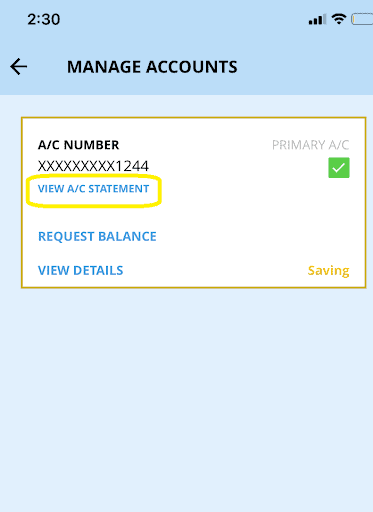 "Select the required time frame" for available transaction history. Choose it: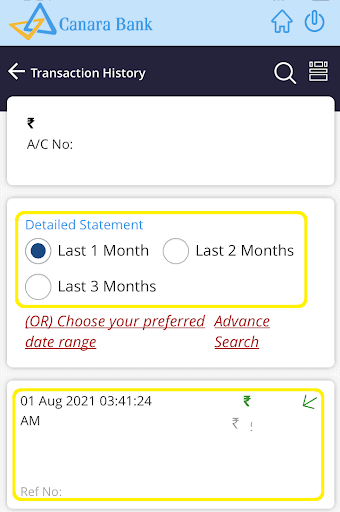 4. Get Canara Bank Mini Statement by using Internet Banking
It is the best way to access self-service banking. By following the following steps, you can generate & download your monthly & annual statements in PDF & Excel.
Steps to get Canara Bank Mini Statement by using Internet Banking:
Sign in to Canara Bank Retail Banking Services by visiting https://candi.canarabank.in/omnichannel/?.
Entering username and password to complete the login process.
In the statements section, select the option that suits your needs – Mini Statement, 3 Month, 6 Month, 1 Year.
Click on Generate, then the statements will be generated for you to download and print.
Download in Excel/ PDF format or store it for future reference.
5. Get Canara Bank Mini Statement by visiting ATM
It is the most common way to check your banking transactions. You can view your last few transactions by visiting any ATM and using the mini statement option on the screen.
Steps to get Mini Statement by visiting ATM:
Visit the ATM machine.
Insert your debit card into the machine.
Then, enter your PIN and card number.
Choose Mini Statement
Tap yes
Your statement will be printed on paper and handed to you.
How to register your mobile number with Canara Bank?
Go to the Canara Bank branch where your bank account is maintained.
Get the registration form from the bank so that the mobile number can be registered with the account.
Fill out the form with all the required information.
Sign the registration form once you have filled it out.
Finally, submit the application to the bank official.
Within two working days of the Bank, your mobile number will be linked to your bank account.
Things required to get Canara Bank Mini Statement on the phone
Log in to the Canara Bank website
On the left-hand side of the page, you will see the 'Accounts' tab. Then click on the 'Account Statement' option below it.
Choose the account, the start date, and the end date for a mini statement and click on download.
Benefits of Canara Bank Mini Statement
It is a safe way to access the bank account statements remotely.
One can access the last five transaction details (debit/credit) of their account easily and quickly.
It eliminates the need to wait in long lines for information, making life simpler.
Canara bank mini statements can be obtained very easily. You just need to make a missed call. To get this, however, you must link your mobile number to your primary account at your bank. Additionally, you can also obtain your full statement of account by using internet banking or visiting a branch.
Recommended:
Canara Bank Timings & Working Hours
Frequently Asked Questions
Where can I find my Canara Bank mini statement?
You can get a mini statement of your account by calling 09015734734.

Is it possible to have the same mobile number registered to multiple bank accounts?
Yes, you can use the same mobile number for more than one bank account. If an account holder wants to find out what transaction has been recently made, they can use the Missed Call Banking service or access the mobile application.

What can I do to check the Canara Bank mini statement offline?
You can use the missed call numbers, or SMS services as discussed above or visit the branch.

What is the process for registering for Canara Bank mobile banking?
For Canara Bank's mobile banking services, such as missed call service, text message service, mobile banking, and internet banking, a visit to a bank branch is required. Alternatively, you can use the Canara Bank mobile app to register for a mini statement.

Where can I obtain a PDF copy of my bank statement?
With your internet or mobile banking account, you can access your bank account statement in PDF format. You can access it by logging into your bank's official website.