Over the past few years, NFTs have been attracting a lot of attention. This trend emerged after the rise of blockchain technology.
Blockchain is a new technology that has been gaining a lot of attention. Recognizing the importance of this technology, various firms and industries are implementing it to protect their data and transactions.
The NFTs' success isn't something that happened quickly. It has built a formidable market empire over the years.
Now, a swarm of entrepreneurs is flocking to the NFT space to begin their new businesses. To all those entrepreneurs, a white-label NFT marketplace development is one of the best ways to start a venture.
White Label NFT Marketplace Overview
The term "white-label" refers to the process of remaking an existing product. It's more akin to giving an existing product a new name.
This is a perfectly lawful practice in the corporate world. The white-label solution includes a customization option, allowing you to tailor the platform to your specific ideas and interests.
The white-label marketplace is, above all, a ready-made solution. As an entrepreneur, you don't have to invest time and effort in establishing the platform right away.
Pre-built solutions are readily available, and you can easily alter them to make them look exactly the way you want them to. The prominent NFT markets, such as OpenSea, Rarible, and Foundation, have white-label versions accessible.
This is the most popular option among entrepreneurs because it is cost-effective. You might get this solution for your company on a shoestring budget.
15 Best White Label NFT Marketplaces
1. Appdupe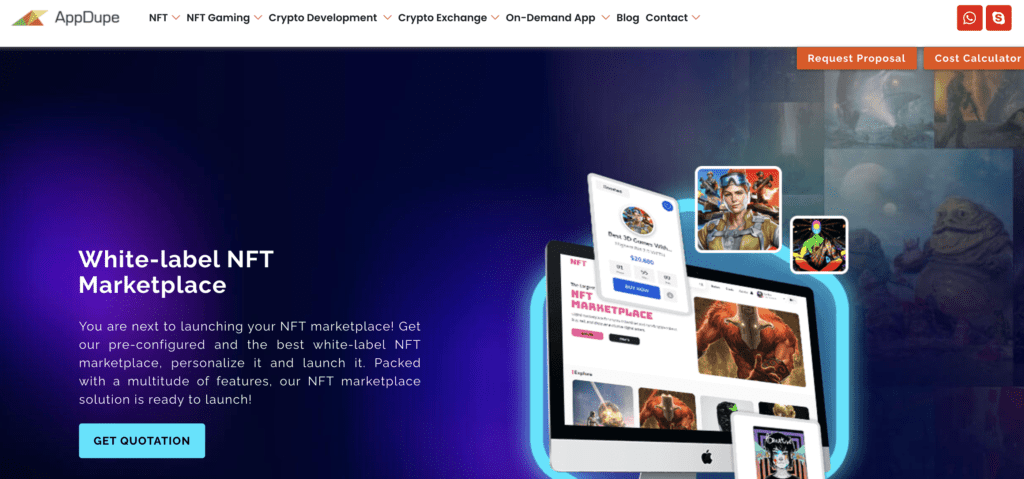 AppDupe is a significant developer of white-label NFT marketplaces. The business has been at the forefront of developing and delivering best-in-class white-label NFT marketplace solutions.
Their customized NFT marketplace solution will provide end-to-end functionality tailored to your specific business needs.
They have a young and skilled team of professionals who can create your ideal solution according to your specifications. This should be at the top of your list when choosing an NFT marketplace development business.
https://www.appdupe.com/whitelabel-nft-marketplace
2. Askgalore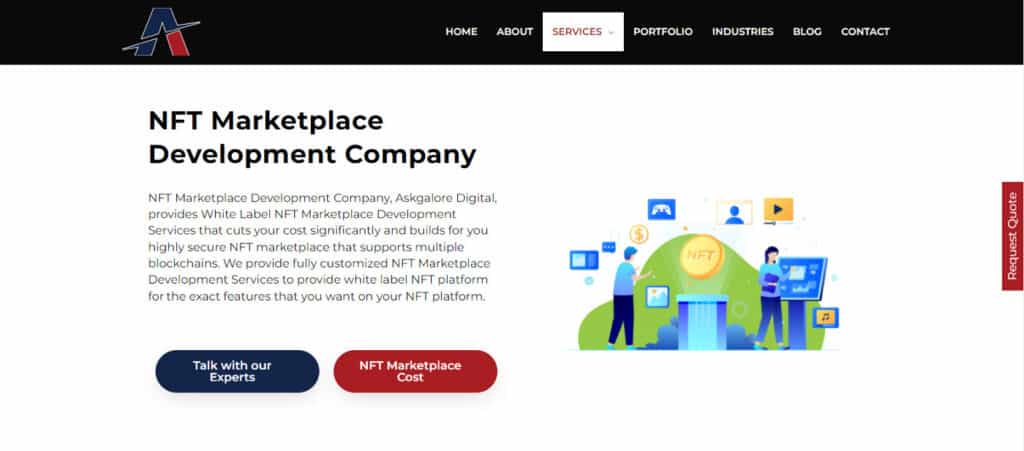 Askgalore Digital is also a white label NFT marketplace development business that helps entrepreneurs build their NFT marketplaces.
They help young entrepreneurs start their own business in the NFT industry by providing a cost-effective and secure solution.
The firm is well-versed in various blockchain technologies, including Solana, PolkaStarter, Ethereum, Binance Smart Chain, TRON, and others.
In addition, their collaboration with leading security firms ensures that you'll be able to offer a safe white-label NFT marketplace solution.
3. TurnkeyTown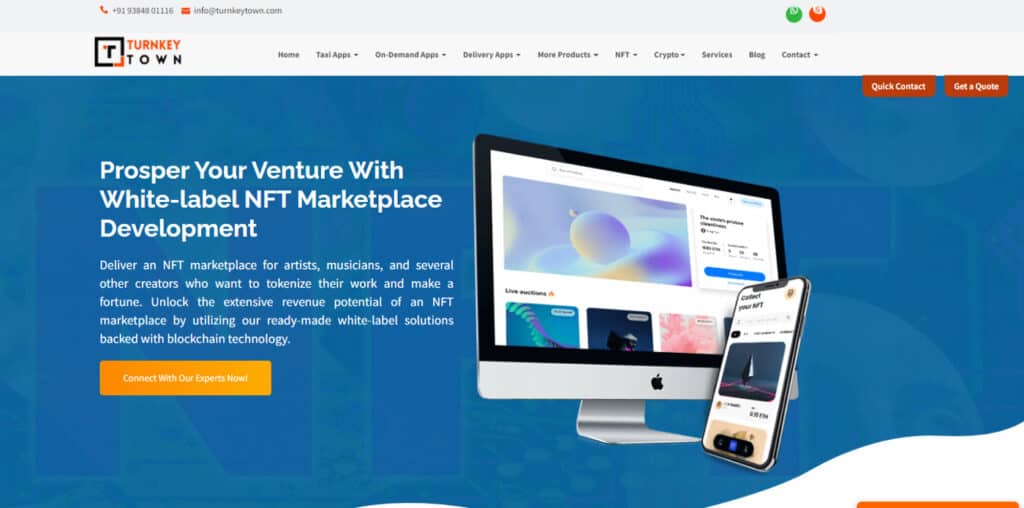 TurnkeyTown is like Picasso when it comes to providing quality services. The company specializes in offering high-quality services for the creation of NFT marketplaces.
As a result, their clients have benefited from the best return on investment and earnings. The white-label NFT marketplace solution will include personalization and best-in-class capabilities to assist the NFT marketplace's operations.
https://www.turnkeytown.com/white-label-nft-marketplace
4. Netset Software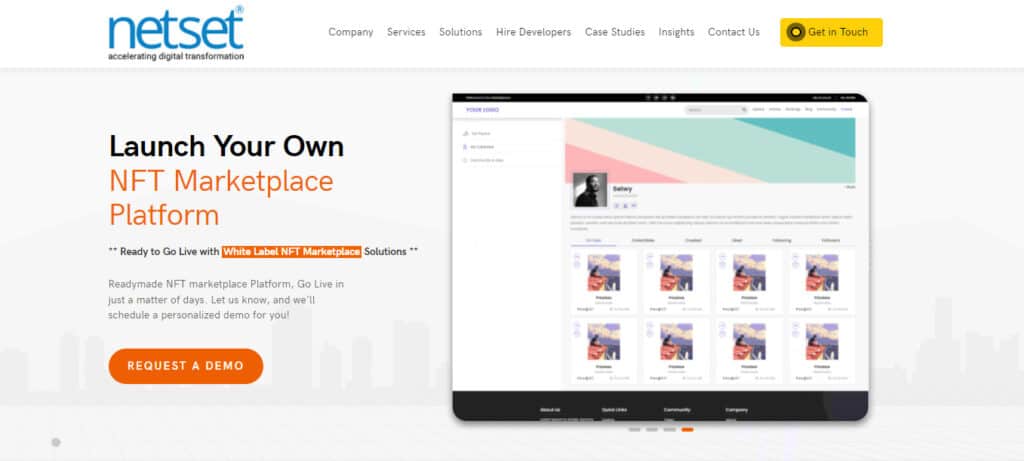 Netset Software company is another top NFT marketplace development company with vast years of experience. 
Throughout the years, they have provided comprehensive solutions based on various blockchain networks, including Ethereum, Polygon, Solana, Cardano, Binance Smart Chain, PolkaStarted, and others.
OpenSea clone, Foundation clone, Rarible clone, SuperRare clone, and other White-label solutions are most popular. However, if you contact them, you may obtain any of these options.
https://www.netsetsoftware.com/services/nft-development-company
5. Clarisco

Invest in their white-label NFT marketplace solution and get a lucrative revenue stream. They offer end-to-end NFT development services, allowing you to select the sort of blockchain network to use to build your NFT marketplace.
Furthermore, if you want to build a multi-chain NFT marketplace, they provide exclusive services for it as well. You should approach them at least once to learn more about them.
https://www.clarisco.com/white-label-nft-marketplace
6. Chaincella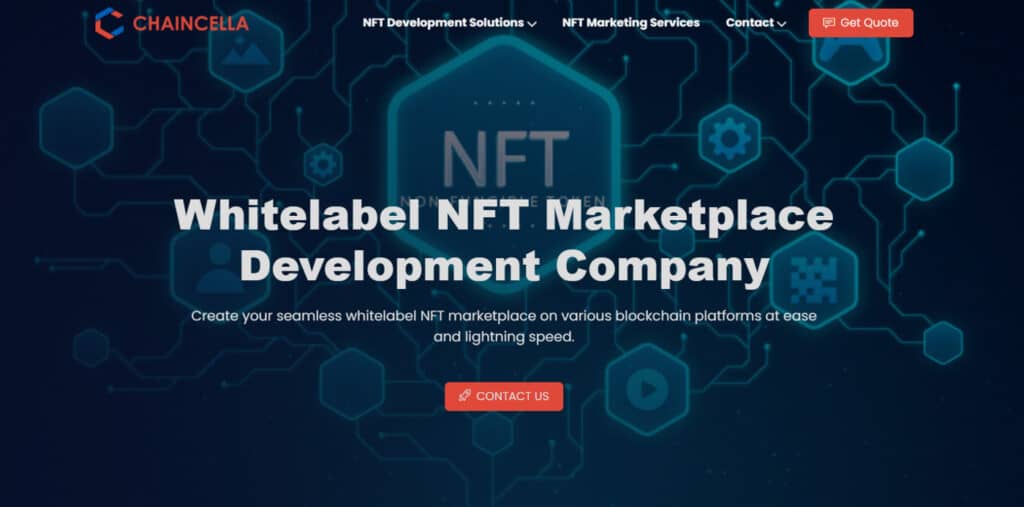 Entrepreneurs are being forced to adopt white-label solutions due to their immense benefits. Another well-known NFT marketplace development company, Chaincella, provides white-label ready-made NFT marketplace development services.
Their user-centric approach, along with personalization, distinguishes them from the competition. They are completely dedicated to assisting their consumers in receiving the best possible services.
You may also go to their well-designed website to learn more about them in no time.
https://www.chaincella.com/whitelabel-nft-marketplace-development
7. INORU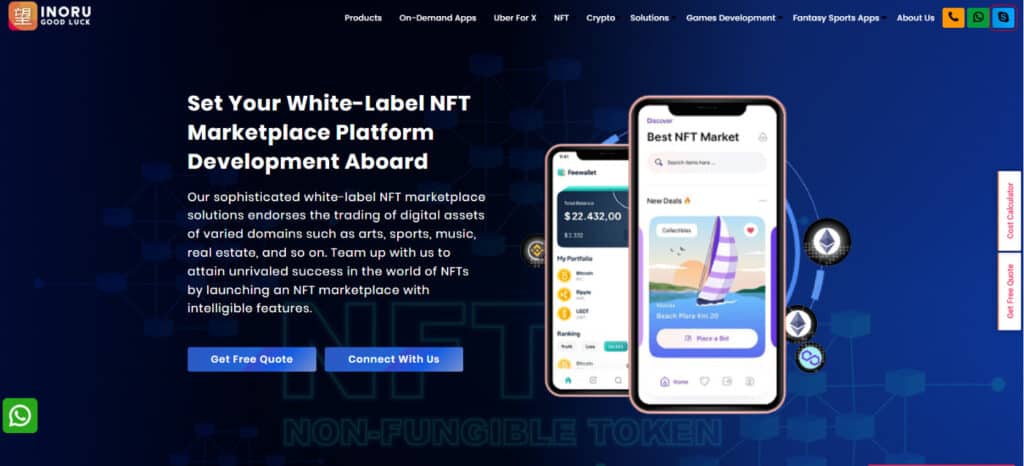 INORU is a well-known brand for offering a wide range of services to help entrepreneurs get started with their NFT Company.
Their white-label NFT marketplace creation begins with brainstorming, and they will thoroughly test the platform before releasing it.
They provide excellent customer service and guarantee that the client receives the best services possible. Furthermore, their white-label solution is cost-effective and ready-to-use, allowing you to quickly create your NFT marketplace.
https://www.inoru.com/white-label-nft-marketplace
8. Coinfactory

Coinfactory offers the best white label development services for NFT marketplaces and blockchain technology.
They provide the simplest way for launching an NFT marketplace quickly. The company's philosophy is, "why spend more than 6 hours constructing an NFT marketplace when you can select a readily available solution?"
They value your time and assist you by giving a pre-written script for starting your NFT business.
9. Sellbitbuy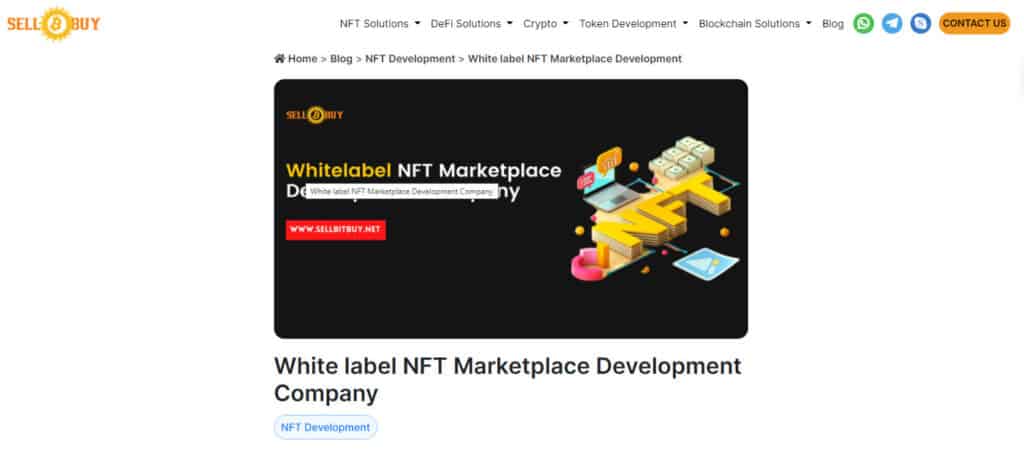 A leading NFT marketplace development company offers NFT marketplace development services using blockchain networks like Ethereum, Flow, Matic, BSC, and others.
They will create your well-featured NFT marketplace by integrating any of these blockchains. The important feature of their services is that they provide better security that will be ideal even for next-generation devices.
So, if your users' dependable services remain a priority for you, this will be an excellent choice for your NFT marketplace expansion.
https://www.sellbitbuy.net/whitelabel-nft-marketplace-development
10. Sofocle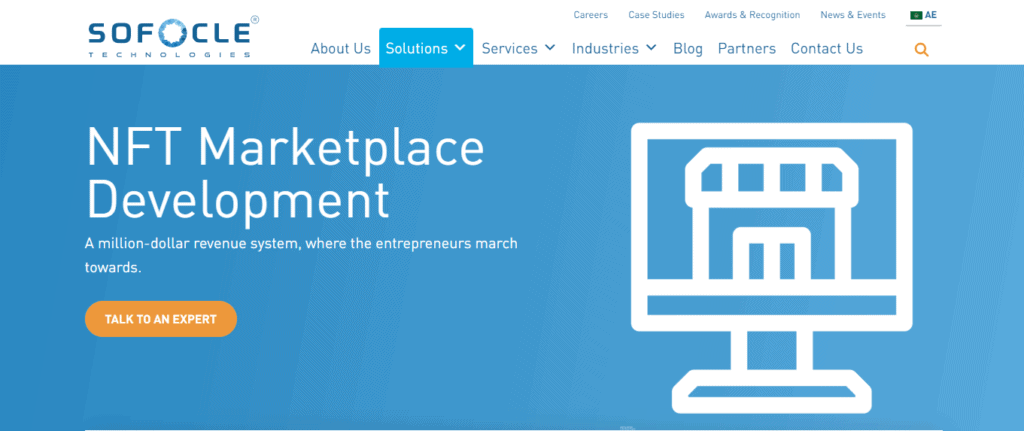 Sophocles is another well-known NFT marketplace development company that places a premium on delivering security services to its customers.
Their main goal with their white-label NFT marketplace solution is to provide technically competent and secure services.
You may build a robust foundation for your NFT venture with their pre-built NFT solution. The website is open to the general public, and you can visit it to learn more about their services and goods.
https://www.sofocle.com/nft-marketplace-development-platform/
11. BitDeal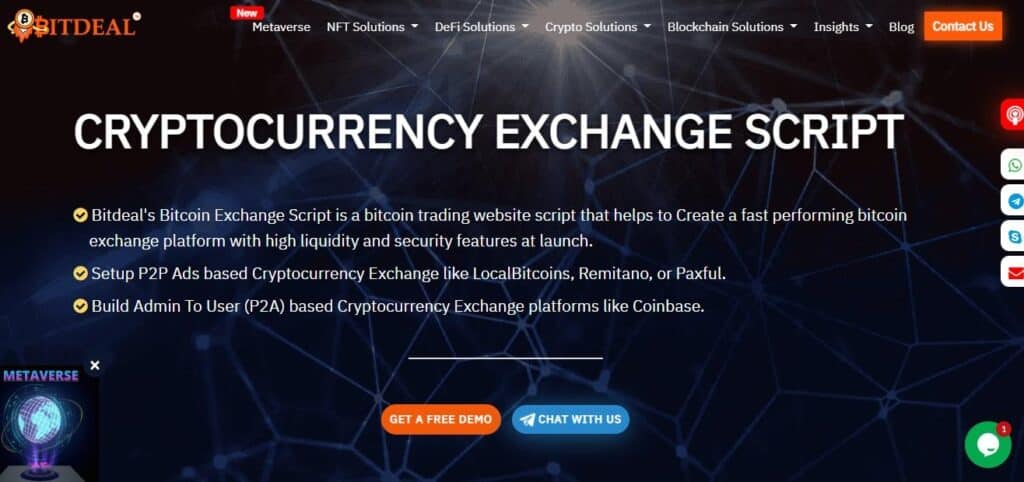 BitDeals meets the global market with its strong traits, as seen by its new security standards, including cyber security check, penetration test, bug bounty, and other new elements in the Crypto Exchange Script process.
In addition, they make it easier for entrepreneurs to set up their NFT trading platforms by providing simpler Bitcoin exchange source codes.
12. Maticz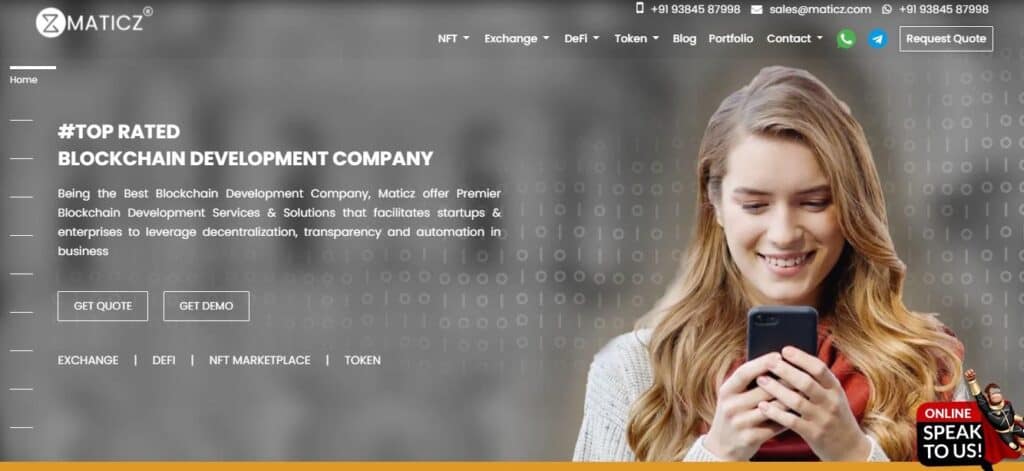 Maticz provides high-quality blockchain development services to startups and other enterprises looking to enter the global digital trading market.
Their white-label solutions work in the varied industry to deliver dependable solutions to increase the business spectrum.
13. Knownorigin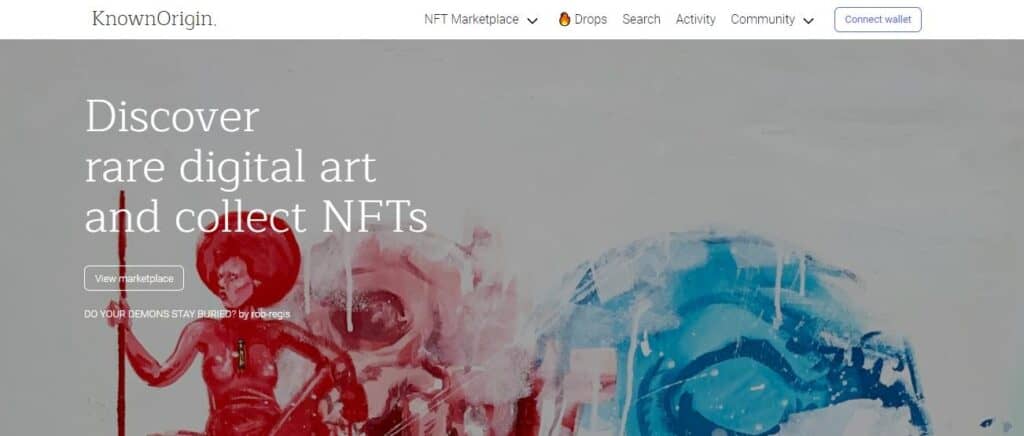 Built on the Ethereum Blockchain, KnownOrigin is one of the world's first and largest NFT Marketplaces.
Allowing anyone to find, collect, buy, and sell NFTs of Digital Art. Artists can use the KnownOrigin platform to produce one-of-a-kind, authentic digital treasures in the form of NFTs.
This new approach to digital ownership is made feasible by blockchain technology.
14. Blockchain Apps Developer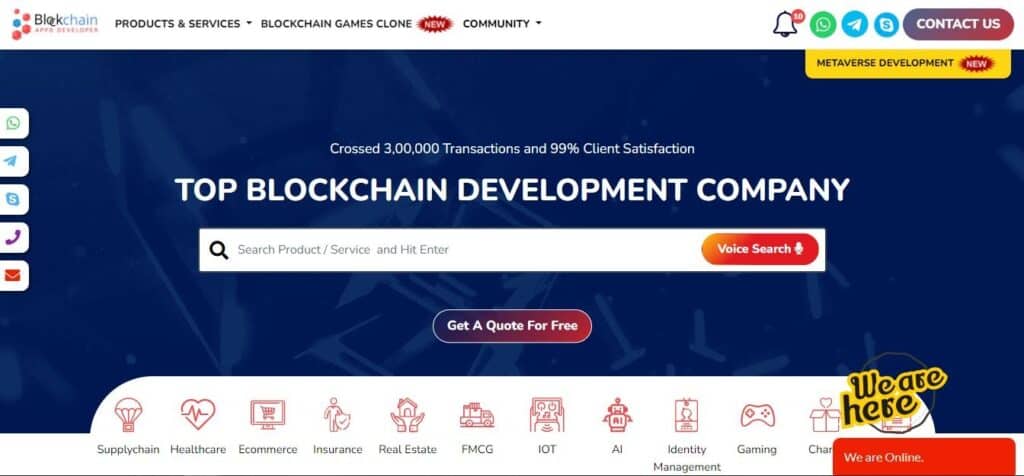 The Blockchain app developer aspires to restyle your business in the NFT platforms much more profitable and advantageous.
They help their client create their exclusive secondary market in the most trustworthy way possible.
They are dedicated to increasing your marketplace by providing Blockchain-compatible technology solutions.
https://www.blockchainappsdeveloper.com/
15. CryptoCurrency Exchange Script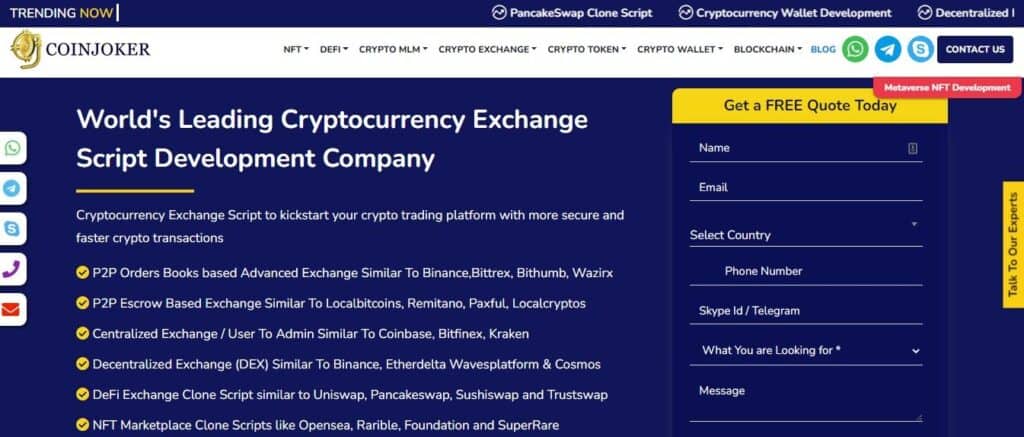 The CryptoCurrency Exchange Script is a script creation company that provides excellent services in developing a clone script marketplace to boost the NFT marketplaces.
They have many clone scripts that are ready to be customized and launched. They pave the road for superior NFT marketplace development solutions with advanced technological inputs.
The Cryptocurrency Exchange script is a wonderful choice for using the programming language to create your NFT Marketplace.
https://www.cryptoexchangescript.com/
Final Thoughts
In the field of NFT, there is no hint of a slowdown or a drop. There's no denying that internet marketplaces are both profitable and appealing.
As expected, these platforms have outperformed the $700 million deal, and their values are now in the billions, indicating that the market is becoming super-potential. Even commoners are encouraged to participate in the service as a result of this.
The future of NFT marketplaces is bright, thanks to rising sales and tradability.
When you invest in a white-label NFT Marketplace development with your convenient company, it is possible for your business to reach new heights as it explores the new market of digital trading in the new tech world.
Similar Posts: