Zerodha is one of the leading stock brokers in India, featuring referral programmes as a passive income for its investors. Zerodha introduced a referral program through which one can refer and earn extra benefits and gain commission.
If you are not aware of this program, here you can get everything from the Zerodha referral program to its exclusive benefits. So, let's begin!
What Is Zerodha Referral Program?
Unlike other online brokers, Zerodha also offers a referral program for its customers. It is widely known as a low-cost online broker, and it uses referrals and unique methods to attract customers. The business partner program and Zerodha refer and earn program are the two entitled ways to refer other folks to join Zerodha.
However, Zerodha is renewed on January 1 2020. Earlier, it only offered 300 reward points to its customer, but now it allows its customer along with rewards points to earn 10% of the amount paid by the referral.
If you are an existing customer of Zerodha, you can earn 10% of the brokerage amount paid by the client you refer to and also earn 300 reward points that you can use to subscribe to the premium products and on partner services offered by this reliable trading platform. 
Also Read: Is Zerodha Safe for Trading and Investing?
Key Facts About Zerodha Refer And Earn Program
This process is only applicable for the referrals that you made after January 1 2020.
It is mandatory to open the account of the person you referred to within 60 days; otherwise, it will not count as a referral, and you will not get an opportunity to earn.
This program is for all existing customers of Zerodha.
While providing the reference to the client, you just need to provide an email and phone number to Zerodha.
You can earn 10% of the brokerage paid by the referral for lifelong.
By just creating an affiliate link and sharing it on social media, you can add new clients.
There's no limit to providing referral clients.
You can refer Zerodha to anyone who is 18+ in India and earn a commission.
Who Can Join Zerodha Refer And Earn Program?
Zerodha refers and earns policy is for all. Anyone who has a Zerodha trading account and would like to earn a passive income easily can join this program. It's a program where you can refer more and earn more depending upon the brokerage amount paid by the people you refer.
You can get access to the back office where you can manage your trading account and refer others to join Zerodha. This is a reliable way to refer and earn an abundant amount. You can easily refer Zerodha to your family, friends and relatives, and you will ultimately earn 10% of the commission. 
Also Read: What is Nifty Bees & How to trade Nifty Bees on Zerodha?
How To Refer To A Zerodha Account And Earn?
If you are a Zerodha customer, it's simple and easy for you to refer and earn. Here, we inscribed the steps to refer and earn with Zerodha.
Step #2: Now, click on profile pic with user ID, you will get the "Rewards & Referrals" option; click on the option.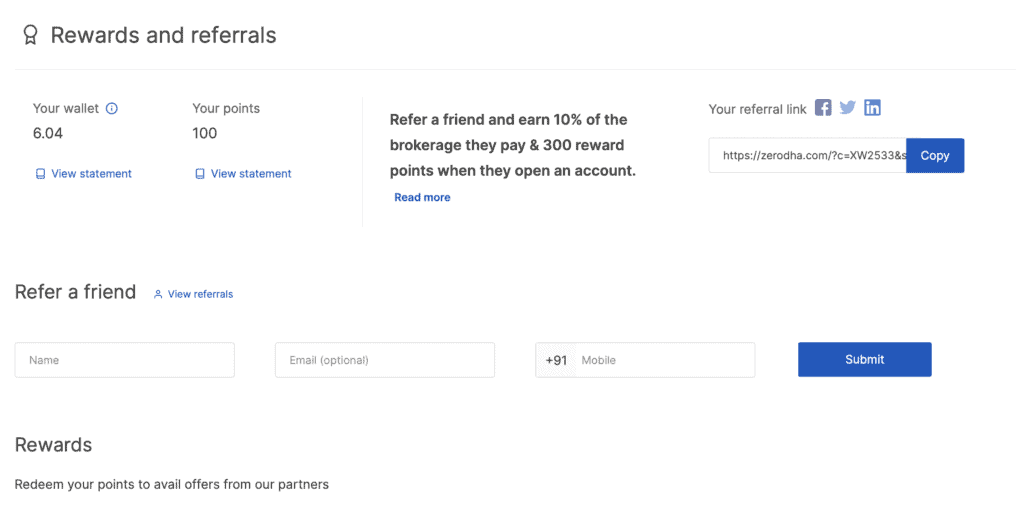 Step #3: Now either you can share your referral link with your friends and family member OR Fill in some general information like Name, Email ID and phone number of the person you want to refer.
Step #4: The person whom you have referred will receive an email in which they get the steps to open online on Zerodha, or the Zerodha sales managers will contact and assist the person.
Step #5: Once the person you refer to opens the account, you will earn a referral commission as a reward points of 300 or 10% of the brokerage. Furthermore, you can earn a referral commission every month, and you can avail of this in cash after a minimum of 5 referrals reaching the threshold of 1000.
NOTE: Make sure that the person you referred can open an account with Zerodha within 60 days. If the client has opened the account after 60 days then, you can't earn the referral benefits as the client will not be regarded as the referral by you.
Benefits Of Zerodha Referral Program
It's easy to refer and earn a passive income through Zerodha.
Anyone can start earning referral income and get commission by referring to Zerodha.
One can get 10% commission of the brokerage amount paid by the person whom they refer to Zerodha.
It's easy to earn 300 reward points by referring this platform to your family members and friends. You can use the reward point to subscribe to Zerodha's paid products like streak, smallcase and learn the app.
Final Thoughts
Zerodha is a reliable platform, and it came up with new referral benefits that have been constructed on a factor machine. In the upgraded refer and earn scheme, you'll earn 300 points in keeping with successful referral and 10% of the brokerage paid by the client. It allows anyone to avail of this scheme and a great opportunity to generate an abundant income. 
Recommended:
What is CE and PE In Share Market?
Demat Account: Benefits, Aims And Objectives
Frequently Asked Questions
Whom I Can Refer To Zerodha To Earn Exclusive Benefits?
Zerodha refer and earn program is for all, and you can easily refer this to anyone. You can refer this program to your family members, relatives, friends and whomever you want to join this program. You just need to provide the name, mobile number and email ID of the person you refer and the income manager will ultimately contact the referral. 

Is It Possible To Use The Zerodha Reward Points?
Yes, you can use the reward points offered by Zerodha. It bestows 100 reward points as a welcome point and 300 against all your referrals. You can use these reward points on subscriptions provided by Zerodha. The reward points are redeemable in opposition to Streak, Learnapp, Sensibull, smallcase, and others. Furthermore, you can withdraw referral commission on your bank account by getting the overall payout of Rs. 1,000 from a minimum of 5 referrals. 

Are There Any Restrictions That Can Barricade My Referral Commission? 
Yes, it's essential to open an account of the person you refer to within 60 days. If the account is not opened in a limited time, you can't earn the referral commission. 

How Can I Become A Zerodha Partner? 
There are two ways to become a Zerodha partner; you can earn a referral commission through the Business Partner program or through a Customer Referral program. 
Similar Posts: