TikTok is a social media platform where people create short videos for entertainment.
On TikTok, a new trend emerges every week. TikTok often encourages the playful and creative sides of all of its users, who then start to create new trends that spread like wildfire.
Few last trends on TikTok was Human Emotion Quiz TikTok and Mental Age Test TikTok.
The most recent viral hit on TikTok is What Little Miss Am I quiz.
Memes began a trend that has gradually spread across all social media platforms. It all started when Little Miss and Mr. Men memes were posted on Twitter.
Shortly after, the craze spread to Instagram and is now a hot topic on TikTok.
In this article, we will discuss about What Little Miss Am I quiz and how to participate in What Little Miss Am I quiz.
What Is "What Little Miss Am I"?
"What Little Miss Am I" is a quiz where you have to answers certain random questions and accordingly the quiz will tell you which "Little Miss" are you align with most.
What Little Miss Am I quiz you have to take on uquiz.com where you will will have to give answers of certain questions about Little miss.
After that you you will get the result What Little Miss are you based on your answers you provided.
After that take the screenshot of that result page and share it on social media.
How To Take "What Little Miss Am I" Quiz?
Steps to take "What Little Miss Am I" Quiz:
Step 1: Visit Uquiz Website
To participate in "What Little Miss Am I" Quiz, first you have visits uquiz.com website. The go to "What Little Miss Am I" Quiz to participate in this.
Step 2: Participate In "What Little Miss Am I" Quiz
Either directly got uquiz.com website and then on trending section you will find Which Little Miss Do I Think You Are? quiz , click on that.
Or directly go to Which Little Miss Do I Think You Are? quiz.
Now enter your name and click on Start Quiz button.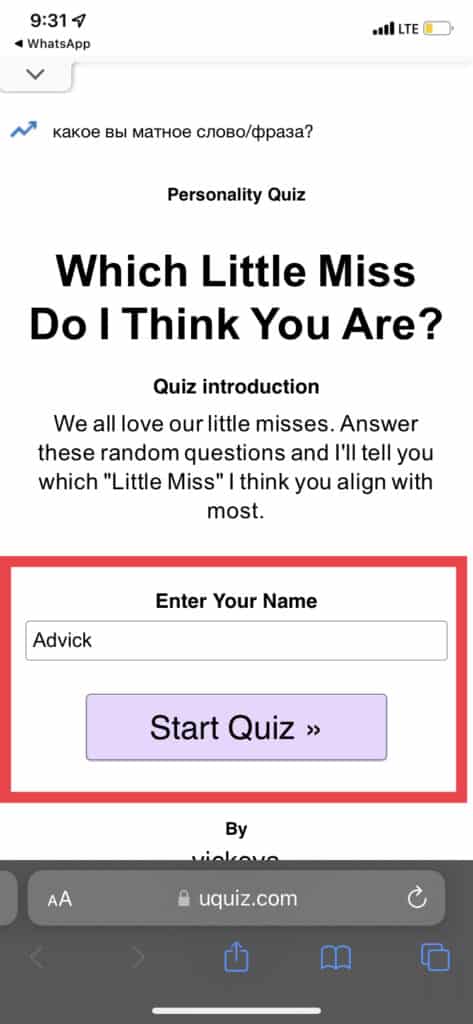 Note: Use your name as what is available to on social media if you want to share the result on social media.
Step 3: Answers All Random Questions
Now, answer all the random questions which you are getting on screen.
Select the answers according to you or what you feel to get accurate result.
Because the result of quiz will be fully based on answers you select.
Every question is mandatory to answer otherwise you will not proceed to next question.
After selecting the answer , Tap on Next button to go to next question.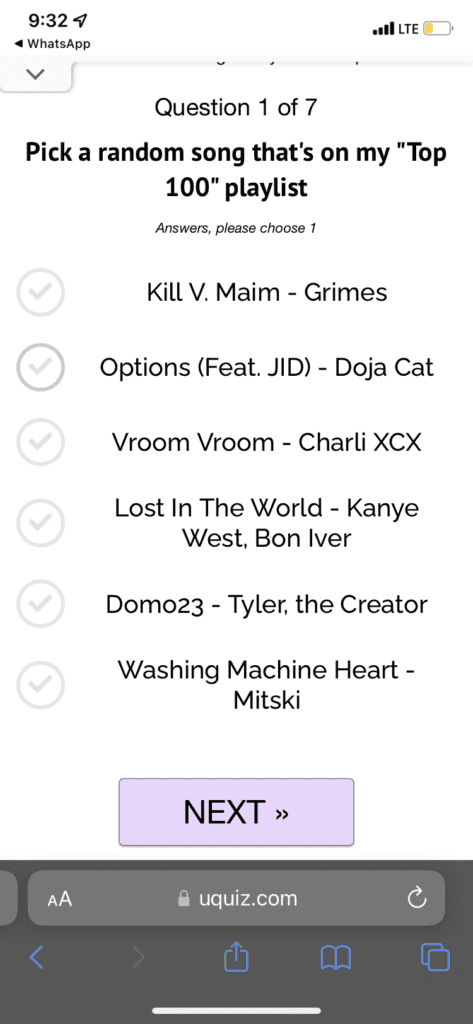 The Questions will be like this:
Pick a random song that's on my "Top 100" playlist
Cocktail of choice?
What's your dream life?
Pick a Squishmallow:
etc.
Step 4: Get The Result Of "What Little Miss Am I" Quiz
After answering all the questions, In the last you will get result.
In the result, you will get One Little Miss image with some description.
This will be Little miss you look like.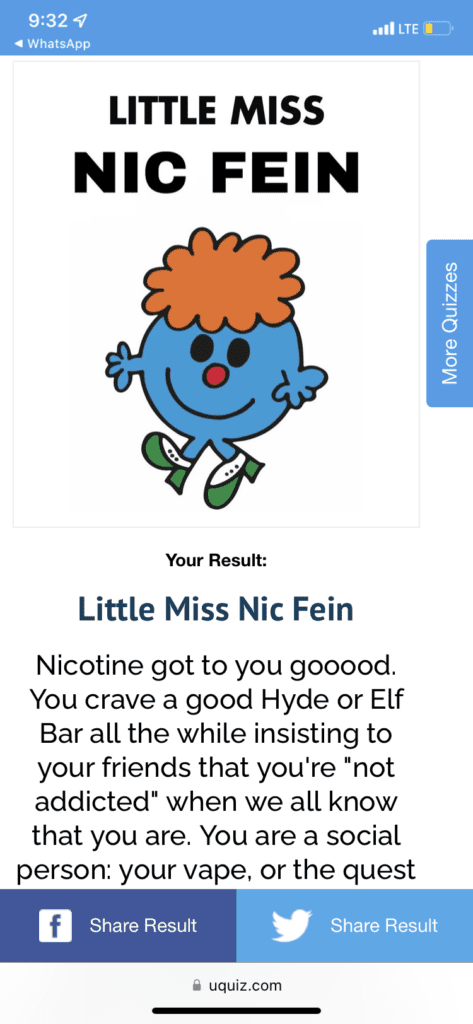 In my case , My result is "Little Miss Nic Fein".
Description of Result:
"Nicotine got to you gooood. You crave a good Hyde or Elf Bar all the while insisting to your friends that you're "not addicted" when we all know that you are.
You are a social person: your vape, or the quest to find someone who does have one, means that you attract people to you in whatever setting you're in.
You provide for your friends and are extremely fun to be around because of your giving nature, though you do know when to ask for help or for a favor in the right settings.
You also love parties and having fun, but constantly look for an escape when school or things in your personal life get a bit stressful.
You love to teach yourself all the crazy vape tricks; my personal fav is ghosting. All in all, I fear for your lungs, but also YOLO."
Step 5: Share The Result On Social Media
Now, Take screenshot of the result and share it on social media like TikTok, Instagram, Twitter etc.
You can also share the quiz result directly.
About Little Miss
Memes featuring "Little Miss" are a recent social media trend that many people are eager to join.
Characters from the well-known British children's book series "Little Miss" have been the focus of a new viral meme that has gone viral on Instagram.
The "Little Miss" names that users assign to screenshots of the many cartoons in the series best capture their current moods, personalities.
A large audience is being attracted by the trend's variety of wonderfully captioned and completely relevant memes on different social media platforms.
The use of Little Miss and Mr. Men characters in memes began on Tumblr in 2021 and moved to Instagram early in 2022.
The craze has spread to TikTok and Twitter, resulting in incredible popularity. The hashtag #LittleMissMemes is trending on Twitter worldwide.
According to reports, this trend was begun by Instagram user @juulpuppy and was then carried on by TikTok user @starbucksslayqueen.
Furthermore, the Little Miss Memes trend became very popular on Instagram when a user named @littlemissnotesapp developed plenty of memes based on the trend.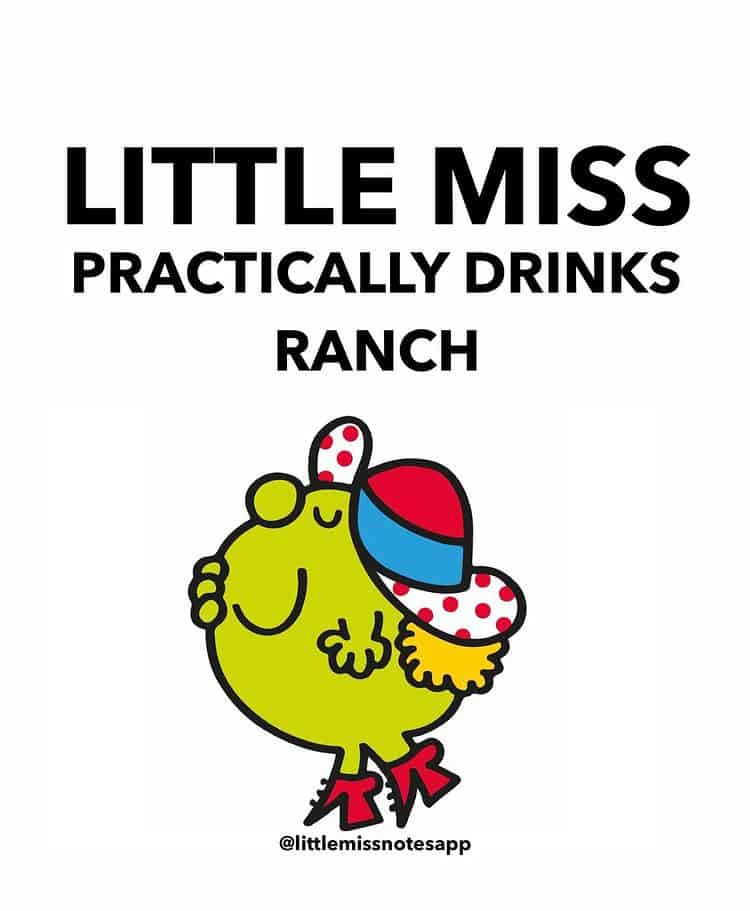 As with the "Little Miss" trend, there are a ton of Instagram video that are so popular that they are gaining views and likes on Twitter and TikTok as well.
Users may utilize photo-editing tools to build their own "Little Miss" or "Mr. Men" memes from scratch since there isn't presently an app or website dedicated to doing so.
Similar Posts: