On January 26, 2023, 23-year-old Tyler Doyle went missing during a duck hunting trip in the Little River area of North Myrtle Beach.
Despite a 45-hour search by the United States Coast Guard Southeast and other agencies, the active search was suspended on January 28.
The heartbreaking news has left Tyler's family, friends, and community searching for answers and hoping for a miracle.
The Final Moments Of Tyler Doyle
Tyler went out on a 16-foot john boat for a duck hunting trip on January 26. The boat took on water and sank in the Little River area, and Tyler was last seen wearing khaki pants and a camo jacket.
The other person on the boat was rescued by the North Jetties, but Tyler was nowhere to be found.
On the day of his disappearance, Horry County Fire Rescue, the North Myrtle Beach Rescue Squad, and other agencies responded to the scene and searched for Tyler.
His family gathered at the Johnny Causey Boat Landing and were accompanied by the Brunswick County Sheriff's Office Marine Patrol and a helicopter. Despite their efforts, Tyler was not found.
The Search For Tyler Doyle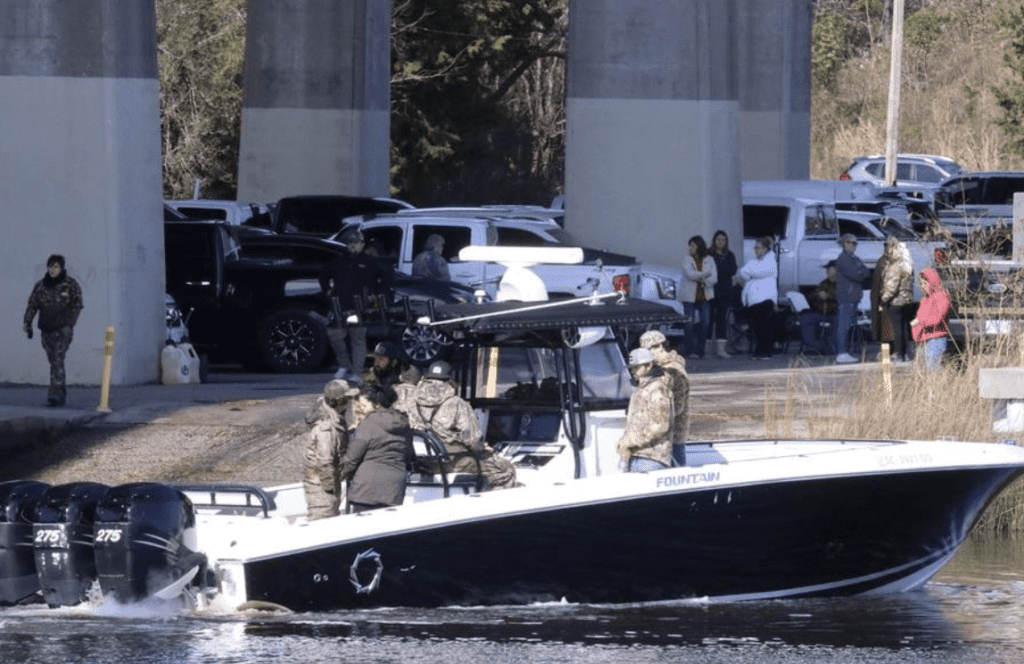 The United States Coast Guard Southeast launched an extensive search operation covering over 694 miles and lasting for 45 hours.
However, despite their best efforts, they were unable to locate Tyler. On January 28, they officially suspended the active search.
In a statement, Lieutenant Emily M Trudeau of Sector Charleston PAO said, "We offer our deepest sympathies to the family at this difficult time."
Tyler Doyle Attempted Murder Or Boating Accident
No information or evidence has been found to suggest that Tyler Doyle's disappearance was due to an attempted murder.
The United States Coast Guard conducted a search for 45 hours covering over 694 miles, but were unable to locate him.
The search has been suspended, but the investigation is ongoing.
The Community Rallies Around Tyler's Family
Tyler's family and friends are devastated by his loss, and the community has rallied around them to offer support and comfort.
A Venmo account was set up to provide biscuits and essential supplies to those gathered around the search site, and within an hour of its launch, over $800 was donated.
A GoFundMe account was also set up to help Tyler's wife, Lakelyn Chestnut Doyle, who is expecting a baby soon.
The account has already raised over $11,295 of its $15,000 goal.
Is Boater Tyler Doyle Alive?
As the search for Tyler enters its eighth day, rumors about his fate are circulating on social media.
Some are asking if Tyler has been murdered, while others are still holding out hope that he will be found alive.
The police department has confirmed that searches will continue until recovery is made in Tyler's case, and the public is encouraged to report any information that may help in the investigation.
Remembering Tyler Doyle
Tyler was a beloved husband, son, brother, and friend. He worked at Carolina Kitchens, a service for refrigeration in Loris, and was a native of Loris, South Carolina.
His Facebook handle states that he was married and expecting a baby soon.
In a heartbreaking post on Facebook, his wife Lakelyn wrote, "Oh Tyler. My love. My bestfriend. My everything. PLEASE just come home. I miss you so much. My heart is shattered. Tyler is strong. Tyler is smart.
He's out there I know he is. PLEASE PRAY SO HARD. Paisley grace needs you."
The tragedy of Tyler's loss has touched the hearts of many, and he will be remembered for his strength, courage, and unwavering spirit.
Our thoughts and prayers are with his family during this difficult time.
Similar Posts: