A telegraph code is one of the character encodings used in telegraphic communication.
Morse code is the most well-known example.
Telegraphy generally refers to the electrical telegraph, however optical telegraph systems were in operation before that.
A code is made up of a number of code points, each of which corresponds to a letter of the alphabet, an integer, or another character.
Telegraphy is an old method of sending communications across large distances using Morse code.
Initially, wires were utilized to transmit electrical impulses, and subsequently, radio transmissions were employed.
For instance, Morse code for E, the most common letter in English, is a single dot (  ▄ ), whereas Q is   ▄▄▄ ▄▄▄ ▄ ▄▄▄ 

Morse Code Symbols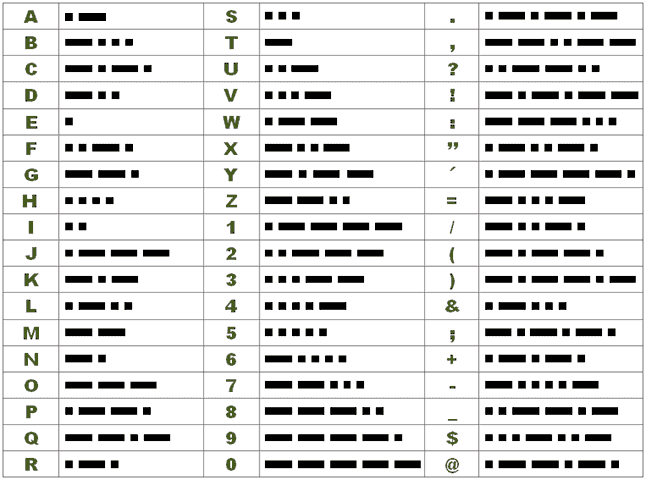 Telegraphy Symbols
Symbol
Description
Symbol
Description
Telegraph equipament
Electrical telegraph
Telegraph equipament
Electrical telegraph
Generic symbol
Duplex telegraph
Two-way simplex telegraph
Duplex telegraph
Two-way simplex telegraph
Telegraph receiver device
Telegraph transmitter device
Telegraph receiver
Telegraph transmitter
Telegraph receiver
Telegraph transmitter
Telegraph Key
| | | | |
| --- | --- | --- | --- |
| | Telegraph signal key | | Telegraph key |
| | Hand key | | Hand key |
Reference:
Similar Posts: