Following in the footsteps of WhatsApp Business and Telegram, Snapchat has launched a premium membership service to increase revenue.
Snapchat+ is Snapchat premium membership that gives users access to "a variety of exclusive, experimental, and pre-release features."
For $3.99 USD each month, Snapchat+ subscribers may access exclusive, experimental, and pre-release features!
These features improve and personalize your Snapchat experience, allowing you to go deeper into the app's most used features.
Additionally, you may check out amazing new features before everyone else!
In this article, we will discuss about Snapchat Plus feature Ghost Trail.
Snapchat Plus Ghost Trail
Ghost Trails allows Snapchat Plus subscribers to see where their friends have been in the previous 24 hours.
You will only see Ghost Trails for friends on the Map if they have enabled Snapchat+ in their country and are making their location accessible to you.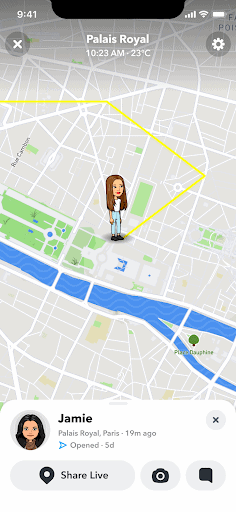 All Snapchatters must opt-in to share their location on the Snap Map.
If you want to see Ghost Trail of your friends then Tap on the Bitmoji of your friend on the Map to see their Ghost Trail.
In your Snap Map settings, you may clear your own Ghost Trail by switching Ghost Mode on and off.
You will only able to see Ghost Trail go your friends if
They shared their mapped location with you.
They located in a country where Snapchat+ is offered.
Have at least Snapchat version 11.85.
Other Snapchat Plus features Guide:
Similar Posts: