The term Bank mini statement needs no introduction for the account holders. But for those who have newly created an account, it might be a new term.
So, What is a Bank mini statement?
A bank mini statement is a precise form of account statement that includes recent 3-10 transaction details. No one can use it as income proof and the address is not mentioned in it.
What Is The SBI Bank Mini Statement?
SBI mini statement refers to the recent 5-10 debit/credit transactions details of the account holders. It is an abstract form of the account statement.
How To Get An SBI Bank Mini Statement?
Every Bank has its ways of producing Bank Mini Statements.
SBI provides the Bank Mini statement service in the following ways-
Get SBI Mini Statement Through Missed Call
SBI quick missed call service will help you to check about your last 5 transactions instantly. It is the easiest way to receive a mini statement. This process doesn't even require the internet.
Steps to get SBI Mini Statement through Missed call:
Use the registered mobile number with the particular bank account.
Give a missed call to 09223866666.
Within a few minutes, you will receive the mini statement in the form of SMS.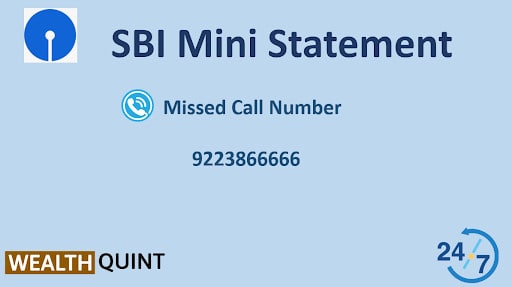 Get SBI Mini Statement By Through SMS
Another easy and instant way to get a Mini statement without any internet is SMS Banking.
Steps to get SBI Mini Statement through SMS:
Firstly you have to register for the SMS Banking service of SBI through Bank, ATM, or internet banking.
Send an SMS by typing 'MSTMT' to 09223866666.
You will instantly receive an SMS that will comprise all the last 5 transactions.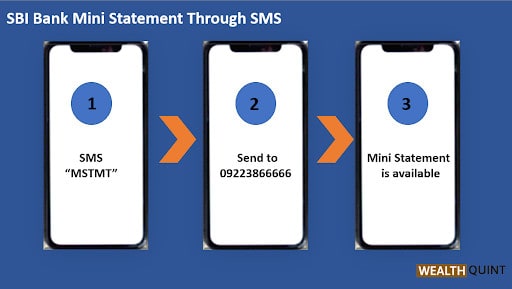 Get SBI Bank Mini Statement By Yono App
A Mobile Banking facility requires an internet connection.
Steps to get SBI Mini Statement through SBI Yono App:
Install the app YONO LITE SBI from Google Play Store or Apple Store.
Secondly, you need to register to the app with the particular mobile number that is linked to your bank account.
You need to tap the 'log-in' option and enter your User Id and Password.
You will be directed to a screen having options like Accounts, Yono Pay, Yono Cash, Cards, Insurance, etc. You need to select the 'MY ACCOUNTS' option.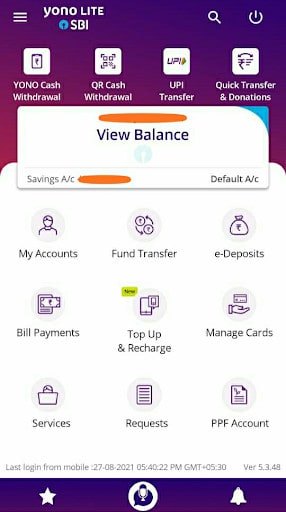 Touch the 'Mini Statement' option there and you will receive all the transaction information.
Get SBI Bank Mini Statement By Using Internet Banking
Steps to get SBI Mini Statement through Internet Banking:
Visit the Online SBI official website on Phone or Laptop.

On the screen click on the login option and log in using USER ID and Password.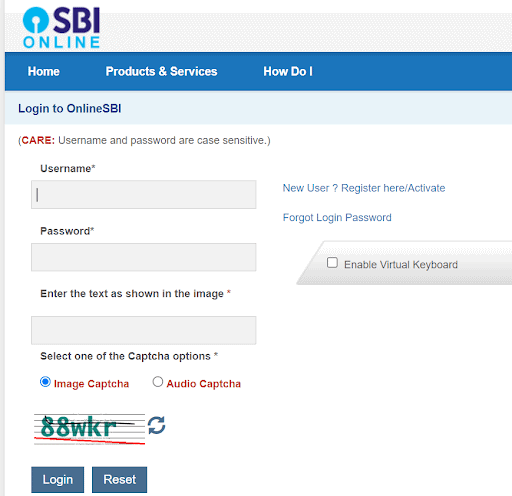 Enter the "captcha" and tap 'LOGIN':
Then click on the 'Account Summary' option and you can check the balance on the screen.

Then click on the 'Account Statements' option and you can check the balance on the screen.

Select the required details to have statements as required per below mentioned options:
Get SBI Bank Mini Statement By Visiting ATM
Steps to get SBI Mini Statement by visiting ATM:
Visit the nearest SBI ATM.
Swipe or enter the debit card in the ATM.
You need to select the 'Banking' option in the section.
After that, you have to tap the mini statement option and followed by the 4 digits Pin.
Then you will receive a printout of the mini statement stating the last 10 transactions from the ATM itself. 
SBI Mini Statement Number
SBI mini statement can be checked by calling the SBI Mini statement contact number at 09223866666 from your registered mobile number. After dialing the number, the account holder will receive an SMS containing information about the last 5 transactions.
How To Register Mobile Number In SBI?
To get a Mini statement, Registering your mobile number is very necessary. If you haven't registered your number at the time of opening, you can do it later by your phone. By registering, you will be accessible to all the quick SBI facilities to get a Mini Statement.
All the steps are mentioned below:
You need to send an SMS to 09223488888 by mentioning your account number.
The format of the SMS should be:
REG(space) Account number
After sending the SMS to the aforementioned mobile number, your phone number will be registered within minutes.
Things Required To Get SBI Bank Mini Statement On The Phone
An account holder must take care of certain things to get an SBI Bank mini statement on the phone.
Some of the things those need to carry compulsorily are:
You must have the bank registered mobile number with you.
If you want a mini statement through Missed calls or SMS, you need to know the SBI quick service numbers.
In case you use internet banking or mobile banking, you need to remember the User ID and Password.
Also if you use mobile banking, you need to know the quick access pin.
Benefits Of SBI Bank Mini Statement
The benefits of the SBI mini statement are as follows-
It is the simple, quick, and easy way through which one can check their bank's last 5 or 10 transaction details.
Even customers without a laptop, pc, or smartphone can also access the SBI mini statement facility by only using a simple phone.
Customers who are deprived of internet facilities can avail the facility too through missed calls or SMS banking.
The account holders don't need to wait for long hours in the bank just to update the passbook and know about the statement. It saves a lot of time and effort.
Conclusion
With the growing advancement in technology, we are living an easy life. You don't have to wait for hours in line or at the bank to reopen like we used to do, just to check the mini statement. SBI successfully provides the easiest and quickest process to checking mini statements.
Frequently Asked Questions
How Can You Check Your SBI Account Balance By Missed Call? 
SBI has initiated a quick way to check account balance by giving a missed call on 9223766666. You can register your number for the missed call service by sending an SMS 'REG<space>Account number' to 9223488888. 

How Can I Check My SBI Mini Statement Without The Internet?
If you have no internet you can check the mini statement by giving a missed call to 9223866666. Also, you can send an SMS 'MSTMT' to 9223866666. In both the process, you will receive the mini statement as a form of SMS in the registered number.

Do I Have To Pay To Receive SBI Mini Statements Via Missed Call Or SMS? 
No, You don't have anything to get a mini statement via missed call or SMS. It is free and accessible anytime you want. 

How Can I Register For Mobile Banking Through SBI ATM? 
Firstly, you have to visit the nearest SBI ATM. You need to enter or swipe your ATM card. Then you need to select the mobile registration option. Choose the mobile banking option next and enter the mobile number in the slot, followed by YES. Again you will be asked to confirm the number. And within minutes you will receive a slip ensuring that your registration process is completed. You will receive an SMS that confirms the activation of your account. 
Similar Posts: