Meesho is another marketplace for a safe and secure online buying experience. Women's apparel and accessories are the centers of the online shopping site. Their product inventory features the latest trends in every category, including sarees, Kurtis, suits, jewelry, and more.
All such products can be resold through various Social Media Channels. Meesho, situated in Bangalore, aspires to establish an industry where anyone may promote their product with no upfront costs. The startup was founded in 2015 in Bangalore, India.
Meesho presently has approximately 17 million resellers, 15 million of them are women. It also has 60,000 suppliers.
Meesho showcases bulk products of different categories. All the products are subjected to quality inspection, and the company verifies that they are sourced from reliable sources. You can resell Meesho's products. It allows you to sell a variety of products and expand your clientele.
Here we will talk about a list of things that you can resell through Meesho;
Meesho Products List include
Meesho Kitchen Products
Meesho Home Products
Meesho Cotton Wears
Western Outfits For Women
Meesho Men's Wear
Meesho Apparel For Kids
Meesho Jewelry
Meesho Skincare and Cosmetics
Meesho Furnishings Items
Meesho Kitchen Products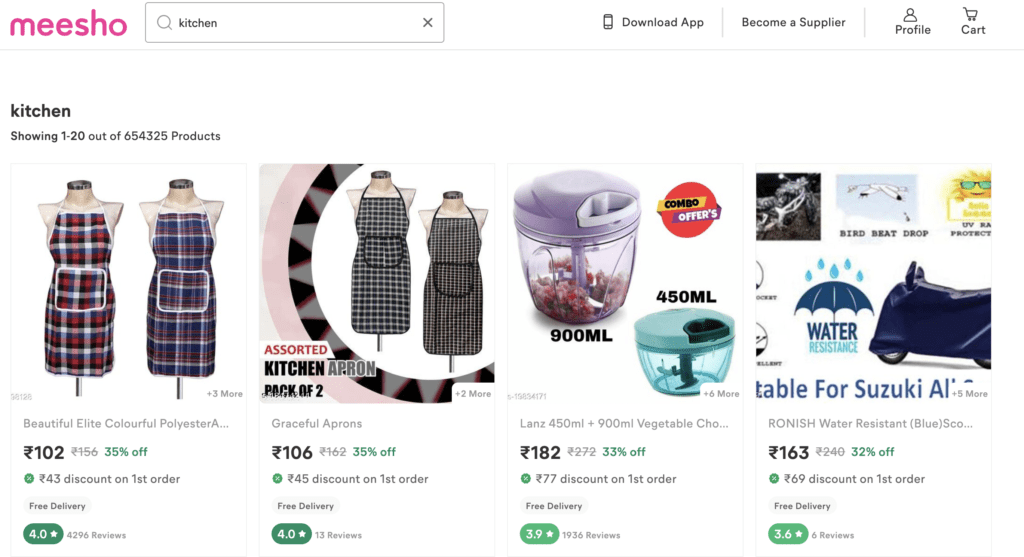 Meesho features a variety of useful Kitchen-related products. You can get cutlery and kitchen tools such as knives, cutting boards, and numerous types of spoons, as well as other kitchen-related products and appliances.
You may also get storage boxes, cookware, and bakewares such as various utensils and pans, dining sets such as plates, coffee mugs, and tea sets, and kitchen appliances such as mixers, grinders, stoves, ovens, and induction stoves, among other things. All these products come with better quality at an affordable price. 
Meesho Home Products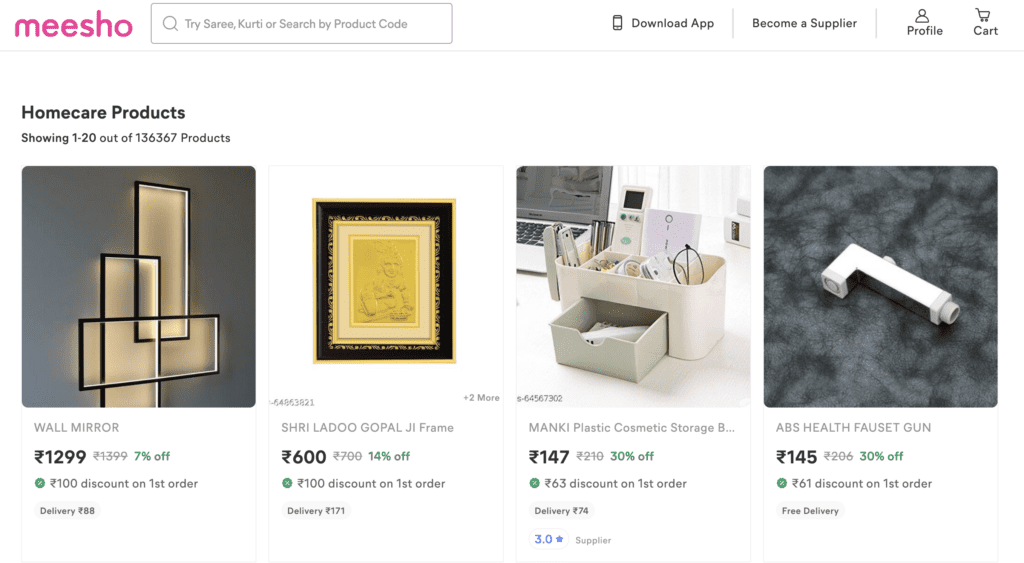 Who doesn't require home appliances? In our day-to-day life, we feel the need for several home appliances. Meesho offers varieties of house products like fans, water purifiers, vacuum cleaners, lights, etc. You will get quality products at a reasonable price. 
Meesho Cotton Wears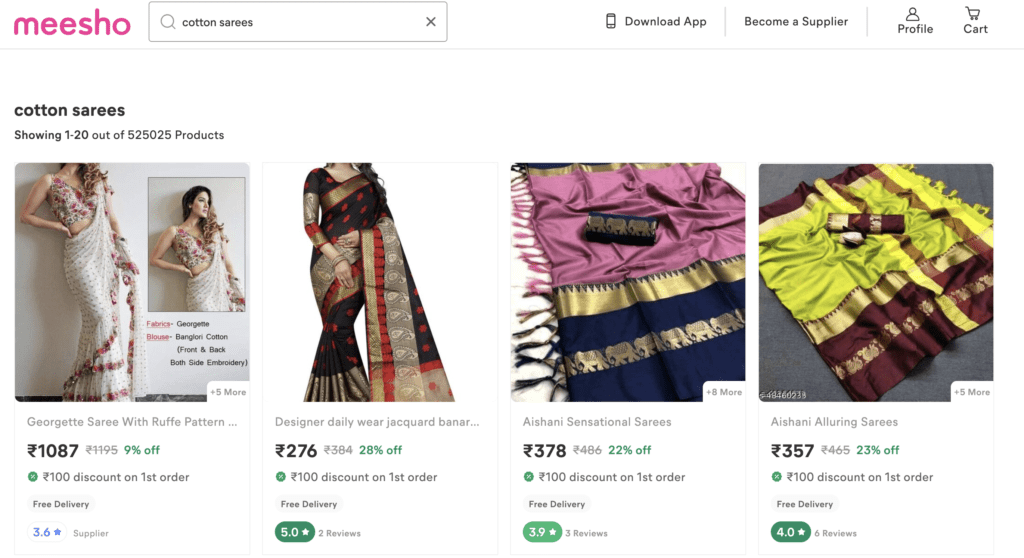 You can get a variety of sarees through the Meesho app. Silk sarees, Cotton Silk Sarees, Cotton Sarees, Georgette and Chiffon sarees, Satin sarees, Solid sarees, Embroidered sarees, and Zari Woven sarees are among the several categories they offer. This is a collection of women's ethnic dresses.
Sellers list high-quality Cotton Sarees. You will have cotton sarees of different designs and colors. As cotton is a comfortable material to wear, people prefer wearing it mostly. So Most of the people shop for Cotton Sarees from Meesho. 
Apart from Sarees, You will get other ethnic wear like Suits, Salwars, Lehengas, Kurtis, Skirts and Sets, Blouses, bottom wears, etc. Even under these categories, you can differentiate them in different areas like Jaipuri dress, chanderi dress, embroidered dress, cotton dress, etc. 
Western Outfits For Women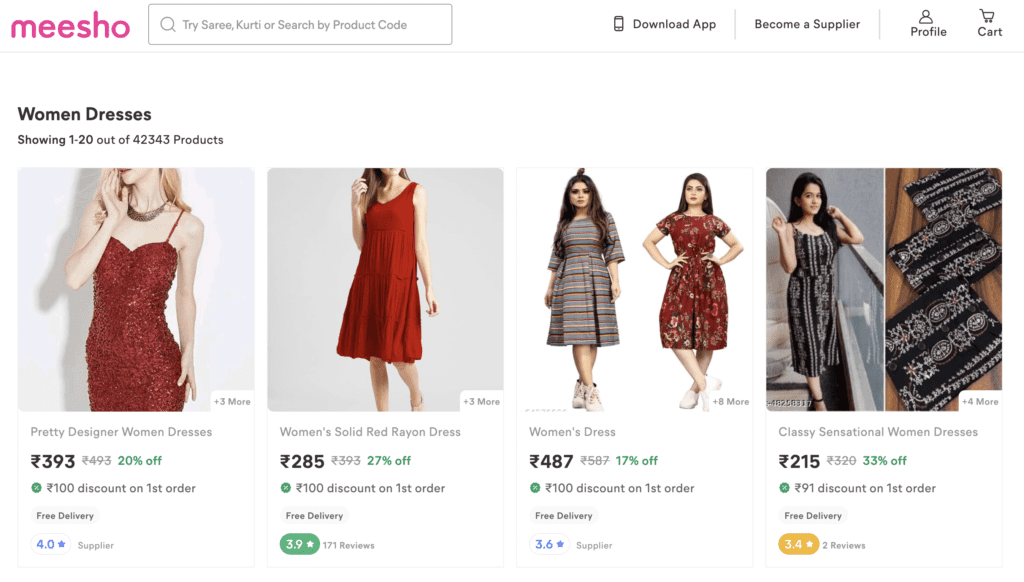 You can also sell tops and tunics, T-shirts, dresses, gowns, and other sorts of western clothing for ladies. Meesho also allows you to offer western clothes as a set. Jeans, leggings, palazzos, shorts, and skirts are all items that can be sold. Women's lingerie, as well as sleepwear like night dresses, can be sold.
Meesho Men's Wear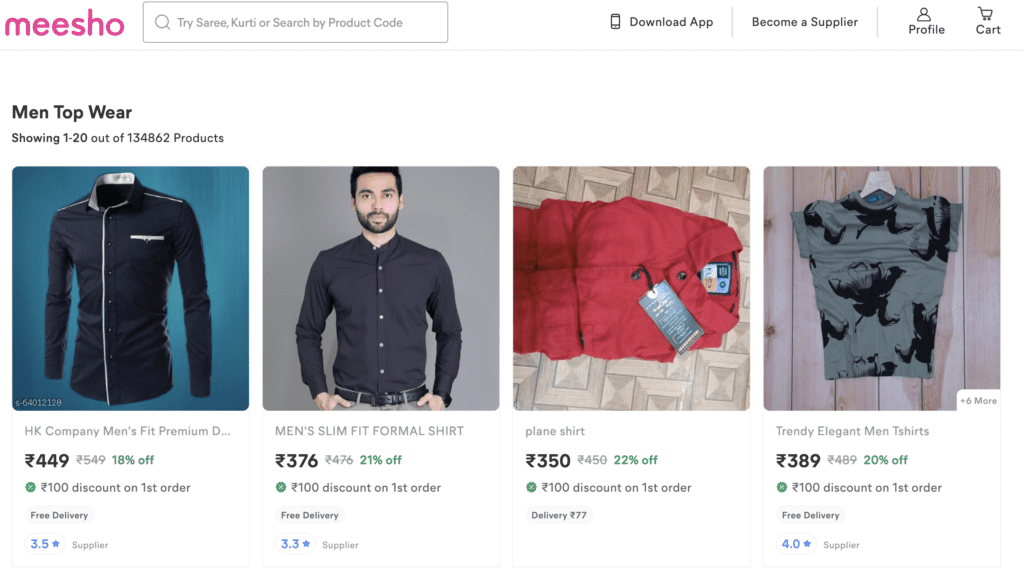 Meesho also includes a Men's section where you can buy T-shirts, shirts, and winter clothing including hoodies, coats, and sweaters. You can buy bottom wear like tracksuit bottoms, jeans, capris, formal pants, and so on.
You may also find a variety of items for men, such as leather watches, strap watches, chain watches, digital watches, fit bands, and so on. Aside from this, you can buy several types of belts, such as casuals, formals, and various varieties of them.
You can also purchase wallets and men's jewelry like hand bands, rings, studs, and so on. You may also buy various sorts of sunglasses, bags, and shoes.
Along with that, you can also get ethnic wear like kurtas and a combined pair of kurtas, ethnic jackets, ethnic bottom wear, and so on under a different category. 
Meesho Apparel For Kids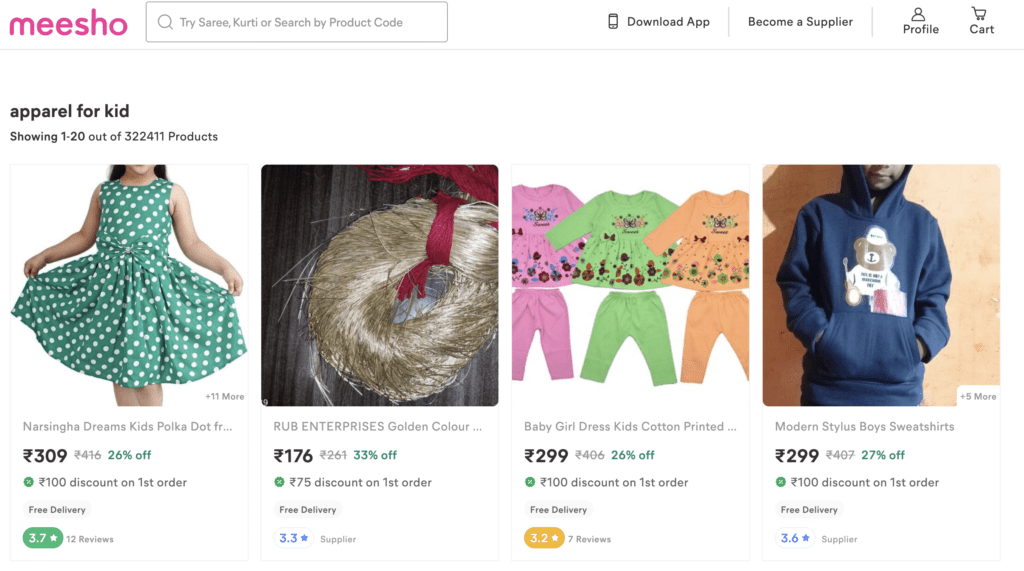 Using Meesho, you can even purchase a product from a different category for children. T-shirts and jeans for boys or a formal set of clothes for girls, different other outfits for girls such as frocks, skirts, jeans, and t-shirts. 
Ethnic attire, nightwear, and winter wear are also available for both girls and boys. Infants or children under 2 years of age can purchase things on the marketplace. Baby outfits, traditional clothing, and other items are available.
You may also buy various toys or goods for children, such as teddies, shoes, crayon sets, children's watches, children's purses, and backpacks, and so on. Besides, you will get baby care goods too. 
Meesho Jewelery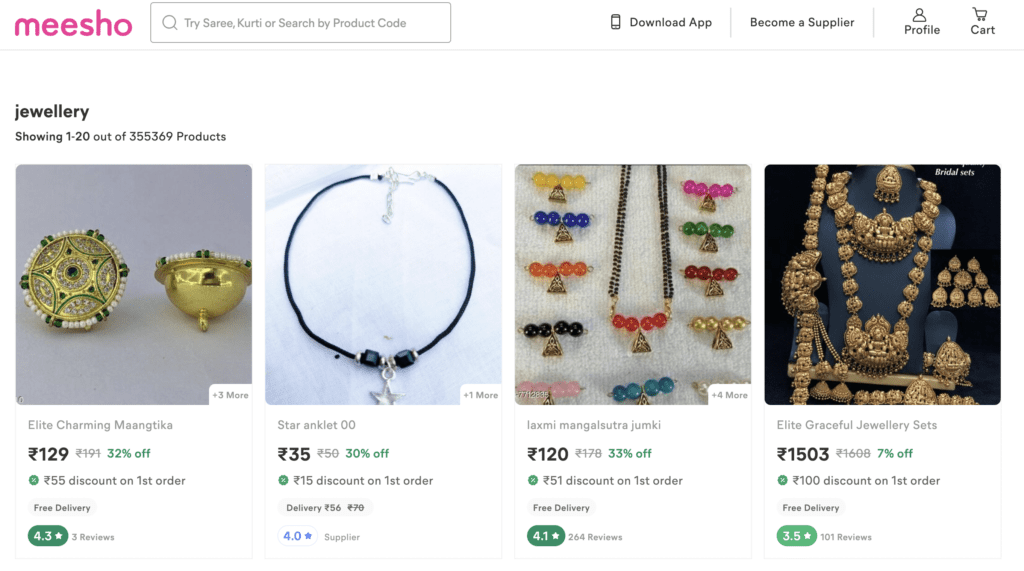 There are various collections of Jewellery in Meesho. You can also purchase and sell men's jewelry sets along with Mangal sutras, earrings and studs, bangles, bracelets, necklaces, chains, rings, anklets and toe rings, and so on.
Meesho Skincare and Cosmetics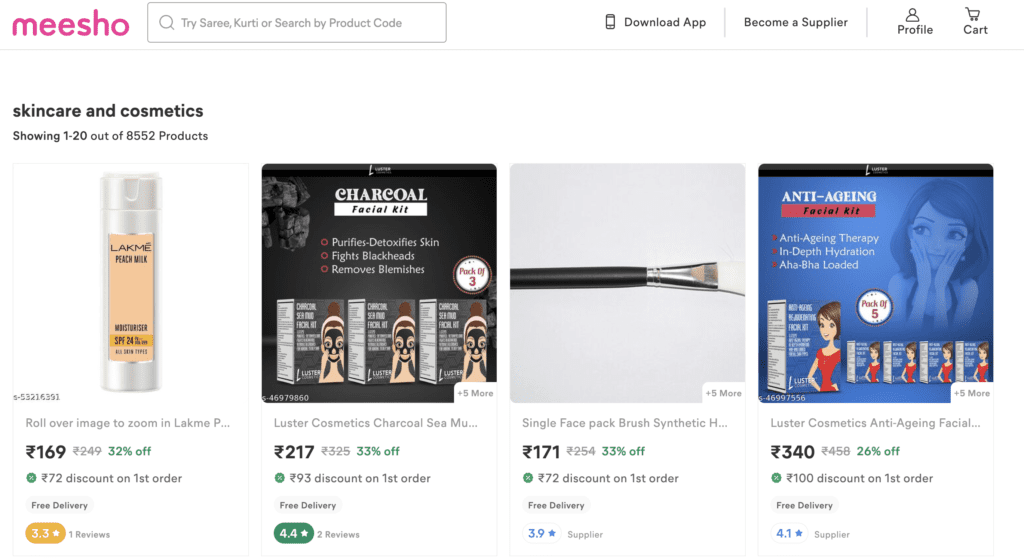 Meesho is not left behind in terms of beauty products. You will get beauty kits, creams, and other facial makeup equipment for ladies, as well as eye cosmetics such as kajal, nail colors, lip colors, brushes and tools, and hair appliances such as hairdryers, hair straighteners, and many more. 
Face care goods such as face washes, hair care products, body care products such as creams or lotions, scents and deodorants, eye care, and hair care products are some of the beauty products available for women.
Men's grooming items, such as beard oil, beard combs, and beard-related products, shaving basics, skin and hair care items, men's perfumes and sprays, and so on, are also featured.
Meesho Furnishings Items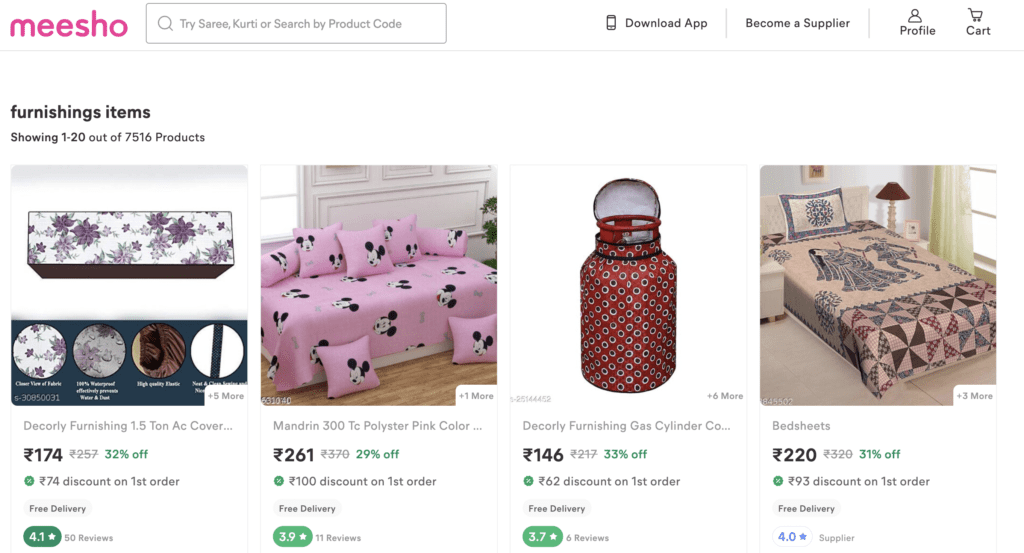 On Meesho, you may get household furnishings such as curtains, bedsheets, floor mats and bathmats, pillows or cushion covers, mattress coverings, etc. 
Different types of décor and organizers, such as covers for various items, wall stickers, artworks, lights, clocks, decorative items, apparel storages, organizers and laundry bags, flower vases, and so on, are available.
Cleaning goods such as detergents, hand soap, cleaning liquid, sanitary ware, farming, and insect prevention items such as mosquito nets, mosquito bats, and so on are also available.
In Meesho, thousands of Products of all categories are listed on Meesho. You can either purchase these products or You can resell them. The products are of good quality and affordable price.