Are you looking for Honkai Star Rail Ministry of Education Quiz Part 8 Answer with explanation?
The Ministry of Education Quiz in Honkai: Star Rail appears to be a recurring Daily Mission in the game.
This quiz poses a series of questions to the player each day, and answering them correctly provides game rewards like Stellar Jade and Daily Training Activity points.
The quiz is part of this specific storyline or mission series in the game.
Players earn rewards such as Stellar Jade for correct answers.
This makes it a good task to complete regularly.
Even if you answer incorrectly, it seems that the game allows you to retake the quiz, either immediately with the help of the character Regin or at some future point.
In this article, we will provide Honkai Star Rail Ministry of Education Quiz Part 8 Answer with explanation
Honkai Star Rail Ministry Of Education Quiz Part 8 Answer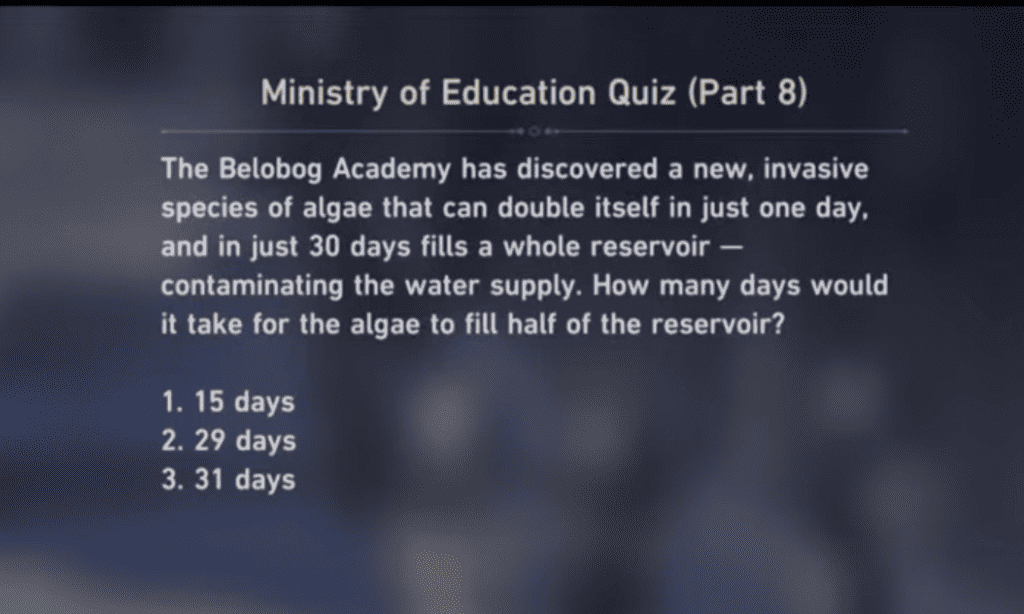 Question:
The Belobog Academy has discovered a new, invasive species of algae that can double itself in just one day, and in 30 days fills a whole reservoir — contaminating the water supply.
How many days would it take for the algae to fill half the reservoir?
Answer: 29 days.
Explanation:
This problem is essentially an exercise in understanding exponential growth.
If the algae doubles itself every day, and in 30 days it fills the whole reservoir, then on the previous day (the 29th day), the reservoir would only be half full.
This is because if the algae doubles every day, then it would take only one more day for the algae that filled half the reservoir to double and fill the entire reservoir.
Therefore, the answer to the question is 29 days.
Similar Posts: