Are you looking for Honkai Star Rail Ministry of Education Quiz Part 1 Answer with explanation?
The Ministry of Education Quiz in Honkai: Star Rail appears to be a recurring Daily Mission in the game.
This quiz poses a series of questions to the player each day, and answering them correctly provides game rewards like Stellar Jade and Daily Training Activity points.
The quiz is part of this specific storyline or mission series in the game.
Players earn rewards such as Stellar Jade for correct answers.
This makes it a good task to complete regularly.
Even if you answer incorrectly, it seems that the game allows you to retake the quiz, either immediately with the help of the character Regin or at some future point.
In this article, we will provide Honkai Star Rail Ministry of Education Quiz Part 1 Answer with explanation
Honkai Star Rail Ministry Of Education Quiz Part 1 Answer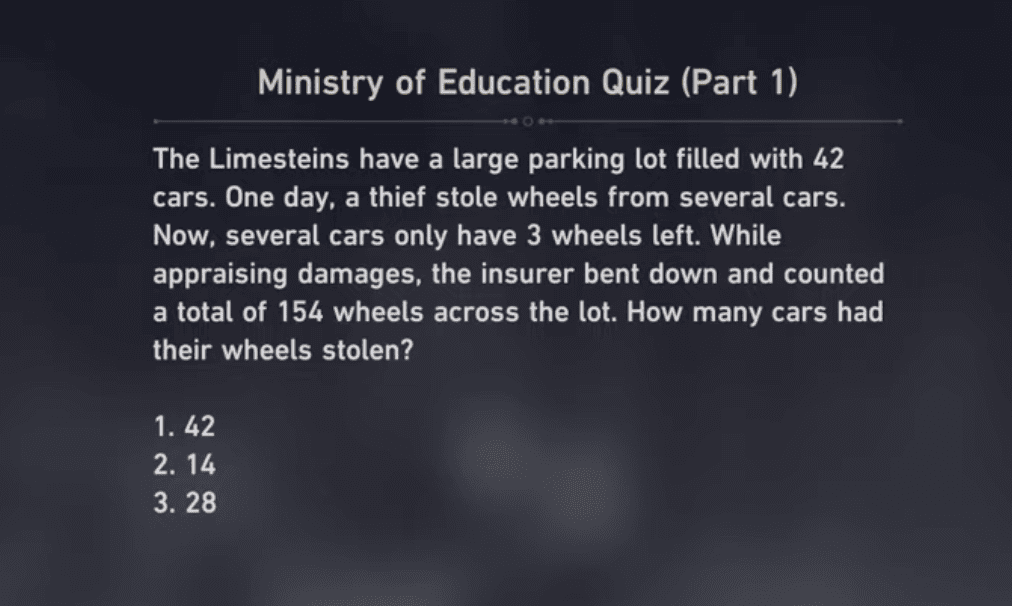 Question: The Limesteins have a large parking lot filled with 42 cars.
One day, a thief stole wheels from several cars.
Now, several cars have only three wheels left.
While appraising damages, the insurer bent down and counted a total of 154 wheels across the lot.
How many cars had their wheels stolen?
Answer: 14.
Explanation: Initially, there are 42 cars in the Limesteins' parking lot.
Under normal circumstances, as each car has 4 wheels, we would expect there to be 42 cars * 4 wheels/car = 168 wheels in total.
However, after the thief stole some wheels, an insurer counted only 154 wheels across the lot.
This implies that 168 initial wheels – 154 remaining wheels = 14 wheels were stolen.
Given that the cars from which wheels were stolen now have only 3 wheels, we can infer that each of these cars had just one wheel stolen.
Therefore, the number of cars that had a wheel stolen would be the number of stolen wheels, which is 14.
Similar Posts: