Are you getting Error Code 3.0 in Star Wars: Galaxy of Heroes?
The error message reads "An error has occurred that requires restarting the game, Please check your internet connection as a poor connection could be the issue, the press "Restart", If you have seen this prompt multiple times and have a strong internet connection, then please contact us, ErrorCode 3.0."
Star Wars: Galaxy of Heroes (SWGOH) is a captivating game that keeps millions of players engaged worldwide.
Despite its immersive features, it's not exempt from occasional technical hitches, one of which is the infamous Error Code 3.0.
This error can disrupt your gaming experience, and understanding its causes is the first step to troubleshooting effectively.
In this guide, we will discuss what causes SWGOH Error Code 3.0 and how to fix it.
What Causes SWGOH Error Code 3.0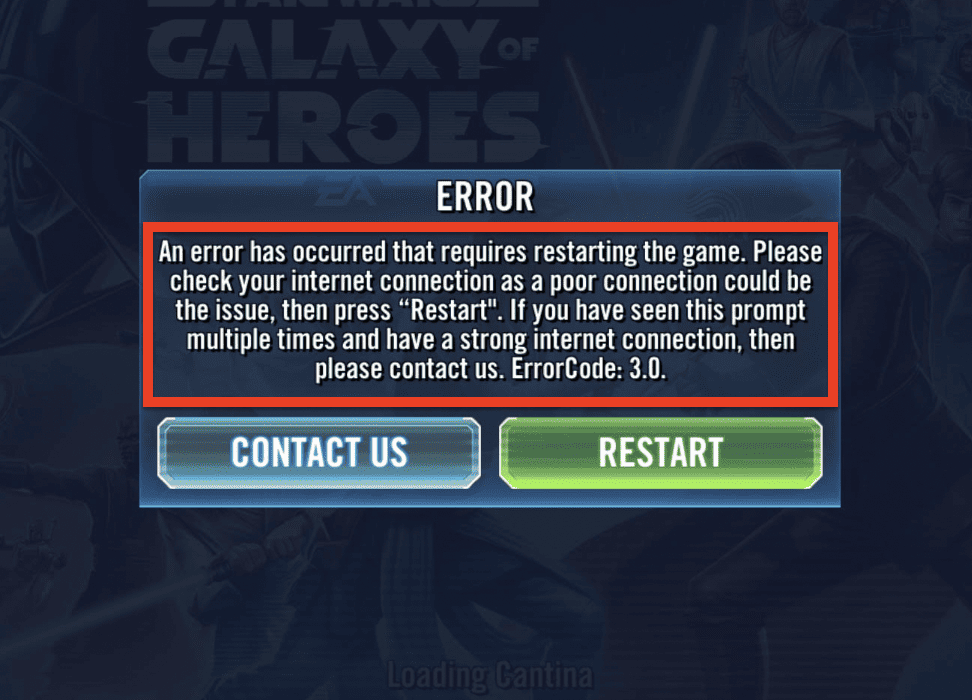 SWGOH Error Code 3.0 is often associated with connection issues and can persist even when the internet connection is stable.
It suggests an interruption in data transmission between your device and the SWGOH servers.
Temporary glitches in the game or your device's operating system can also trigger this error.
These glitches may arise from software updates, system overloads, or minor bugs that interfere with the game's operation.
How To Fix SWGOH Error Code 3.0
1. Verify Your Internet Connection
An unstable or weak internet connection can trigger Error Code 3.0. Here's how to check and fix your internet connection:
Disconnect your device from the internet, wait a few seconds, then reconnect it.
If you're on Wi-Fi, move closer to the router.
Try switching between Wi-Fi and mobile data to see if the error persists.
Restart your router or modem.
2. Sign Out And Sign Back Into Your Game Center Account
Sometimes, a simple sign out and sign back in can resolve this error. Here's how:
Open SWGOH and navigate to the 'Settings' menu.
Find and tap on the 'Sign Out' button.
Close the game and restart your device.
Open the game again and sign back into your account.
3. Clear SWGOH App Cache
Clearing the app cache can often resolve the issue. Here are the steps:
For Android users:
Go to 'Settings', then 'Apps'.
Scroll down and find 'Star Wars: Galaxy of Heroes'.
Tap on 'Storage'.
Hit the 'Clear Cache' button.
For iOS users:
Unfortunately, iOS doesn't provide a direct way to clear a specific app's cache. However, reinstalling the app will clear the cache.
4. Reinstall SWGOH
If clearing the cache doesn't work, try reinstalling the game:
Uninstall the SWGOH game from your device.
Restart your device.
Go to your device's app store and reinstall the game.
5. Force Restart Your Device
If the error still persists, try force restarting your device:
For Android devices, press and hold the power button and volume down button simultaneously until the screen turns off and the device vibrates.
For iOS devices, quickly press and release the volume up button, then the volume down button, and then hold the side button until you see the Apple logo.
6. Test The Game On Another Account
If none of the above steps work, try to isolate the problem:
Install the SWGOH app on a different device and log in with your account. If the game works fine on the other device, the problem likely lies with your original device.
Try playing the game on a friend's account on your device. If it works fine with their account, the issue might be with your game account.
7. Contact SWGOH Support Team
If you've followed all the steps and the problem persists, it's time to reach out to SWGOH support.
Provide them with your Ally Code or the customer support ticket number, if any, to help them assist you effectively.
If you're in-game and you need help, it's only a few taps away.
Tap the Settings cog on the Cantina home screen
Then, tap Help.
When you contact in this way, they will automatically get information about your account and your game. 
Similar Posts: