Do you know you can get a refund for pre-order Diablo 4 if you are unhappy?
Diablo 4 has recently released its paid early access to the game's beta version.
If you have purchased a copy of the game to get early access but are disappointed due to hours of queuing, disconnection error, or any other, you can get a refund for the game under certain conditions.
If you feel you are not enjoying the game or facing many interruptions while playing, you can request a refund.
Getting a refund is a straightforward process.
Before getting into the refund, let's see the refund guidelines.
What Is There In Diablo 4 Refund Guidelines?

A refund cannot be processed after 14 days of purchase: You can get a refund for paid games or expansions within 14 days of purchase. If it exceeds, you cannot request for refund.
A refund can only be processed if the playtime is within 2 hours: If you have played the for more than 2 hours, you cannot request a refund.
Refund for in-game items: You will get a refund for most items you buy with real money and use or receive in-game within 14 days of purchase, as long as you have not claimed, opened, or otherwise used the item.
Blizzard balance and virtual currency: As long as you haven't spent the currency, you will receive a refund for the blizzard balance and "Virtual currency" Purchases within 14 days of the transaction. Here the term 'virtual currency' only applies to in-game currencies purchased through real money.
You can get a refund only for the unspent platinum within 14 days of purchase.
You cannot request a refund if subscription time is lost due to a suspension and permanent account closure.
You cannot get a refund if you purchased the game from third-party stores other than their official platform, including blizzard shop, the battle.net app, and in-game. Example: Purchases made through Amazon, Xbox, or other online stores are not eligible for a refund.
Regional limitations: If you are the one who has purchased from Korea or China, you are not eligible to get a refund.
For more details visit the link here. Here is the step-by-step guide to getting a refund on Diablo 4.
How To Get A Refund For Diablo 4?
Getting a refund on diabl0 4 is an easy and straightforward process.
Step 1: Visit the battle.net website and log in to your account.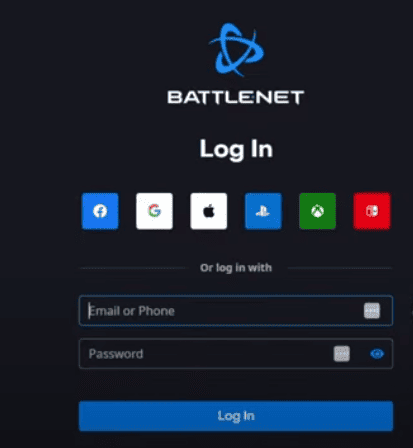 Step 2: Click on the support icon at the top right of the web page.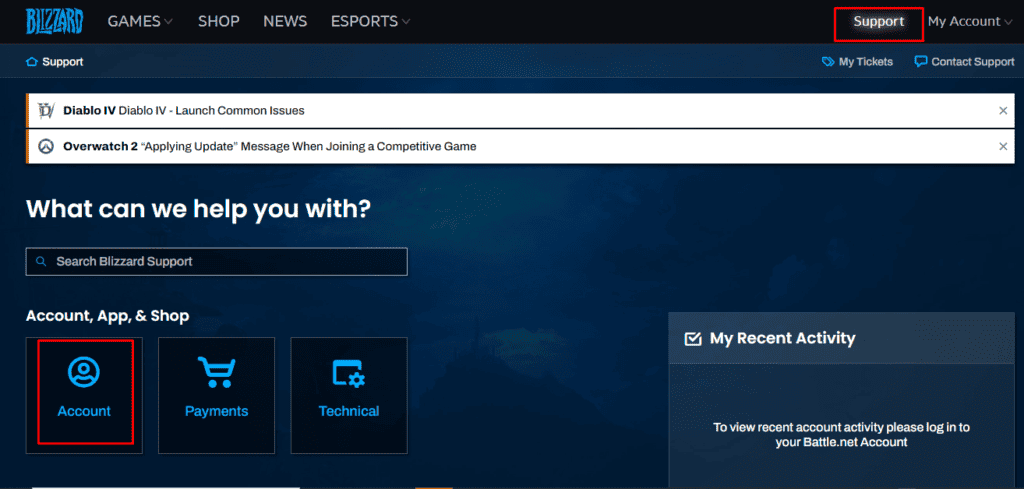 Step 3: Click on the Account option below the support search bar.
Step 4: Click on the contact support button under the account.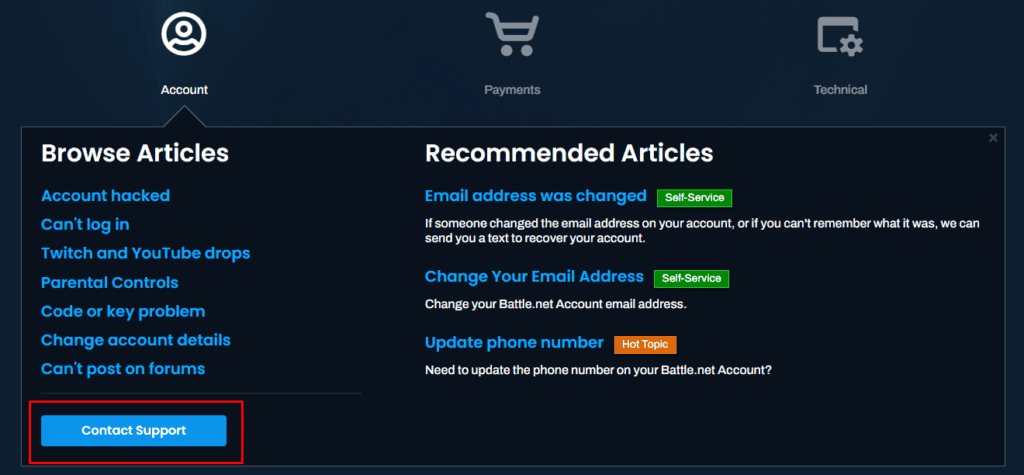 Step 5: Click on the payment option from the web page.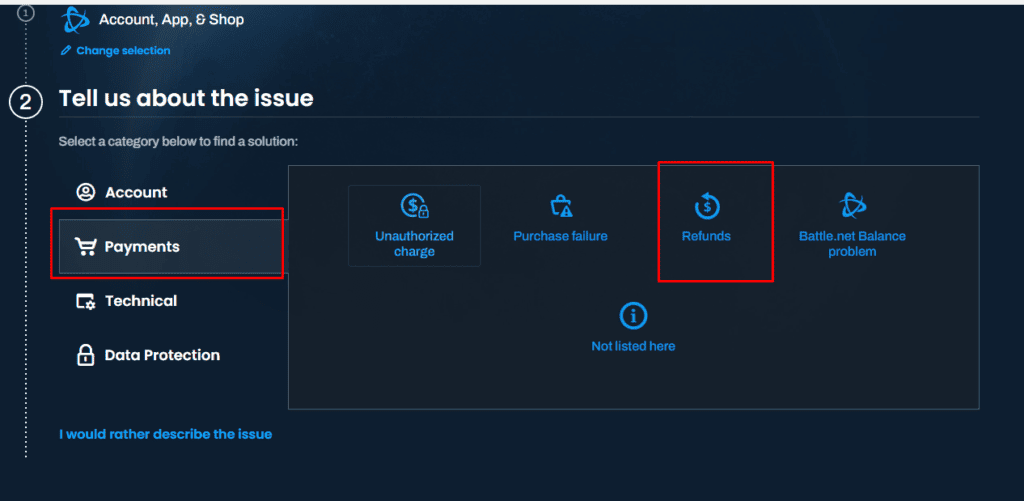 Step 6: Click on refund and click continue.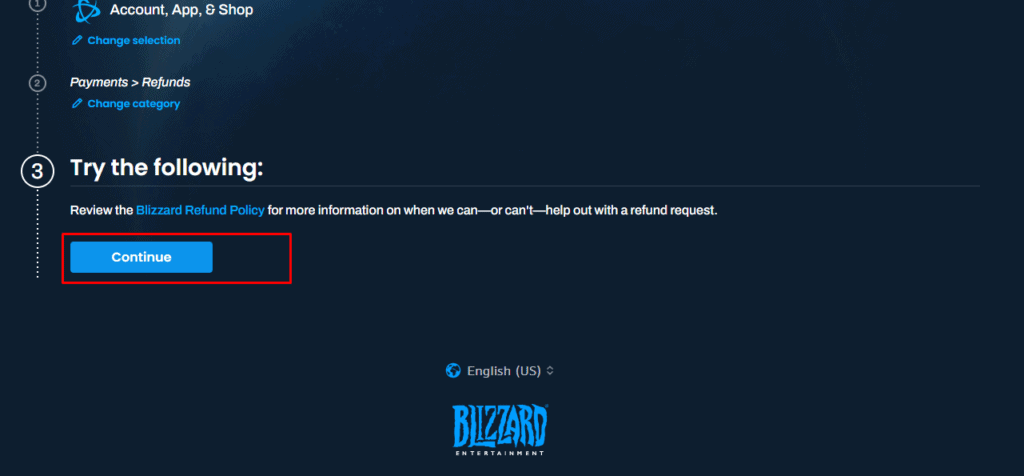 Step 7: You will see all the purchased information, such as product name, purchase date, payment method, and amount.
Step 8: Click on your product.
Here the product is Diablo IV: Digital deluxe edition, and click on Select order.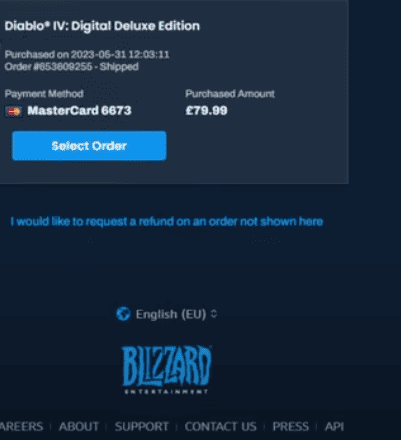 Step 9: Select the reason from the drop-down box under Why do you want to return this?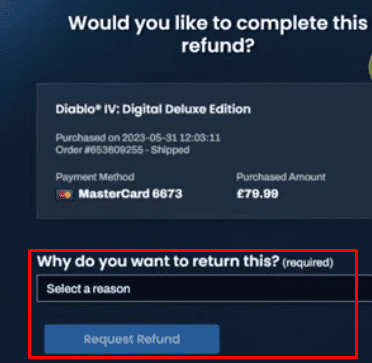 Step 10: Now click on the Request Refund button. You will be redirected to the refund complete Screen.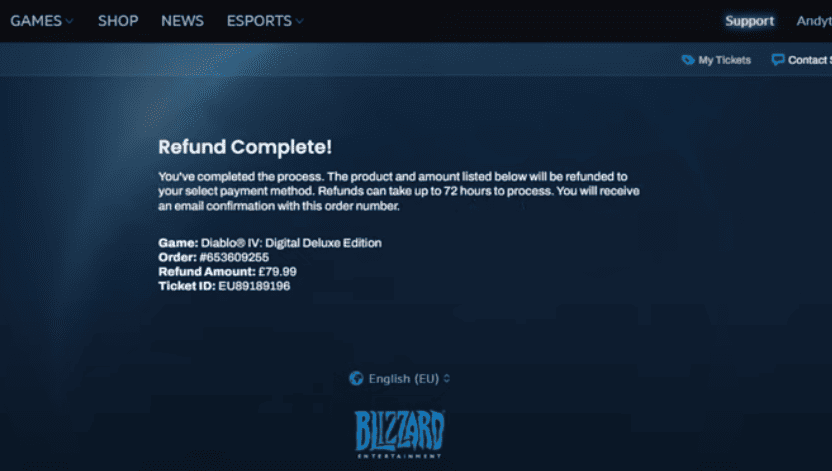 Hurray!
You have completed the refund request.
Sit back and relax.
The requested refund will take up to 72 hours to process.
Check your mail for confirmation with the displayed order number.
Similar Posts: