Have you received an email or notification from Instagram that your Instagram account is going to be suspended soon? You have no idea what is going on? Why are they suspending your account?
And what did you do wrong because of which your Instagram account is getting suspended? If all of these questions are in your mind then you have clicked on the right article. 
In this article, we'll talk about your Instagram account suspension notification along with the possible reasons behind your account suspension.
We'll also discuss how you can fix it and get your Instagram account out of the suspension threat. So, read the article till the end to find all the information about Instagram account suspension. 
What does "Your Account Will Be Suspended Soon" Mean on Instagram?
Your Instagram account will be suspended soon implies that your account will be temporarily banned or permanently banned. You won't be able to access your Instagram account and won't be able to use it anymore.
If it is a temporary ban then don't worry you will get back your account but if it is a permanent ban then you cannot use your current Instagram account and have to make a new account if you want to use Instagram. 
Why is  Instagram Saying Your Account Will Be Suspended Soon ?
Receiving an Instagram Account suspension notification can be due for a lot of reasons. You may have violated Instagram's community guidelines, posted wrong content, used the wrong ways to increase your following, did something that got you reported, etc.
You would have done nothing major but still,l even a small mistake can cause your Instagram account to be suspended. Instagram has a huge influence all over the world. Due to this, any small thing can have a huge impact.
Due to these things Instagram has to keep an eye on all the user activities. So, even if you are not at fault due to security reasons your account can get suspended. But don't worry, Instagram gives you a chance to appeal and explain your concerns.
Your appeal is then reviewed by the Instagram team and if you are not grossly wrong then your account is released from suspension. 
Reasons For Instagram Account Suspension
1. Violation Of Community Guidelines
Instagram is a giant social media platform. It connects people from different ends of the world. The reach of Instagram is unimaginable. Because of such extensive reach, Instagram has made some community guidelines to maintain its status.
Instagram is very strict about its community guidelines. If an Instagram user violates these community guidelines and posts something not according to the rules of Instagram then there are high chances of your Instagram account being suspended.
So, to avoid violation of community guidelines, have good information about the rules and regulations of Instagram and post accordingly. 
2. Following And Unfollowing A Lot Of People In A Little Amount Of Time
Instagram has a feature of followers. It means if you like someone then you can follow them and their posts will be visible in your feed. You can follow anyone. But if you follow or unfollow a lot of people within a short period then it is considered something suspicious by Instagram people.
It will flag your account as a suspicious account. This can lead to your Instagram account being suspended. So, make sure that you are not following or Unfollowing a lot of people in a short period. 
3. Using Instagram Account Through Multiple Devices
Using Instagram accounts from many devices can be a huge problem as there is suspicion of hacking. Your account can get suspended under suspicion of hacking activities. When an account is hacked it is logged in from multiple devices to make the hacker's location untraceable.
Hackers make wrong use of your Instagram account leading to the destruction of Instagram's image. It can also be that someone might have got your password and is now operating your Instagram account.
They can post anything wrong to make you into a laughing stock on social media. So be aware of how many devices have you logged into your Instagram account. 
4. Suspicious Activity
Suspicious activity refers to any activity which is categorized wrong according to Instagram policies. Suspicious activity can be related to the hacking of your account. When there are too many failed logins then it is also categorized as suspicious activity.
It could be a possibility that too many failed logins are due to hacking of your Instagram account. Your account might show completely different activities due to a virus attack.
The virus can produce a lot of technical issues leading to the improper activity of your Instagram account which can be flagged as suspicious activity by Instagram. So, if you feel that your Instagram account is not under your control then get it checked by a professional. 
5. Lot Of Complaints Against Your Instagram Account
On Instagram, there is a feature for reporting or complaining against any other user if they have hurt your feelings, posted something wrong about you, used abusive language against you, etc. If you have done the wrong thing, used offensive language or hurt other users in any form then those users have the right to report your Instagram account.
If a lot of people complain against your Instagram account then Instagram will help and protect the other users by suspending your account. 
6. Buying Likes And Followers
Instagram has a feature of followers. It means if you like someone then you can follow them and their posts will be visible in your feed. Instagram has another feature of likes. The number of likes shows you the influence of the creator.
Which in turn helps him get famous due to Instagram's algorithm. More the followers and likes more is the credibility of the creator. The Greater the popularity of the creator the greater is the earnings. So, it is all connected. 
Some people use this wrong way of buying Likes and followers. Buying likes and followers help you get more credibility and in turn earn more money.
But this way is not legit. It is generally used to scam people. So, any such activity of buying likes and followers by any Instagram user leads to the suspension of their Instagram account. 
7. Posting Illegal And Prohibited Content
Instagram has to regulate the content very carefully or it would be penalized by the judiciary of the country. To avoid any such penalizations Instagram has very strict regulations for the content of the post you are making.
If you post any illegal content your account will be suspended immediately. If you post any kind of prohibited content which is against the policies of Instagram then there are high chances of your account getting suspended. 
8. Your Age
Instagram is available to all people across the world irrespective of their age. Instagram is an open space where everyone can give their opinions, and post about various things not suitable for young children. It can affect young minds and Instagram has this minimum age rule.
The minimum age limit to be eligible for opening an Instagram account is 13 years. So, if you are below 13 years then there are high chances of your account getting suspended. So, wait till you become eligible for opening an Instagram account. 
9. Creating Fake And Duplicate Instagram Accounts
Social media is a place where the least amount of documents are required and verification is also not required. This leads to the opening of a lot of fake and duplicate accounts. Fake accounts are one of the biggest problems for social media platforms.
Fake accounts could be used for doing a plethora of wrong things. It can lead to the destruction of Instagram's image in the world. One fake account can be lethal to a region or country's peace. Which can lead to the penalization of Instagram. Fake accounts are used to do fraud.
Lots of people have been scammed through fake accounts. To avoid all of these Instagram has created policies for suspending fake and duplicate accounts as soon as they are caught. 
10. Lots Of Comments On Various Posts Or the Same Comment On All Posts 
Instagram or any other social media platform is very competitive in terms of followers. Creators on the social media platform want to increase their followers in turn increasing their reach. This helps them to get good deals and earn a handsome amount of money. One such way of increasing engagement is using bots to comment on their posts.
These bots post a lot of comments. If you are doing a lot of comments within a short period then Instagram will consider that your account is a bot account. Make sure that you do not post more than 60 comments in an hour. If it has more than 60 comments per hour then you'll be flagged as a bot and your account will be suspended.
11. Spamming Other People's Inboxes With Same Messages Again And Again 
Social media has given the power to each and everyone that they can message any individual across the world. Some people just spam others' inboxes with advertising, marketing, etc. messages.
Some people go to the extreme and message inappropriate things to other people. These continuous messages can be irritating to people. Due to this Instagram traces these accounts and suspends them immediately. 
Also Read: How to Share Tweets On Instagram Feed?
How To Fix The Issue Of Your Instagram Account Suspension. 
You have received a notification that your Instagram account will be suspended soon. In such a case, you have to first check what the reason is due to which your Instagram account is getting suspended.
Check out the list of reasons we provided to know where you went wrong. Instagram generally gives you a few warnings with temporary suspension after which there is a permanent ban on your account. Once the notification is received then, you have 30 days after that to appeal for the Instagram account suspension review.
You can appeal and explain to them what you did and any other concerns you have. Your appeal will then be considered by Instagram and if you are innocent then you can get your Instagram account back from suspension. 
How To Fill Appeal Form?
Filling an appeal form is an extremely crucial task. If anything goes wrong then you might lose your Instagram account forever. So here is the step by step guide to filing an appeal form without any mistakes. 
Step By Step Procedure For Filing An Appeal Form
Step 1. Open Google Chrome Or Any Other Web Browser
Open google chrome or any other web browser on your phone. 
Step 2. Click On Search Tab
Once you open google chrome you will find a search tab. Tap on the search tab to write your search topic. 
Step 3. Type "Instagram Suspension Appeal" In The Search Box.
In the search box type "Instagram Suspension Appeal" and click on the search button. 
Step 4. Click On Instagram Help Centre Option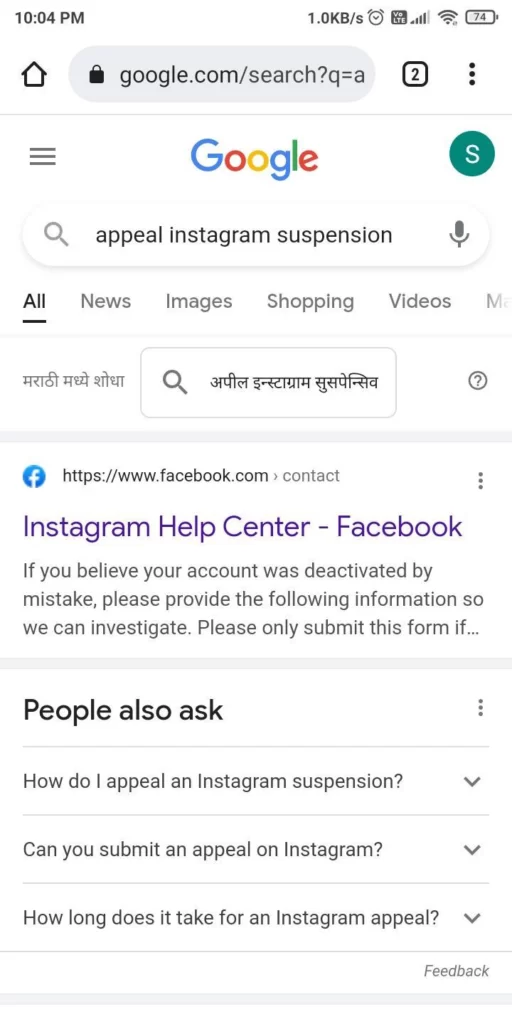 Once you click search a page with a lot of search results will open in front of you. Choose the first option or click on the page which has an Instagram help centre written on it. 
Step 5. Fill In Your Details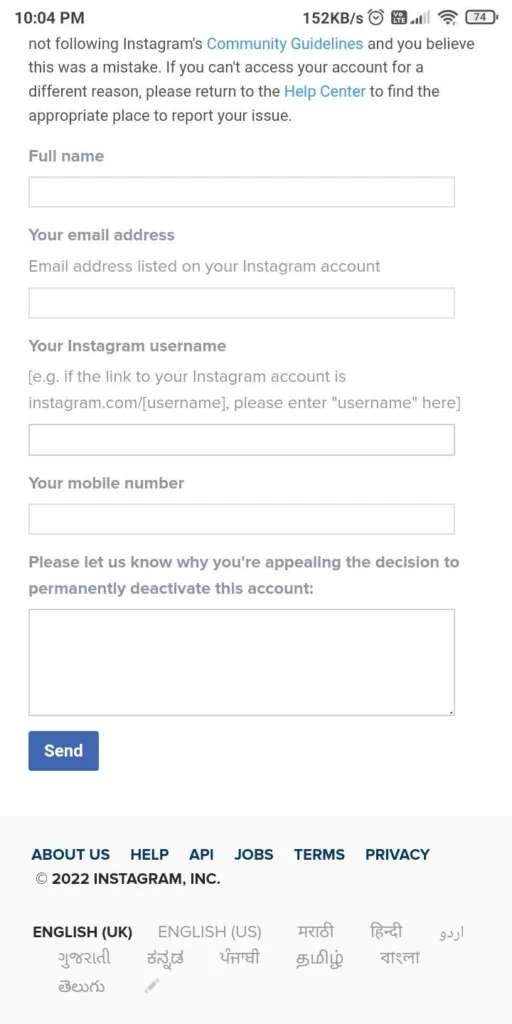 When you choose the Instagram help centre page you will be directed to a page where they will ask you certain questions.
Fill in your details like your Name, your account username, phone number, email address and something else that you would like the Instagram people to know about while reviewing your appeal. 
Step 6. Write Your Concerns
After filling in your information there is a box for writing your reason and explaining why your Instagram account should not be suspended.
Write everything you want them to know about the suspension. Give reasons and apologize if you have mistakenly violated any of their community guidelines. 
Step 7. Submit The Appeal
After writing your appeal click on the submit button in the lower half of the page. Once you submit the appeal Instagram will review it.
Now you need to wait till your appeal is reviewed by Instagram. It generally takes a few hours or 1 to 2 days for Instagram to review your appeal. 
Step 8. It May Or May Not Get Resolved
If you have not made any major mistake then once Instagram reads your appeal and understands your side then they will remove the suspension and give you your account back.
But if they feel that the mistake is huge or they want further verification then they might ask you to send some documents for verification through email.
Once the verification is done then they release your account from suspension. 
 Below are the steps to follow for easier and faster verification for your Instagram account. 
Step 9. Check The Verification Email
Once they review your appeal and want to do further verification, they send you a verification email on the email address submitted in your appeal form. In the verification email, there is a unique code. Check for the code.
If you have not gotten your access back within 2 to 3 days of submitting an appeal form then this indicates that there is further verification required. So, check your emails, and also check the spam section. It might be present there. 
Step 10. Write The Code On A Notepad With Pen
The unique code which you got in the verification email is to be written on plain paper with a blue pen. Make sure you have written it big and clear enough so that they can read it easily. 
Step 11. Click Your Photo With The Notepad In Your Hand
Take the paper, place it next to your face and click your photo such that your entire face is captured in the photo.
Make sure that your face is clear, the code is visible and readable. Click your photo with normal camera settings don't use portrait mode as it will blur the photo surroundings. 
Step 12. Send It To The Instagram Team.
After you have clicked the photo, send the photo to the Instagram team on the same email id from which you received the verification email. 
Step 13. Wait For a Few Days
After sending the photo the next thing to do is patiently wait for the Instagrams response. Wait for a few days and as your verification is successful your account will not get suspended.
Sometimes Instagram doesn't send you the notification about successful verification so, in such a scenario you need to login into your Instagram account to see if your account is still suspended if it is released from suspension. 
Also Read: How to See Who Someone Recently Followed on Instagram?
What Is Temporary Suspension And Permanent Suspension Of Instagram Account?
Temporary suspension means you won't be able to access your Instagram account for a few days or weeks. Permanent suspension means you cannot access your Instagram account for a lifetime. It has been deleted permanently from Instagram.
Instagram first gives you some warnings as temporary suspension but if you don't improve your behaviour then they will permanently ban your Instagram account.
So, take the temporary suspension warnings seriously and do not violate any of the Instagram rules and regulations. 
How Much Time Does It Take To Release Suspension From Your Instagram Account?
24 to 48 hours is the general time frame in which your Instagram account can be released from suspension. Either you have to appeal for relieving suspension or just wait and Instagram will automatically solve the issue if it is on their side. 
How Long Does Your Instagram Account Remain Suspend?
It can be suspended for 1 hour to a few days and also up to a few weeks depending upon the complexity of the violation you made. It can also depend upon the time taken by the Instagram team to review your appeal and get back to you. 
Also Read: Fix: Can't Share Tweet To Instagram Story
What Will Be The First Step If You Receive A Notification That Your Instagram Account Is Going To Be Suspended?
Stop using your Instagram account for a few days should be the first step if you receive a notification that your Instagram account is going to be suspended. Instagram generally gives you chances before being harsh and suspending your account.
Once you receive any such notification for the first time just stop using your Instagram account for a few days and Instagram will give back your access to your Instagram account. 
Conclusion
Instagram is a huge social media platform. It can be used to do good as well as harm too. So, Instagram needs to keep a check on the users and their activities. If they are doing something wrong then surely their Instagram account will be suspended.
So, keep a check on your activity on Instagram about the posts you make, photos you put up, etc. Make sure that you play it safe, and do not hurt other people's feelings by sharing or writing anything wrong about them.
Have an Idea about Instagram community guidelines, post accordingly and you will never receive the Instagram account suspension notification.