Are you getting the message "Your account was flagged for potential abuse" while while creating account on ChatGPT during verifying the phone number?
If that is the case then you are not the only one as many users encounter such an error while trying to open ChatGPT at times.
The error message reads "Your account was flagged for potential abuse, if you feel this is an error please contact us at help.openai.com."
ChatGPT is an AI developed by OpenAI that allows users to generate information and content.
Though it is a great AI that can help many people, it can also have issues and errors in its system.
In this article, we will be looking at some fixes that will help you to understand why you might be seeing the account-flagged error in ChatGPT.
What Causes "Your Account Was Flagged For Potential Abuse" Error In ChatGPT?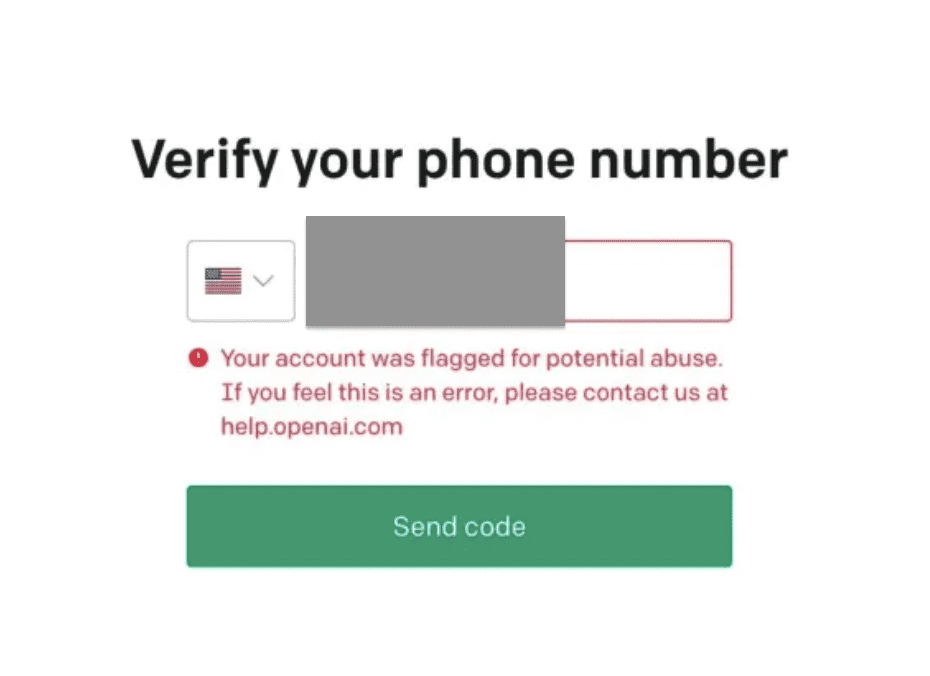 "Your Account Was Flagged For Potential Abuse" on ChatGPT means that your account has shown activities that do not follow the guidelines of ChatGPT and that is why the OpenAI has flagged your account.
There are certain guidelines and policies that you will have to follow when you create ChatGPT account, however, if you do not follow them then your account will get flagged by the platform.
If you feel that your account has been flagged inappropriately then please contact the support Team of ChatGPT.
How To Fix "Your Account Was Flagged For Potential Abuse" On ChatGPT
If you see that your account has been flagged by the platform of ChatGPT then there are some things that you can try to fix it.
1. Wait And Sign Up Again Later
The first thing that you need to do is to wait for some time and then try to sign up again in ChatGPT.
Many users have reported that they have run into an error message of account flagged when they tried to sign up for the ChatGPT platform or verifying phone number.
If that is the case for you then wait for some time and come back later.
This will give ChatGPT enough time to make things secure and smooth running.
2. Use Another Phone Number
You can also use a different phone number with ChatGPT than the one that you use everywhere to sign up.
If a phone number is linked with multiple accounts then that can cause the issue of the account flag.
Try to use another number in your ChatGPT account and see whether you are still getting the account-flagged error.
3. Disable Private DNS
If you have private DNS enabled then you need to disable it.
Using a private DNS comes with multiple benefits such as ad blocking and ChatGPT might not be okay with it.
In that case, your account might have been flagged due to such reasons.
You can follow the steps below to easily remove the DNS.
Right-click on the Start Menu.
Navigate to Terminal(Admin).
Confirm Admistration Permission.
Now, as the window will open, type ipconfig /flushdns and press Enter.
4. Use A VPN With Your Device
You can try to use VPN with your device and then try to open ChatGPT.
Many users have said that they were able to access ChatGPT after they tried using a VPN with their system.
You can easily install a VPN by downloading it or contacting a VPN provider to get it for your device.
5. Check The Region From Where You Are Accessing ChatGPT
Some regions might not support ChatGPT.
In that case, it would be better for you to check first whether your region supports ChatGPT.
If it does not then that might be the reason why your account got flagged.
6. Contact OpenAI Support Team
The last thing that you can try to fix the issue of your account getting flagged would be to contact the OpenAI Support Team and then talk to them about your account.
If you can aware of why your account was flagged then ask them how you can remove the flag and they will be able to help you.
Similar Posts: