World War 3 is a free-to-play tactical online multiplayer FPS in which the whole world serves as your battlefield.
With a massive array of weapons, vehicles, gadgets, and drones at your disposal, outgun the adversary in exhilarating team-based conflicts.
However, lot of players encountering certain gameplay and technical issues while playing.
Are you getting "error code -1" error in world war 3?
Lot of player getting same error.
The full error is "CHANGENAME.USER NOT Authorised".
Second part of the error is "CLIENT MESSAGE.[]".
Followed by "Error Code.[-1]"
In this article, we will discuss why does error code -1 error in World War 3 and how to fix it.
Why Does Error Code -1 Occurred In World War 3?
You are getting error code -1 in World War 3 because currently World War server is crowded or too many players inside World War 3 game.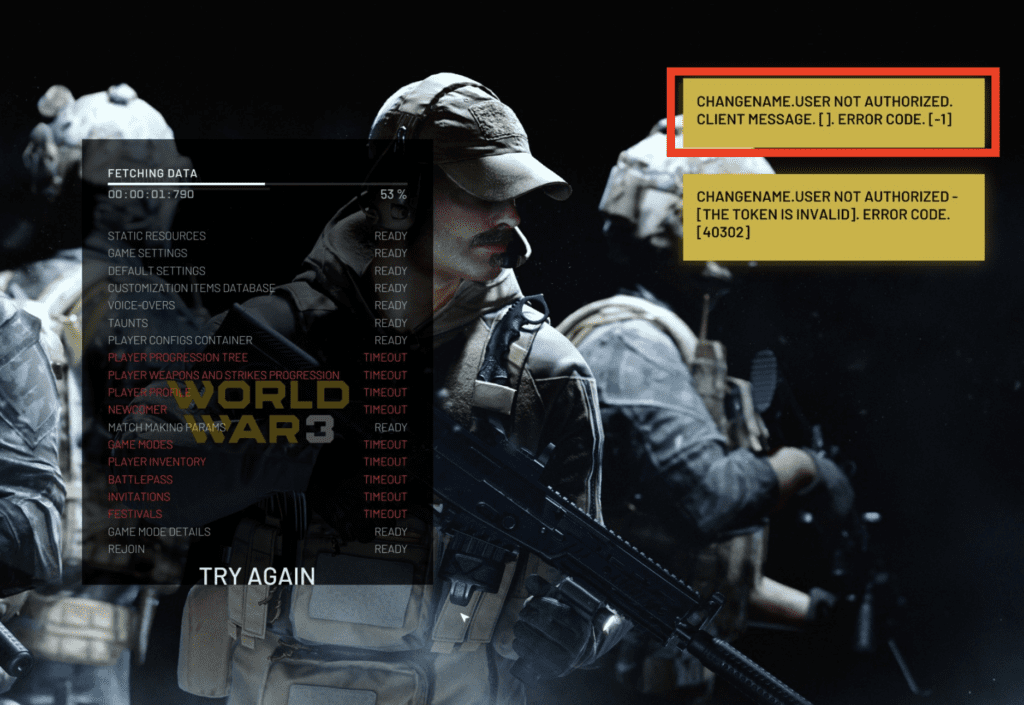 Also, possible that World War 3 game is under maintenance.
A lot of player try to enter into WW3 game at the same time.
As ww3 server is overloaded and can't handle the traffic.
You may encounter some delays in having items and UNC moved from your online Inventory into the game due to the volume of queries being performed.
As many players reporting the issue on Twitter and other thread.
"I was doing it again and again for something around 5 minutes each day and after 3 days it worked"
"just got the game installed and every time i launch the game i get an error changename.user not authorised, tried reloading steam, tried verifying game files but nothing has worked so far, any suggestions"
How To Fix "Error Code -1" In World War 3?
To Fix error code -1 in World War 3, Tap again & again on "Try Again" until you get into the game.
Or Try to launch the steam and ww3 game as administrator.
Alternatively, Wait until World War 3 maintenance is complete If server is down.
After that if you still getting error code -1 in ww3 then wait until the World War 3 game server is less overloaded.
Below are some users output on Twitter and Reddit thread, they were able to resolve the issue.
"restart your pc and launch the game via the launcher and not steam that got it to work for me"
"So try to run steam as administrator, and also launch the game as administrator it worked for me"
"Server issues, probably overloaded servers because it seems to be worse in the evenings. I have only owned the game for around 16 days but this has been an issue since then. You just have to try again until it works. It can take a while."
"Usually a restart of the client helps. Join their discord for updates and server maintenance info – they happen quite regularly."
According to the ww3 game's official blog, you may encounter certain gameplay and technical difficulties.
This is owing to the game's free-to-play release attracting a large number of players.
The increased number of players has overburdened the game's servers.
World War 3's developers are continually monitoring player feedback and problems.
As they attempt to resolve these problems, the game may need more regular maintenance.
Patches and updates will be made available on a regular basis.
After that you can update the game to latest version.
After performing above fixes If you're still having issue then you can contact support team: https://support.my.games/ww3.
Alternatively, you can also contact them on Twitter: https://twitter.com/MYGAMES/.
Also, you can join the Discord server: https://discord.com/invite/ww3thegame
Further Reading:
Similar Posts: