Are you facing "VAN9003" error in Valorant?
The full error is "VAN9003" followed by "This build of Vanguard is out of compliance with current system settings" or "VAN9003" followed by "Initial Attestation Failure Secure Boot Requirement Not Met".
If yes, then you are in the right place, in this article we will explain the fix of this error.
Most of the users facing this error in Window 11.
Valorant is a 5V5 character-based tactical multiplayer FPS Riot shooter game.
It's a team game of five-person shooter where one attacks and the other defends.The player can choose their in-game creative characters called agents.
Valorant matches have 25 rounds and each round lasts for 100 seconds the team that wins 13 of them first wins the game.
Players can buy weapons and collect battle passes to gear up for the game. This game is currently available on Windows PC.
To uphold the competitive integrity of the game and prevent cheating, Riot Games' anti-cheat system called Vanguard comes into action during gameplay.
In this guide, we will discuss why does "VAN9003" error occurred in Valorant and how to fix it.
Why Does VAN9003 Error Occurred On Valorant?
VAN9003 error occurred on valorant on PC because secure boot is not enabled on your PC.
As Vanguard is an anti-cheat software system it requires a safety module to run properly.
Secure boot and TPM are security features that allow windows to boot programs using a higher standard of trust and safety.

If Secure boot and TPM are security features are disabled your system will show VAN9003 error.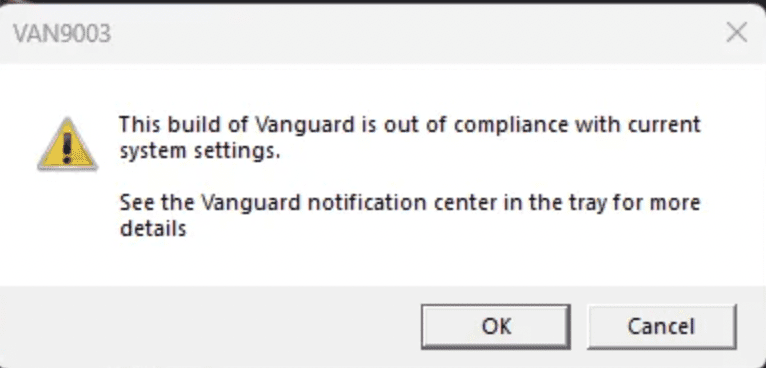 How To Fix VAN9003 On Valorant?
To Fix VAN9003 on Valorant, You need to enable the secure boot in your bios section and change Secure Boot Mode from Standard to Custom.
Bios setting may vary depending on the motherboard. Key to enter the bios may also be different.
Some keys are F2, F10, Esc, and Delete keys to enter the bios settings.
Follow the step below to enable Secure boot in your PC:
Now restart the computer to enable secure boot, press the bios key while restarting and enter the bios.
First, go to the boot part. As you can't access secure boot here, you need to set a password for the bios.
Go to the security section > set the supervisor password > press enter.
Scroll to Change TPM State and enable it.
Again go to the boot section, make the boot mode 'UEFI'.
Then click on secure boot and enable it.
Click on exit saving changes.
After you have exited the BIOS, Your computer will restart.
Now Open the Valorant and "this build of vanguard is out of compliance with current system settings" error have been fixed. It will not appear now.
One user on Reddit able to resolve VAN9003 by following below steps:
I had this "VAN9003 this build of vanguard is out of compliance with current system settings" issue on a fresh Win 11 install and have found a solution for my own case. I hope this helps you as well.
This fix is done in BIOS and I have a Gigabyte AB350 Gaming Plus, so steps may vary based on your manufacturer.
To fix this you need to turn Secure Boot on in the BIOS Tab of BIOS
The Secure Boot option won't be available until you turn CSM (Compatibility Support Module) off in BIOS
If you're like me, Secure Boot will show as "Enabled" but also "Not Active", and this issue will persist through reboots
To fix this, change Secure Boot Mode from Standard to Custom, then immediately back to Standard. It'll ask you if you want to restore defaults or something. Say yes.
If it boots you out of BIOS, go back into BIOS and ensure that Secure Boot is enabled
That's it!
Similar Posts: