FiveM is a widely used tool that lets people customize and play together in their own special versions of Grand Theft Auto V.
However, like any software, FiveM is not immune to occasional issues.
One common problem that players may encounter is the "FiveM unable to make request settings changes."
The full error message usually reads: "Error. Unable to make requested settings changes. Please try again, ensuring that administrator rights are granted when requested."
This article talks about why this problem is happening and gives some ideas on how to solve it.
Why Is FiveM Unable To Make Request Settings Changes?
This error usually occurs when a player is trying to start FiveM.
Then the application crashes and an error message appears.
This could happen for a variety of reasons, such as antivirus or firewall interference with the application on the device.

Another potential reason could be that the FiveM application cache got corrupted, causing issues with the application settings.
It's important to note that there is no official information from FiveM on why this error occurred.
However, we have some recommended fixes that might resolve this issue for you, and if they don't, then we suggest that you contact the support team.
How To Fix FiveM Unable To Make Request Settings Changes?
Here are some fixes that might help you resolve this issue:
1. Check Your Internet Connection
Before making any adjustments make sure that your internet connection is steady and stable.
Here are the steps to Check your internet connection
Turn off your router or modem, wait for a few seconds, and then turn it back on.
If the problem persists, you can reset your network settings on your device. Go to the network settings menu and look for an option to reset or restart network settings.
Try connecting your device to a different Wi-Fi network or switch to a cellular data network to see if the issue is specific to your current network.
If possible, try connecting to the internet using a different device, such as a smartphone or tablet, to see if the issue is specific to your device.
2. Check System Requirements
Make sure your computer meets the basic system requirements to run FiveM smoothly.
Minimum System Requirements:
CPU: Intel Core 2 Q6600 @ 2.40GHz / AMD Phenom 9850 @ 2.5GHz
GPU1: NVIDIA 9800 GT 1GB / AMD HD 4870 1GB / Intel HD GT2
RAM: 8GB (4GB may work)
HDD2: 105GB + ~4GB (free space)
Recommended System Requirements:
CPU: Intel Core i5 3470 @ 3.2GHz / AMD X8 FX-8350 @ 4GHz
GPU1: NVIDIA GTX 660 2GB / AMD HD7870 2GB
RAM: 16GB
HDD2: 105GB + 8GB (free space)
3. Disable Firewall Or Antivirus
Sometimes, security features such as firewalls or antivirus software can mistakenly interfere with the application, causing issues such as being unable to change settings.
To temporarily disable your antivirus software, locate the antivirus program on your computer, open its settings, and disable it.
To temporarily disable your firewall, follow these steps:
Open the Control Panel.
Search for "Windows Defender Firewall" or "Firewall."
Select the appropriate network profile.
Choose the option to turn off the firewall for the selected profile.
Save the changes and exit the settings.
4. Clear FiveM Cache
Try clearing the FiveM cache, as sometimes these caches can get corrupted and cause issues with the application.
After clearing the cache, check if the issue has been resolved or not.
To clear the FiveM cache on your device, follow these steps:
Close the FiveM client completely.
Press the Windows key + R on your keyboard to open the Run dialog box.
Type "%localappdata%" (without quotes) in the Run dialog box and press Enter. This will open the Local AppData folder.
Locate and open the "FiveM" folder.
Inside the FiveM folder, you should see a "cache" folder. Right-click on the cache folder and select "Delete" from the context menu.
Confirm the deletion when prompted.
Once the cache folder is deleted, you can restart the FiveM client.
5. Clear Nui-storage, Server Cache, And Server-cache-priv
If the error still presist then try clearing data of Nui-storage, server cache & server-cache-priv.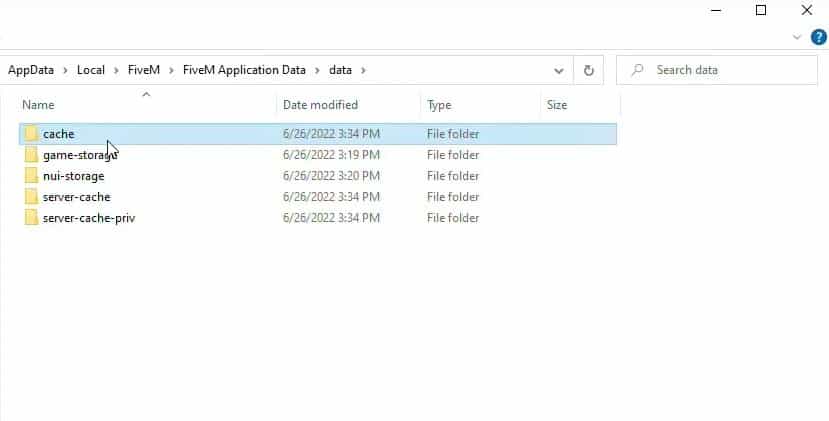 Here are the steps to do so:
Navigate to the "FiveM" folder on your computer.
Locate and open the "Data" folder.
Then go inside each folder of Nui-storage, server cache, and server-cache-priv, then delete the data.
6. Uninstall And Reinstall
Lastly, if none of the above solutions has worked for you, try uninstalling FiveM from your device and then reinstalling it from the official website.

Here are the steps to uninstall and reinstall the FiveM application on your device:
Press the Windows key + "I" to open the Settings menu.
Go to "Apps" or "Apps & features" in the Settings menu.
In the search bar, type "FiveM" to locate the FiveM application.
Once you find FiveM in the list, click on it to select it.
Click on the three dots button, usually located next to the app's name.
From the dropdown menu, choose "Uninstall" to remove FiveM from your PC.
Download the FiveM installation file from the official website.
Once the download is complete, locate the file and run it to install FiveM on your PC.
7. Contact FiveM Support

If the previous fixes didn't work, contact FiveM support for more help.
They're experts and can give you specific guidance to solve the issue.
Similar Posts: