You might be an avid reader and thus have recently installed Kindle on your iPhone.
However when you open it and try to purchase a book you might be seeing the error message where the app says that you can not purchase this content as it is not supported.
The full error is "This app does not support purchasing of this content.
Digital books and comics purchased from amazon are available to read in the Kindle app."
You could also be interested in a music copy that you want to purchase from Amazon but you can not purchase it from your iPhone.
You don't need to worry that you will never be able to download it or purchase it on your device as in this article we will be showing you why you are facing such errors and what you can do to solve it.
What Does "This App Does Not Support Purchasing Of This Content" Mean On Amazon?
"This app does not support purchasing of this content" means that the iOS Kindle app and iOS Amazon app don't support in-app purchasing for Kindle books
Apple and Amazon had ben competitors in the field of ebooks for years, thus Apple does not allow its users to buy ebooks from Amazon in their device.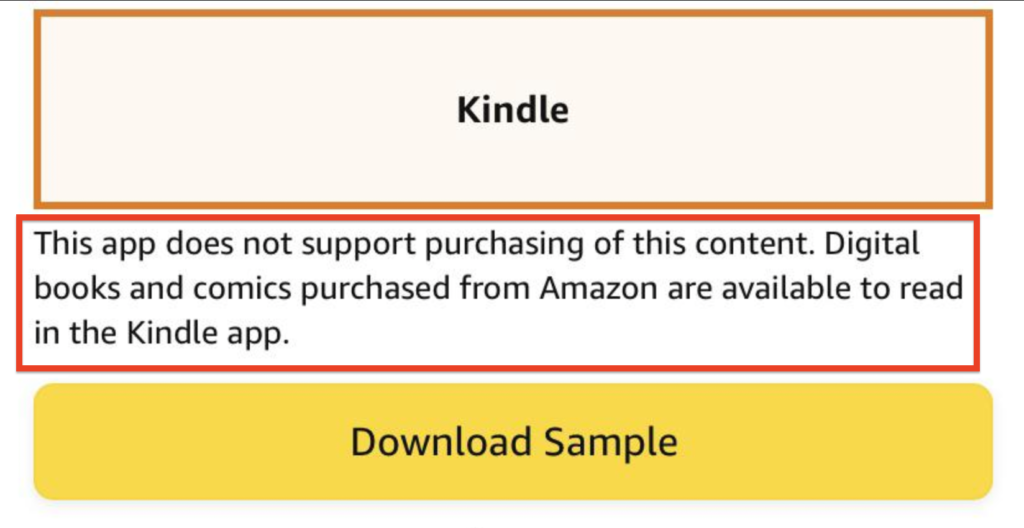 While trying to purchase books in your amazon account from your iOS device you will see this error which is because Apple do not support purchase of any kind of ebooks if it is not done through their store.
In that case when you try to purchase any digital media from any other application your Apple iPhone will stop it by not supporting the content.
How To Fix "This App Does Not Support Purchasing Of This Content" Amazon?
To Fix "This App Does Not Support Purchasing of This Content", You Should use web browser to buy the kindle books.
Seeing this error does not mean that you can not download or purchase any media from Amazon as you definitely can purchase it.
Below are the steps that you can follow to purhase books from Amazon App in your iOS device.
Step 1: Open your device and then download a web browser.
Step 2: After you hve installed the web browser in your phone, you need to open it.
Step 3: Go to Amazon website from your web browser.
Step 4: Now, log into your Amazon account.
Step 5: Go to the Kindle store.
Step 6: Search the book that you want to buy and purchase it.
After that, you can open it from your app and enjoy it at your will.
Note: You can not purchase your media without using a web browser if you want to purchase any Amazon digital media in your iPhone as Apple does not support purchasing from any other third party app except its own store.
Similar Posts: