Are you getting error "There was a problem loading your Inbox" on Instagram on PC or browser?
Instagram is one of the most popular social media apps worldwide, with over 1 billion monthly active users.
Whether an individual or business account, Instagram has established its uniqueness in digitized words.
Instagram holds many features that add value to many businesses, from small to large-scale industries.
Sending Direct messages is also one of the features of Instagram.
Sometimes user faces an Error message saying, "There was a problem loading your Inbox" on Instagram.
In this article, you will understand why the error "There was a problem loading your Inbox on Instagram" occurs, especially on web versions and how to fix it.
Why Does "There Was A Problem Loading Your Inbox On Instagram" Occur?
The Instagram Error "There was a problem loading your Inbox" on Instagram occurs when Instagram fails to user Inbox to receive or send the Messages.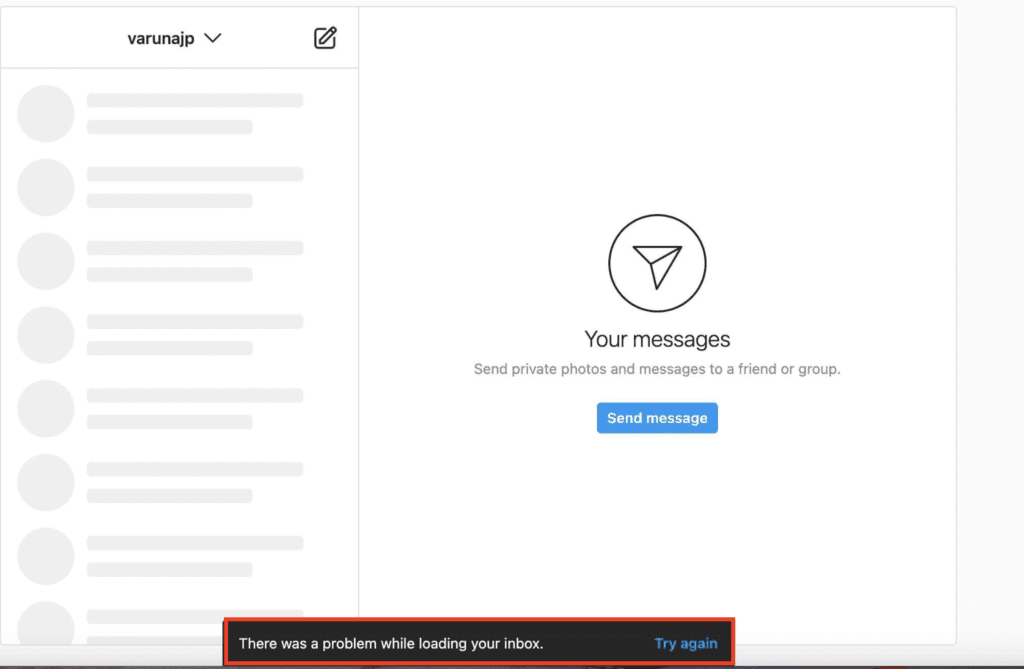 The error usually occurs when
There is no Internet connection
Some other extensions may block your Instagram Account
Not enabling cookies for Instagram.
There might be a Maintenance Error from Instagram
Low browser performance
Above are the common reasons that stop your Instagram from loading messages.
How To Fix There Was A Problem Loading Your Inbox On Instagram
Here are the troubleshooting steps to fix.
There was a problem loading your Inbox on Instagram.
When there was a Problem Loading Your Inbox occurs, click the "Try again" link next to the error message.
Reloading the browser might fix the error.
1. Check Your Internet Connection
The first reason for "There was a problem loading your inbox" is your Internet connection.
First, check you have an active internet connection.
Turn ON and Turn Off your Internet connection and check with your router WiFi if the Internet is inactive.
You can also try using different network connections to troubleshoot your connection.
If you have a stable Internet connection, your Inbox loads without error.
2. Tap On Try Again Button
Sometime the error is temporary either because of internet or Instagram server issue.
By refreshing the Instagram page or by clicking on "Try Again" button will resolve the issue.
3. Try Login With An Another Browser
Normally Firefox works fine on most sites when the other browser blocks the same site.
So open Firefox and log in to your Instagram account
Go to your Inbox and check whether you can see the messages.
If you already use Firefox, try with an alternate browser like, Chrome.
4. Clear Cache From Your Browser
Usually, the browser stores temporary files in the caches section whenever you open any site.
So clearing your cache memory will boost the browser's performance.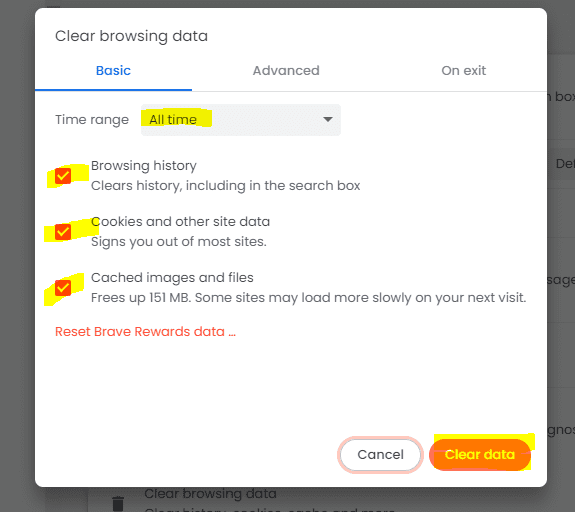 Tap "Ctr+H" on Keyboard>> Tab on "Clearing browsing Data"
Set "All time" in Time Range
Check "Clear cookies and other site data"
Click on "Clear Images and files."
Tap on "Clear Data" Button
By clearing cache files, you will be signed out from most sites, and you need to enter all information to log in.
Now log in to your Instagram and try opening your Inbox.
5. Disable All Extension On Your Browser
If you have any active extensions on your browser, disable them one by one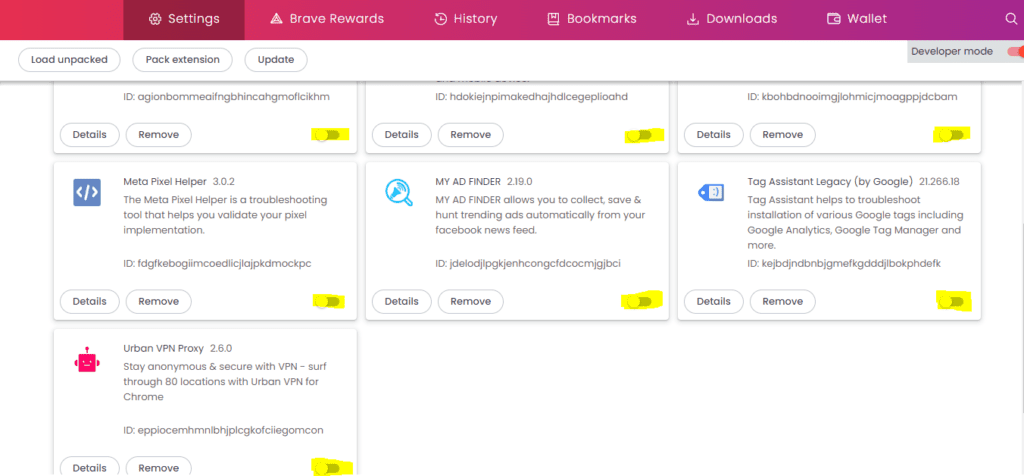 Click on three horizontal lines at the top right corner of the browser>> Click on Extensions >> Toggle Off all extensions One by One.
Once done, you close your browser and launch the browser again.
Now open your Instagram Inbox and check if the error is gone
6. Add Instagram Web Link To The Browser Cookies
Adding an Instagram link site to the cookies will help you to load your Inbox quickly.
Click the link to to Privacy settings on Chrome: chrome://settings/privacy.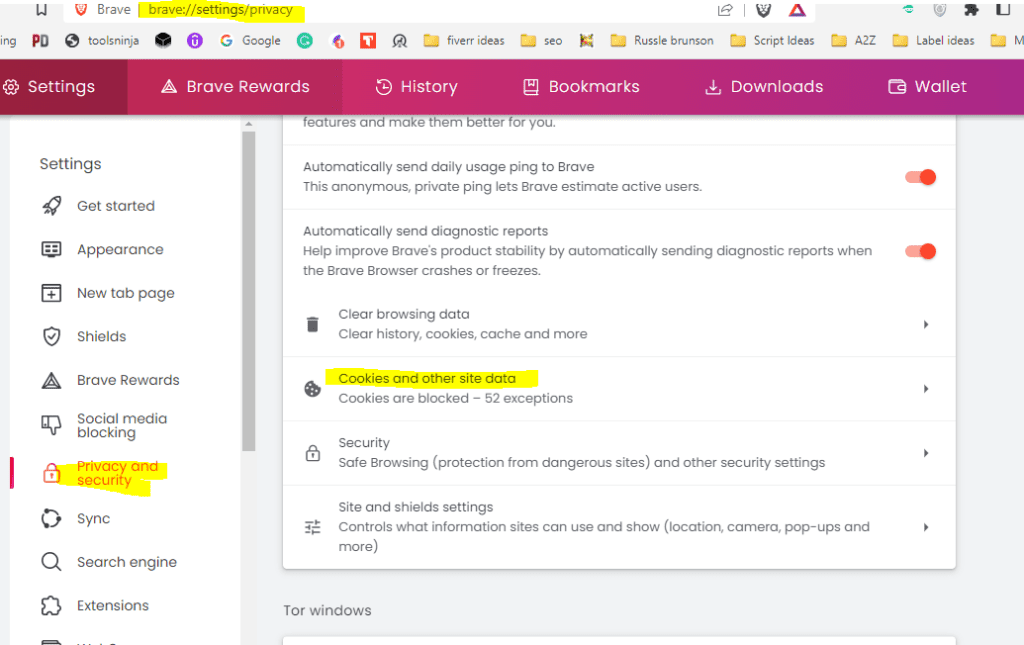 Find and Tab on Cookies and Other Site Data
Scroll down and add the below link under customized behaviour.
Instagram Link:https://www.instagram.com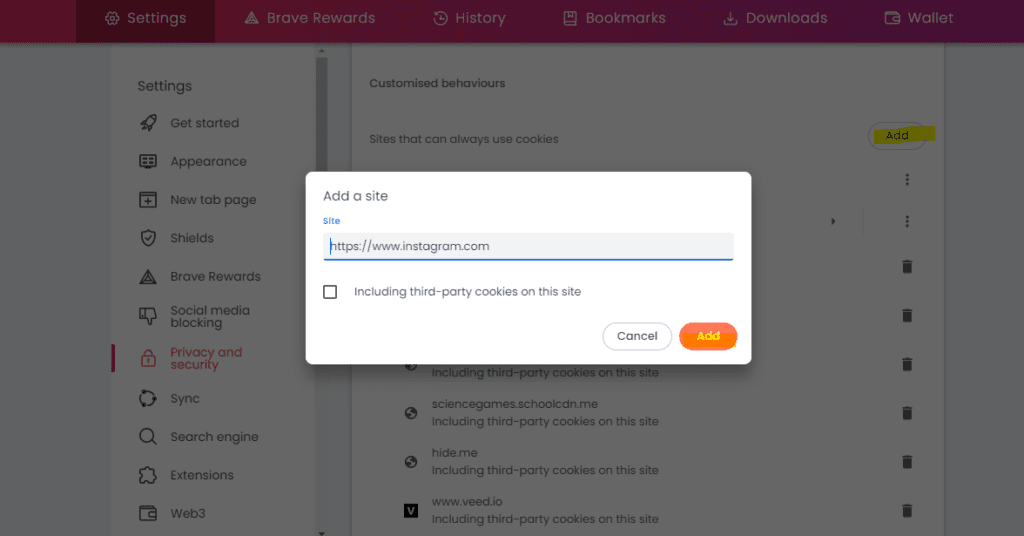 Now Open your Instagram on the browser and check Inbox loading without error.
7. Change The Notification Setting On Your Instagram Web
Log in to your Instagram Account
Click on your profile and Tap on Settings
Click on Push Notification from the right sidebar
Tap on Message and Calls
Toggle ON message requests and Messages and Toggle off other options under the under message and calls section.
Click on the Back arrow mark and Tap on From Instagram
Toggle on Remainders and Toggle off Other option under From Instagram section.
Now go to Inbox, and you can see the messages.
8. Instagram Is Updating The Direct Message
Check with other Instagram users or forums whether they have the same issue.
If so, then it's usually due to technical maintenance.
It would be best to wait until the developer team fixes the error.
Also, it is common that if you send too many messages over a short period, they violate Instagram Policy, and they might block you temporarily.
The error will be removed automatically after some time.
The error is common in a Business account if you send too many promotional messages quickly.
I hope you find this information helpful and understand why and how to fix "There was a problem loading your Inbox" on Instagram.
If you have any queries regarding Instagram troubleshooting, leave your comments below.
We will be happy to assist you.
Similar Posts: