Are you seeing the error message, "Error code 12, You need to update to the Latest version of (Game Name) online client", whenever you are trying to open a game in Steam?
If that is the case then you are not the only one as there are many players that are facing this error.
While Steam is a great game launcher where you can play your games, sometimes there would be issues such as error code 12 that can completely ruin your day and your mood.
However, there is no need to worry as we have solved this issue for you.
In this article, you will learn why you might be seeing this error code 12 in Steam and what you can do to solve this issue.
Why Are You Seeing Error Code 12 On Steam?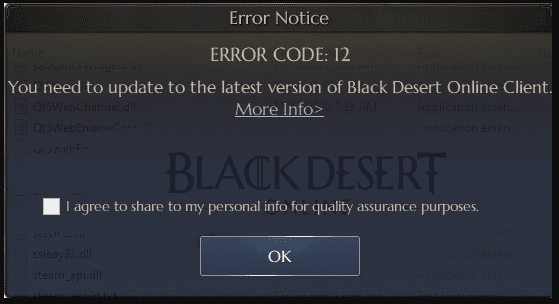 You will be seeing the Steam error code 12 when you have any problem with either the client update or Graphics Driver update in your system.
Due to this you will be seeing the message, "Error code 12. You need to update to the Latest version of (Game Name) online client".
When you see this message then that means you are using an outdated version of the game client and it needs to be updated to the latest version.
However, there can be other issues also such as you might need to update your Steam or delete the Cache files of the game.
If you do see this error then we are here to help you in fixing it.
How To Fix "Error Code 12" On Steam?
In this section you will get to learn how you can fix the "Error code 12. You need to update to the Latest version of (Game Name) online client" in steam when you are trying to play a game.
1. Clear Download Cache
The first thing that you can try as a solution is to clear the cache of the Download from Steam.
Cache files are notorious for storing corrupt and junk files.
This could be hindering your game from functioning properly.
Open Steam.
Go to Settings.
Navigate to Downloads.
Now Clear the Download Cache.
After you are done, close Steam and then open it again after some time has passed.
Go to the game from your library and try to open it now.
It should be running properly without any issues.
However, if still Error code 12 shows up then you can try the fixes below.
2. Update The Game
The next thing that you can do is update the game.
You can go to the game page from your Steam and check whether there are any updates.
If there is any update available then just download it and then it will automatically get installed.
After this, you will be able to open and play the game in Steam without getting the error code 12.
3. Verify Game Files
You should also verify the game files to make sure that there is no issue with them.
Sometimes if the files of the games get corrupted then also you will not be able to play the game through Steam.
You can verify the files by following the instructions here.
You will have to log in to your Steam account then go to your Steam library then right click on the game, and select Properties from the options available.
Next, go to the Local Files tab and select Verify integrity of game cache option to verify the files.
4. Update Steam
Check if there are any updates for Steam itself.
If there is then update your Steam. The error code 12 can also occur due to Steam not getting updated as it should.
Steam takes updates by itself so if there is any update available then Steam would notify you and you can then update it.
5. Update Your Graphics Driver
Go t your Graphics Driver website and check if there is any update for it.
You might have to update your Graphics Driver if there are any updates available to play games in Steam.
You can easily update the client by going to the official site for your Graphics Driver and then going to the download page from there.
6. Wait For Sometime
If you can not find any new updates then the game team might be in the process of releasing the update.
You can check their official website or Twitter and see if they have put up any news about the latest update.
If you can't find anything then wait for some time until they update the game.
Similar Posts: