Do you struggle with the "Shadows in Neon" bug while playing Starfield?
Many players have encountered this frustrating issue that can disrupt your interstellar adventures.
Don't worry, we're here to help you fix it!
Starfield is an action role-playing game developed by Bethesda Game Studios and released by Bethesda Softworks.
This exciting space exploration game from Bethesda, has its own share of challenges and issues.
In this article, we'll explain what causes the "Shadows in Neon" bug, where you might encounter it, and, most importantly, how to resolve it step by step. Let's get your cosmic journey back on track.
What Causes Shadow In Neon Bug In Starfield?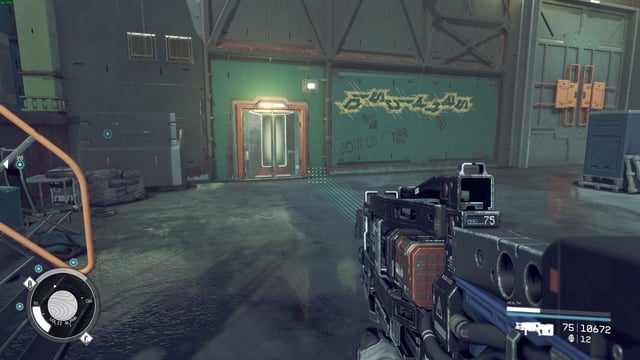 Before we begin addressing the "Shadows in Neon" bug, let's try to figure out what's causing this mystery. We'll explore the basic reasons before delving into the problems that players are encountering on their journey through the game.
Players have reported a disconcerting bug where the quest involving Jaylen/Billy gets stuck, and the dialogue seems to reset after an update.
Some players find that the "Shadows in Neon" quest doesn't initiate even after completing the previous quest, "Where Hope is Built."
During the "Shadows in Neon" quest, players experience issues with Jaylen Pryce disappearing when reaching the elevator to the Sky Suite.
Players have encountered a bug where the elevator to the restricted floor becomes inaccessible during the quest, preventing progression.
Various issues on Neon, such as dialogue glitches and impounded ships, prevent players from leaving or accessing fast travel options.
A game-breaking bug prevents players from leaving Neon after completing the "All That Money Can Buy" quest, with the ship encounter necessary for the "Starborn" quest trigger failing to occur.
How To Fix "Shadow In Neon" Bugs On Starfield?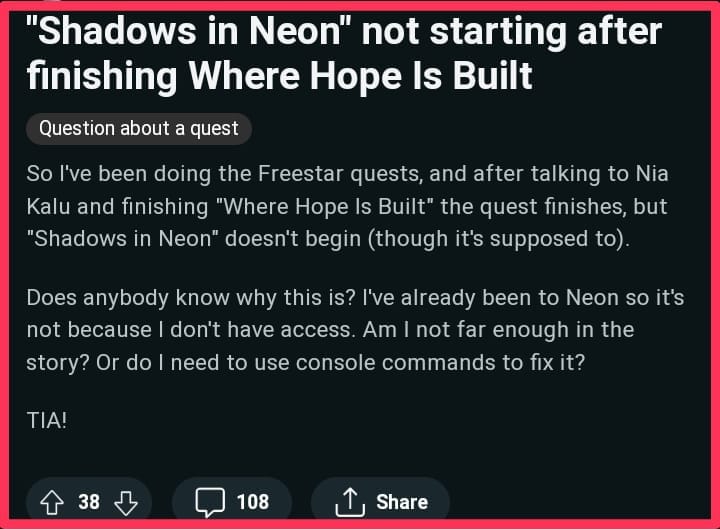 Now that we've explored the reasons behind the "Shadows in Neon" bug, let's focus on potential fixes to help you overcome these challenges and enjoy a seamless journey through the cosmos. Bethesda is actively working on addressing these issues, and while some solutions have been found, others may require patience as developers continue to improve the game.
1. Addressing Jaylen/Billy Dialogue Reset
To address the issue where the quest gets stuck and dialogue resets, talk to Billy and go through all his dialogue options again, which may prompt progression.
Alternatively, use the Persuasion option during the dialogue with Billy to progress the quest.
2. Initiating The "Shadow In Neon" Quest
Bethesda has released a patch that appears to have resolved this issue for some players. After applying the patch, the "Shadows in Neon" quest should appear in your quest list.
3. Use The Elevator
If Jaylen Pryce disappears when reaching the elevator, turn around, go through the elevator to the spaceport, and then return to Neon. This action can cause Jaylen Pryce to reappear and walk to the correct door.
4. Reload An Earlier Save
If the elevator to the restricted floor is inaccessible, try reloading an earlier save, fast-travel to your player's ship, and then return to Neon. This has helped some players, prompting Jaylen Pryce to walk through the correct door.
5. Complete Other Neon Missions
Some players have attempted to resolve these issues by completing more Neon missions, hoping it would clear the impounded ship problem. However, the effectiveness of this approach is uncertain.
6. Update Starfield
Check whether Bethesda has updated Starfield or released any new patches. It's recommended to keep an eye on official patches from Bethesda for a potential fix.
The chances are that they are working on a fix so as soon as the new patch arrives, make sure to update your game and you should be able to solve the Shadow in Neon bug.
7. Verify Starfield Game Files
If you encounter any issues in Starfield, verifying the game files can often help. Use the following steps to verify game files on Starfield.
To verify Starfield game files on Steam:
• Open your Steam library.
• Right-click on Starfield.
• Choose Properties from the menu.
• Navigate to the Local Files tab.
• Click on the "Verify integrity of game cache" option to confirm file verification.
To verify Starfield on Xbox:
• Access your Xbox console.
• Locate the Starfield game icon on your home screen.
• Press the "Options" button on your controller.
• Select "Manage game & add-ons."
• Choose "Saved data."
• Opt for "Delete all."
• Confirm the deletion of all saved data.
• Restart the game.
8. Restart Starfield
Sometimes, a simple restart can resolve certain in-game issues. If you encounter any problems related to the "Shadows in Neon" bug, try exiting the game and then relaunching it.
9. Contact The Support Team Of Starfield

If none of the above solutions work, it's advisable to reach out to the Starfield support team. They may have additional guidance or be aware of ongoing efforts to address the bug.
Similar Posts: