Are you trying to open FACEIT from your computer, but encountering the error message "Secure Boot needs to be enabled to launch FACEIT AC"?
This error message may indicate that you do not have the security measure Secure Boot enabled on your device, which is required by FACEIT to use the platform and play games.
In this comprehensive guide, we will be explaining the reasons behind the need for Secure Boot and how you can easily enable it on your computer.
Whether you are using Windows 10 or Windows 11, we have got you covered with step-by-step instructions.
What Causes "Secure Boot Needs To Be Enabled To Launch FACEIT AC" Error
"Secure Boot Needs To Be Enabled To Launch FACEIT AC" error occurs when the Secure Boot feature in the BIOS/UEFI settings of the computer is turned off.
Secure Boot is a feature that helps protect against malicious code and software from booting up with the computer.
It ensures that only trusted software, such as the operating system, is allowed to run during the boot process.
The error message appears when the FACEIT Anti-Cheat software tries to run, but it is prevented from doing so by the Secure Boot feature.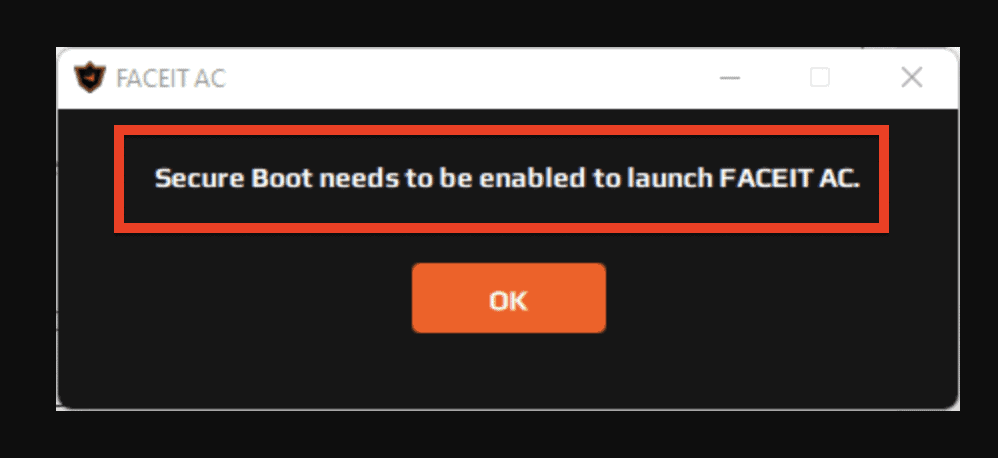 Since FACEIT is an online gaming platform that enables players to compete with each other and win prizes, it is important to have a secure environment where gamers can play fairly.
That is why FACEIT has made it mandatory for its users to enable Secure Boot on their computers.
If you do not have Secure Boot enabled, you may be banned from the platform as a cheater, which is not something you want to happen.
When the signature of the programme is valid then only the PC will boot giving the Operating System authority over the programme.
Note: Please be aware that enabling Secure Boot will not let you run any software that you have not purchased or have the signature on.
How To Fix Secure Boot Needs To Be Enabled To Launch FACEIT AC
To fix "Secure Boot needs to be enabled to launch FACEIT AC", you need to enable Secure Boot on your device.
Here are the steps to enable Secure Boot on a Windows 11 device:
Restart your computer and press the F2 key during restart.
Access the BIOS and go to Advanced Settings.
Go to Security and click on the Secure Boot line.
Enable the Secure Boot Control.
Go to Key Management and navigate to Platform Key PK.
Update the Platform Key PK by confirming the update.
Repeat the steps for Key Exchange Keys, Authorized Signatures, Forbidden Signatures, and Authorized Timestamps.
Go to the Save tab and click on Save and Exit.
Confirm and exit the changes.
For a Windows 10 device:
Restart your device and press F9 to access the System Utilities screen.
Select System Configuration.
Go to BIOS/Platform Configuration (RBSU).
Navigate to Server Security and select Secure Boot Settings.
Go to Secure Boot Enforcement and select Enabled.
Save the changes and exit the system configuration.
It is important to note that enabling Secure Boot may prevent you from running software that does not have a signature or that you have not purchased.
Before making any changes to your system, it is recommended to proceed with caution and at your own risk.
With this, you will be able to enable Secure Boot in your Windows 10, however, it is suggested that you use Windows 11 to play FACEIT in your system.
After you are done with changing the configuration of your systems, now your FACEIT account would have no issue opening in your system.
Similar Posts: