Are you having the issue 'Could not connect to realms read timed out' when you are trying to open the world in Minecraft?
If that is true then you have come to the right place.
Here, We will be discussing all about the error code 500 that shows the pop up window of 'could not connect to realms'.
Minecraft is a great gamer that can be enjoyed either by yourself or with your friends, where you can create new worlds and explore them together.
Reasons Why You Are Getting The Error 'Could Not Connect To Realms Read Timed Out'
When you are playing Minecraft there can be an error that is not letting you connect to the realm from your system.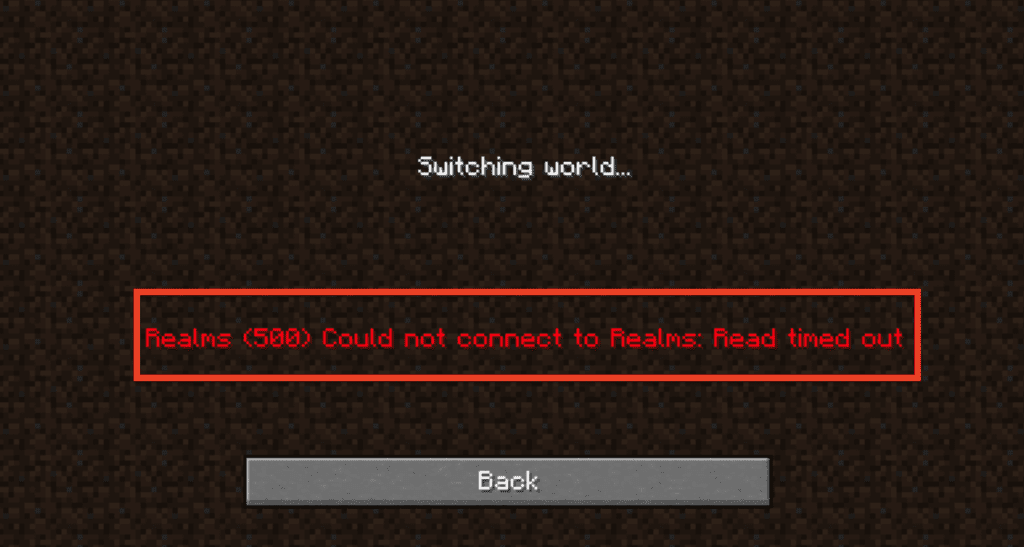 Minecraft is a programme and thus it will have errors in its system at times.
But that does not mean that you can not identify or solve them.
In this section, we have discussed some of the reasons why you might be seeing such errors.
1. Unstable Internet Connection
If your internet connection is not stable then you will have problems trying to connect to the realm from your computer.
It is important that you connect your PC to a stable network before you try to connect to realms.
2. Your VPN Is Turned On
If you are using anything such as a VPN on your computer then that can also stop your Minecraft from working properly.
It will stop Minecraft from sending service requests to connect with realms.
3. Antivirus Stopping Minecraft
When you have an antivirus enabled in your computer that could be the reason why your Minecraft is not able to function properly.
Sometimes the antiviruses see some programmes as harmful for your computer and they will stop those from functioning properly.
4. The Minecraft Server Is Down
It can be that the Minecraft server is down due to which you are not abler to connect to the realms from your system.
In that case, you can not do anything except wait till the server gets back online again.
You can check the server status of Minecraft from here.
5. System Having Bugs
If the system of Minecraft is having bugs or the connection to the realms is having any glitches then also your Minecraft will not be able to connect to realms from your system.
In that case you can try the following solutions from the section below or wait for the technical team of Minecraft to solve the issue.
The Fixes That Can Solve The 'Could Not Connect To Realms Read Timed Out' Error In Minecraft
Now that you have understood the issues that might be stopping your Minecraft from connecting to the realms it is time for you to look at the solutions.
In this section of the guide, we have put a number of solutions for you that you can try to solve the error.
1. Retry After Sometime
The first thing that you can try is to wait sometime and then again try to connect to the realms.
This might solve the issue if the connection had any bugs or glitches at that moment.
2. Restart The Computer
The next thing that you can try is to restart your system.
If the error was occurring due to a bug in your computer's system then doing a restart for it would resolve the issue quickly.
3. Restart Minecraft
As an alternative, you can also close the Minecraft game and then restart it after sometime.
This will resolve the error of not getting connected to realms if there was any bug in the game itself.
4. Disable Your VPN
You should also make sure that you have closed or disabled the VPN that you were using in your computer.
VPNs interfere with network signals which sometimes causes issues for the applications and programmes to connect to their servers properly.
5. Disable Antivirus
You should also disable your antivirus and then try to connect to realms because oftentimes antivirus also thinks certain programmes to be harmful to your computer and stops them from sending service requests to their servers.
If this is indeed the issue for you then disabling your antivirus will help in resolving it.
6. Check Your Internet Connection
You should also check and make sure that your internet connection is working well.
You can easily identify whether it is working or not by switching your connection to different settings such as data and wifi.
If you see that there is a problem then contact your local service provider and they will be able to help you out.
7. Contact The Minecraft Support Team
After you have tried all these methods and yet you are unable to solve the issue of connecting to realms in your Minecraft then it is best that you contact the Minecraft Support Team.
We recommend that you get your system and the game checked out by a professional who will be able to diagnose the problem and solve it.
Similar Posts: