Are you getting "error code 4b538e50" on NBA 2k24?
The full error message reads "There is a problem with your connection to our online services, Please visit http:// www.NBA2K.com/status for up to date information, Error code: 4b538e50".
If you're an avid NBA 2K24 player, you know that the game offers an immersive basketball experience that's hard to beat.
From the realistic gameplay to the intricate details of player movements, NBA 2K24 is a must-play for any basketball fan.
However, like any other online game, it's not without its share of technical hiccups.
One such hiccup that has left players scratching their heads is the notorious error code 4b538e50.
What Does Error Code 4b538e50 Mean In NBA 2K24?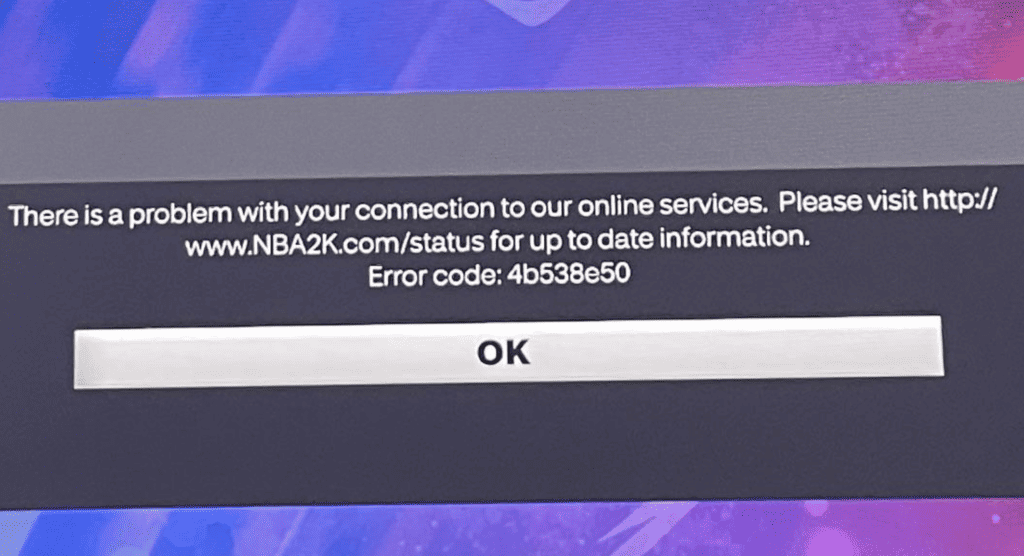 The error code 4b538e50 indicates a communication problem between your device (console or PC) and the NBA 2K24 servers.
This usually happens when the game's data has not been fully downloaded or installed on your device.
How To Fix NBA 2k24 Error Code 4b538e50
To fix NBA 2k24 Error Code 4b538e50, you can try installing the latest patch for NBA 2K24 on your platform.
1. Update The Game
Xbox: Go to My Games & Apps > Updates > Trigger the NBA 2K24 update.
PlayStation: Go to your library > Find NBA 2K24 > Select 'Check for updates' > Install available updates.
Nintendo Switch: Find the NBA 2K24 icon on the home screen > Press the plus button > Choose 'Software update via the Internet'.
PC (Steam): Open Steam > Navigate to the NBA 2K24 page > Choose 'Check for updates' from the main menu > Install the patch.
2. Other Potential Fixes
Game Files Out of Sync: Make sure your game files are up to date and not corrupted. You may need to verify the integrity of the game files, especially if you're on PC.
Deleted Reserved Space: If you've deleted the game's reserved space from your hard drive, you may need to reinstall the game or restore the reserved space.
NAT Type Settings: Check your Network Address Translation (NAT) Type settings. You may need to adjust these settings for better connectivity.
Firewall/Router Settings: Ensure that your firewall or router is not blocking the game's network traffic. You may need to adjust your NAT Type settings here as well.
Open Network Ports: Make sure the necessary ports for NBA 2K24 are open on your network.
3. Additional Suggestions
Restart Your Device: Sometimes, simply restarting your console or PC can resolve network issues.
Check Server Status: Make sure that the NBA 2K24 servers are up and running. Server outages can also cause this error.
Contact Support: If all else fails, you may need to contact NBA 2K24's customer support for further assistance.
Similar Posts: