Are you having trouble trying to play videos in your Disney Plus streaming service?
Maybe every time you try to open it, you get to see the error message, "Invalid User session, There could be a problem with your user authentication, Please sign out and sign in again."
If that is the case then you are not the only one as there are many users who have also faced the same issue and successfully solved it.
Disney Plasus is a great streaming service where you can watch thousands of TV shows and movies.
However, similar to other online streaming platforms Disney Plus can also have errors and issues that can frustrate you and leave you with a bad experience.
And that is why we are here to help. In this article, we will be going over the reasons that could be the issue why you are seeing the invalid user session message in your Disney Plus and what you can do to fix it.
What Causes The "Invalid User Session" In Disney Plus?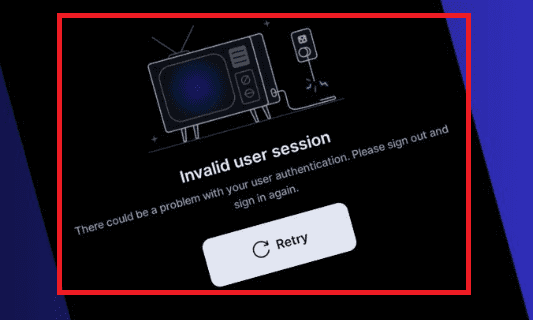 There can be various reasons why your Disney Plus is showing you the "Invalid User session" while you are trying to watch videos in Disney Plus.
It can range from an issue with your VPN to a bug in the Disney Plus.
Below, we have listed some of the reasons that could be the issue of why you are seeing an invalid user session in your Disney Plus.
You have VPN enabled in your device.
Your Disney Plus password changed from other device
Disney Plus is not updated to the latest version.
Technical issues in Disney Plus.
How To Fix "invalid User Session" Error In Disney Plus
Now that you have been able to identify some of the reasons why you might be seeing the user session invalid message in Disney Plus, it is time that we looked closely at some of the fixes that will help you to fix that issue.
1. Sign Out And Sign in
The first solution is to sign out of Disney Plus and then sign in again after some time has passed, as the error message suggests.
Because it is possible that someone changed your password from other device or you are logged into Disney plus from long time.
Check whether this solves the issue of an invalid user session. If it does not, try the fixes given below.
2. Disable VPN From Your System
If your system has VPN enabled, that may be the cause of your invalid user session issues. By giving them false locations for your device, VPN confuses the servers. The servers might consider this spam, in which case they won't accept the system's service requests.
You might try to log into Disney Plus after disabling your system's VPN.
Alternatively, you can remove it from your computer before using Disney Plus.
Adding Disney Plus to your VPN provider's whitelist is another option that you have if you don't want to uninstall it.
3. Update Disney Plus
Make sure that you have updated the Disney Plus app on your Smart TV or your device before you try to log in.
Similar to other programs Disney Plus also updates its software regularly.
You might have missed the latest update due to which you are having issues trying to log in to Disney Plus and getting shown the invalid user session message.
In that case, as soon as you update your Disney Plus app you should be able to solve the issue.
4. Uninstall And Reinstall Disney Plus
Another fix that you can try is to uninstall Disbeu Plus from your device and then reinstall it after some time has passed.
If there is a bug in the system due to which your system is not able to open Disney Plus then doing this would solve the issue.
5. Wait For Sometime
You can also wait for some time and see whether the issue gets resolved by itself.
If the issue is happening due to some kind of technical glitch or error then the chances are that the technical team is aware of it and is trying to fix it.
In that case, please wait for some time and then check whether the issue is solved.
6. Contact Disney Plus Support Team
After you have tried all the fixes in the above section you should not be seeing an invalid user session message anymore while trying to use Disney Plus.
However, if you still see the message then we highly recommend that you contact the Support Team of Disney Plus and communicate with them and they should be able to guide you.
Similar Posts: